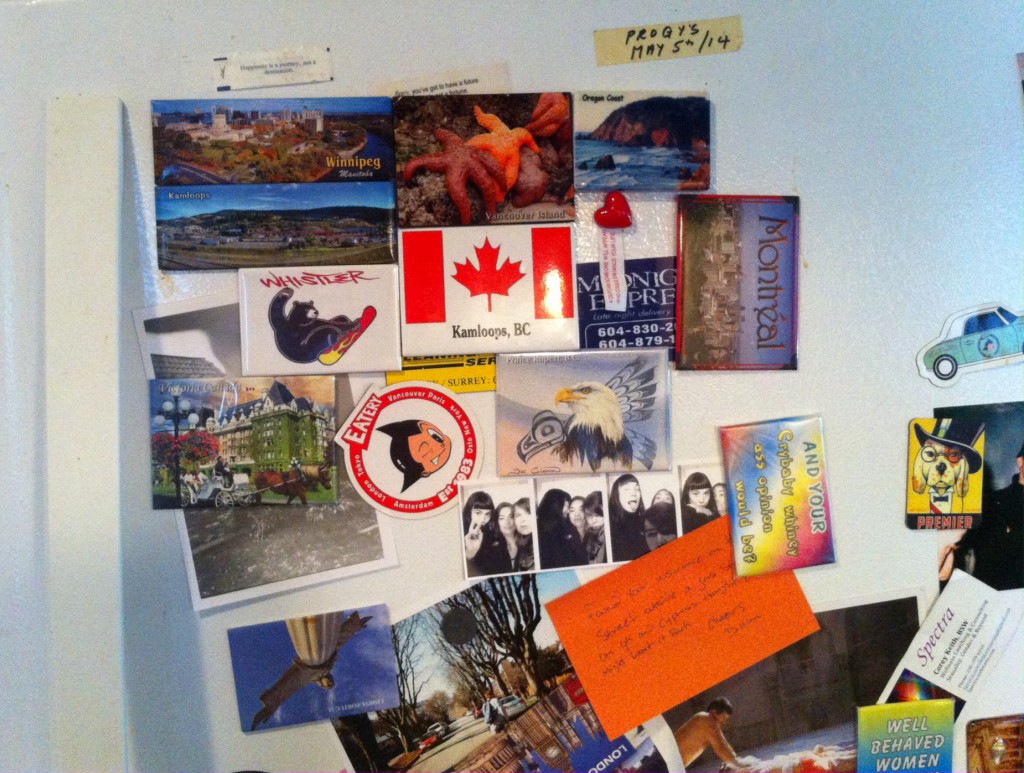 Japanese Cheese was named in the hills above Westsyde where Dad and his friends dirt bike through Ponderosa pines and thickets of sagebrush. Low, rounded mountains encircle the valley in which the city of Kamloops nestles, straddling the confluence of the North and South Thompson Rivers. To the west, perhaps visible from where the dirt bikers stopped to rest, my grandparents' property spans an acre of rambling garden, rock sculptures twice the height of the house, and a precarious unfinished gazebo.
The dirt bikers roll to a stop so that Dad can pull sweating packages of cheddar from his Camelback and offer them to the group. The valley radiates heat in summer, catching it in its bowl and throwing it back into the cloudless sky. The smell of the aged cheese is amplified by dry heat and it begins to cling to the edges of the soft plastic packaging, losing its uniform, sterile shape. While peeling off the wrappers and taking bites between sips from the Camelback's teat, one of the men in Dad's dirt biking company cries, "Hey, Donny! What the fuck is this? Some kind of Japanese cheese?"
The Japanese Cheese, as it was known from then on, appears at every outdoor activity, in packed lunches, and during long car trips. This February, at the end of a rolling hike across Ruckle Provincial Park on Salt Spring Island, we settle on a stretch of rock, worn smooth and undulating by the Salish Sea. "I brought the Japanese Cheese!" Dad declares triumphantly as we recline at the edge of the ocean. He never forgets, announcing the cheese with a self-assuredness that perplexes me. The way the short 'a' and long 'e' of Japanese are drawn out, the soft consonants whistling through relaxed lips and teeth. "Japan" sounds smooth, rolling off a tongue coated in the saliva that Balderson Royal Canadian Cheddar elicits in the mouth. The nationality, the suffix "ese," presents like a soft exhale at the end of the first bite. We tilt ourselves toward the distant winter sun, already descending. Ever prepared, Dad swings his Camelback from his Gore-Tex clad shoulder, offering me the mouthpiece. We ignore the motherly gesture; the Camelback is purely practical; its compact and ergonomic form carries three liters of water and snacks. Snacks we have in abundance—salted cashews, EatMore bars, peanut butter cookies, and doughy bagels from Safeway. Dad is having a weekend away and so we need French pastries, a "family sized" bag of plain Lays chips, five bottles of wine, steak and béarnaise sauce, mochi with sugar and soy sauce, and the Japanese Cheese.
This summer, "Donny," as Dad is known to his biking crew, will host the dirt bikers for his end of summer pool party. They arrive en masse each August, children and cousins in tow. Ken describes his failed marriage at length, washing each story down with a Corona. Brendan, Ken's son who used to cut the lawn, eats too much cheese before hitting the bong and throwing up over the side of the hot tub. Toddlers hang from mothers' arms in the shallow end while the men do backflips off the small diving board to ACDC. One year the party fell shortly after my last surgery to fix my cleft lip and palate, and I barricaded myself in my room, puffy and embarrassed. Another year, I walked into the kitchen just as a dirt biking friend of a friend tried to sling his arm around my sister's waist. Mom, my sister, and I dread the party, agonizing for months over whether or not to invite friends as a buffer or as a reprieve or as more fuel for the fire.
Japanese Cheese in the heat smells and feels like a childhood summer camp that took us all on a walk through Kenna Cartwright Park the day that I wore sandals. I pulled cactus spines from my toes the whole drive home. The sandals were the kind Mom rarely allowed: new, purple, strappy, and covered in sparkles. Beautiful, before they were covered in red desert dust and tiny constellations of blood where the prickles had lodged themselves in my feet. Recently, she has taken to complimenting me on my more practical taste in footwear. "I knew you would come around," she says. I tend to think, in August, of all of the sopping, miserably sun-baked sandwiches that accompanied me to these summer camps that would be eaten quickly and alone because of the way they dripped down my elbows and onto my shorts, made hopelessly soggy by thick slices of ox heart tomatoes from Grandpa's garden. His tomatoes always split with their own ripeness, turning cat-faced and black from the heat of the greenhouse. Grandma crouches, sweating, at five AM each summer day, picking fat white larvae from the open seams of each fruit.
Grandma once gave me a kilogram of Japanese Cheese wrapped in saran wrap to take back to Vancouver on the Greyhound. I forgot the cheese on her counter, and she called the next day to tell me that she had only just found it, mutilated by the Kamloops sun spilling through her kitchen window. Lately, Grandma has grown so fond of Babybel cheese that it threatens Japanese Cheese as the family favourite. She loves the neat puck shape wrapped in bright red wax. At her house over Christmas, I found half peeled crescents of cheese on the bathroom counter beside the sink, in the drawer with her Sudoku books and pens, and on the altar of the Komori shrine.
Mom tells me about how Dad got drunk on Canada Day, at a small gathering on the banks of a creek in Turtle Valley, where family friends have spent every summer of their lives. "The creek is healing," a friend sighed as she eased herself into one of its wells, cold water rushing around up to her neck. Later, Dad prodded at steaks and sausages, while Mom tossed salads and opened jars of pickles and hummus. Dinner wore on around the campfire where Dad's rosy drunkenness went largely unnoticed until the Japanese Cheese was passed around. Dad told of its origins and reminded all of his white friends from Westsyde Secondary School; "When you see me, you see a Japanese person." His hosts stiffened in their nylon camp chairs. Everyone protested, and for once Dad was unrelenting.
"You know how you feel," he had declared in a voice that hovered over the creek and campfire.
On Salt Spring Island, the route back to the truck is long and winding, leading us through dark cedar stands. The forest is so damp that our boots get stuck in deep black mud and our faces are covered in layers of dew. I called Dad in tears two years ago when I pulled a pile of clothes out of my closet only to discover they were covered in a wet grey dust, sifted all over like icing sugar. I wanted to know what was going on, why I was paying six hundred dollars for a wet room in a basement, why my clothes were being eaten away. "It's fucking moldy down there!" Dad proclaimed. In Kamloops, my and Dad's hands crack and bleed from the harsh desert. I could leave a pile of wet towels on the floor and expect to find them dry the next day. Open bags of potato chips sit on the counter for days and retain their crisp edges. I never woke up with a phlegmy cough, spitting yellow slime into a wastebasket next to my bed because of the rain that encroaches on every building in the city.
In January, Mom, Dad, my sister, Rachel, and I flew to Winnipeg for a wedding. My cousin was marrying a Mennonite music therapist from Northern Manitoba. It was bitterly cold; we skated on the Red River, and fell so hard on our knees that the pain shot up our spines. Our middle cousin killed himself in the room adjacent to the guest room Rachel and I stayed in in our aunt and uncle's basement. The ceremony was held in a large church downtown during its Sunday evening service, so that our small family subset was forced to huddle in a back pew, where Dad nudged me and whispered, "Everyone in here is white." Dave and Judith handed out communion after saying their vows, and rows upon rows of family and friends crowded to the front of the church. Dad gestured towards a hallway at the back of the church where we hid for the remainder of the service.
Afterwards, Dad passed around a mickey of Fire Ball, disrupting the sobriety of the quiet reception in the church basement. Around plates of perogies, kuchen, and matrimonial cake, our cheeks blossomed with colour at the first sip. The perogies were filled with sauerkraut and cottage cheese. Grandma fills hers with mashed potatoes, Japanese cheese, and green onions. A few more sips, and we became blotchy with redness, our mottled skin giving us away as interlopers. The perogies congealed on my plate into greyish lumps that lodged homesickness in the back of my throat with each vinegary bite. As the night wears on we are made more and more self-conscious not only by our unruliness but also from wearing the rosacea handed down by ancestors who couldn't hold their liquor. Pink creeps down my neck and into my earlobes. Pink like the sun on a smoggy day in Osaka, around the time school would let out and I would take the long train ride home. At dinner during our last night on the island, Mom steps away from the table for a minute. Dad glances at me between bites of lobster ravioli to remind me that, "Everyone on the Islands is white, eh?" I nod, worn out from our weekend away. "I feel much more at home on the mainland." I want to talk about this, but Mom is already on her way back from the bathroom.
*
Two ferry rides and a four-hour drive later, we arrive in Kamloops. A sense of relief fills the truck as we move from coastal rainforest to the wetter interior mountains of Hope, across the icy Coquihalla Summit, and finally into the hills and plains of Kamloops. Patches of snow illuminate the bluish nighttime. Dad hopes that an early spring will have him dirt biking again by the end of the week. Grandma and Grandpa join us for dinner in our small, warm dining room with a view over the valley, from which their house is barely visible near the edge of the North Thompson River. We describe our trip: the French pastries, the long hike through Ruckle Provincial Park, and the fish and chips.
"That was half Japanese before the war!" Grandpa shouts. Nearly deaf, he mostly drifts in and out of conversations, interjecting with whatever comes to mind. Tonight, he has followed the trajectory of our stories closely, waiting to reveal his knowledge of the island. "They farmed and fished there. I been there," he declared, before returning to his steak.
The cabin we stayed in had a coffee table book about Salt Spring Island. The pages were filled with smiling organic farmers and craftsmen who grow perfect round tomatoes and build coffins and chandeliers out of driftwood.
That first night back in Kamloops, at home, I realize that I have forgotten to unload the cooler once everyone else has already gone to bed. One of the ice packs has exploded a thick layer of slime, coating the bottom two inches of the bin. I pull out our weekend leftovers one by one, rinsing them off. A half finished jar of Grandma's dill pickles. Mom's organic, unsalted peanut butter from Trader Joe's. I swish my fingers through the goo until I pull up several small, uniform, rectangular packets. The Japanese Cheese, sealed tight, is still cool to the touch. I sit down and stare at them, tinted an unearthly blue by the contents of the ice pack. There are little translucent beads in the blueness that glimmer like tiny marbles. On Salt Spring Island, the stars cast their light onto the beach.
---
'Deserted Interiors' is a two-parter by Jane Aiko Komori, which draws on her experiences living in the BC Interior. Her work has appeared in several publications, including GUTS Canadian Feminist Magazine and a forthcoming piece in Matrix Magazine. Originally from Kamloops, BC, Jane is a gender, sexuality, and women's studies student at Simon Fraser University and currently pursues writing, academics, and activist work in Vancouver. 
Photo by Jane Komori.