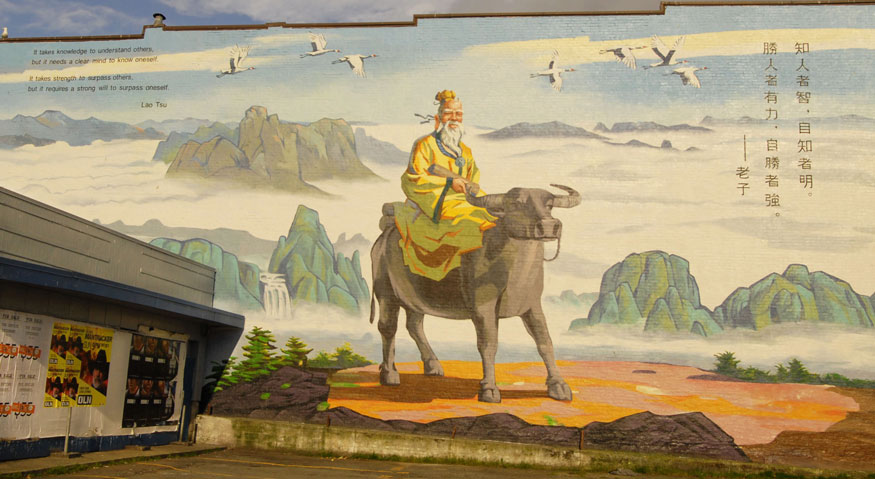 A week after moving to Vancouver, I tell my partner I'm worried that our relationship will deteriorate into long evenings where I inform her of the amazing things I just missed on free Craigslist: the antique radio, the oak bookcase, the wooden canoe, the cassette tape collection. I don't have a place to store these things yet, but I'll eventually have a room to call my own.
My first few weeks in Vancouver, and I'm still looking for a place to live. Craigslist leads me to an intersection in East Van. A man is standing in front of a run-down two story apartment, drinking a beer.  
"Anything for rent in here?" I ask. The man smiles.
"I think so," he says. "Come talk to the owner."
We walk into the building's basement. A large stuffed owl stares at me from the owner's work desk. There are many old tools and unfamiliar smells. The owner, white hair and clean-shaven, walks over to an old locker, pulls out a glass bottle. He takes a drink and stares at me too. We walk out on the street.
"What about that room?" I say, pointing to a window.
"Not for rent," he says.
The room is inaccessible. He explains how he dry-walled over the door when the old building manager died and hasn't been in since—hasn't had time. Dead potted plants still rest on windowsills, only visible from the street-side windows. A plastic Vancouver Canucks Memorial water bottle. A Newfoundland flag. A porcelain German shepherd.  We walk up to the second story. All of the other rooms are more than I'd like to pay or are being renovated. He gives me his phone number, says he'll let me know if anything becomes available. He continues drinking as we walk back downstairs. "A lot of white people left the neighbourhood," he says. "Others moved in. Not good." He pauses. "I knew a hard-working Asian" he says. "He was good. I'd let him rent here." We walk outside. "I'm not a bad man," he says to me. He says it more than once. He stoops in his car and drives off.
I eventually find a bedroom in a musty old Strathcona house, one of the oldest neighbourhoods in Vancouver. The trees grow high above the street and the sidewalks are busy. English is not the most common language. I'm a five-minute walk from fruit and vegetable sellers in Chinatown, just off East Hastings, close to the mural of Lao Tzu. In 2015 the mural was defaced with the word "moron". In the same part of town, a different mural of five Chinese-Canadians on a park bench was similarly defaced. I spend an afternoon on the corner of Gore and East Pender, staring up at the mural. I walk into the corner store across from the mural. Through the open door, the store keeper has a clear view of the wall. I ask her about it. "Soon no more," she says. "Big apartment." She smiles and shrugs. I slowly walk back home.
The man who lived in the house before me took all the furniture when he left. The living room had a TV, a TV stand, and a couch that needed to be thrown out—that was pretty much it. I acquire a free couch off a woman on Craigslist, a desk off a man in Burnaby, plants from a student in Yaletown. I buy a dresser from a man just off Commercial Drive. He's driving an old eighties pick-up truck—boxy with horizontal stripes running down the side. We pull off the dresser together and walk towards my house.
"What an ass," he says about the girl walking in front of us. I'm not sure she's an adult. "I'd love to drop this load on her," he says with a sneer. He speaks like a sneer looks and assumes an easy familiarity. We are both male and white—maybe, like Trump with Billy Bush, he assumes comradery on that basis. Maybe my silence means that he's right.
"It's okay here on the porch right?" I say yes. I'm glad when he leaves.
I start my summer class at UBC. Every day I'm taking the number 14 bus, up and down East Hastings, on the way to school. Every day I pass the downtown community garden and tent city. On the fence of the community garden, there is a wooden sign in the shape of an eagle feather—Culture Saves Lives.  In the window of one of the apartment buildings behind the community garden, there is a large confederate flag. I wonder about the owner of the flag. Who he is, what he's trying to accomplish.  
I've been in Strathcona for a while now. The arugula seed I brought from the prairies has started to sprout. I recognize some of the bottle pickers. They recognize me. The once-strange scratching from inside the roof is now just the busy, old squirrel that hops between trees during the day and squeezes between rafters at night. It hasn't started raining yet—I'm starting to feel a sense of safety and belonging.
The third month in Vancouver and my girlfriend sits in her bedroom while her housemate's boyfriend rages about traffic and the stupid chink drivers. Across the city, my housemates and I are sitting on our front porch when a woman screams from the alley. We run over. "Asshole," she yells, gathering her scattered purse and walking away. The attacker is far away and running, his coat blending in with the alley.
My partner and I attend Dirty Knees, an art exhibition of hybridized female, Asian identity, and after we go out for food. I ask my partner what ethnicity she thinks the server is. We get into an argument. I feel as though my partner, who is herself Asian, is subtly accusing me of racism. I'm embarrassed. I'm just curious, I say. What's wrong with that?
White fragility is a concept I'm exposed to in Vancouver: the proclivity for white people to get defensive when questioned about their understanding of race. It makes sense to me now. But it didn't at the restaurant. I was still angry. Those people—the landlord, the Craigslist man, the owner of the confederate flag, the roommate's boyfriend—they are the racists, I say to myself.
Our argument continues to bother me: I don't think of myself as racist. I reflect on recent Craigslist interactions. Whenever I've been arranging a free furniture pick-up and heard someone well-spoken and without accent on the phone, I've always assumed the speaker was white. And every time I've gone to pick something up, the well-spoken, accent-less woman or man has not been white. The man in Burnaby who gave me the free antique roll-top desk was from India, the woman with the orange, seventies couch was Chinese.
I walk back to the mural. It's raining today. I sit down under a store awning and ask Lao Tzu what ethnicity he is. He says he was born far from here. I tell him he is a hard-working Asian, that I'd let him rent a room in my apartment building. He says nothing. A man runs down the street and knocks Lao Tzu off the bull. Lao Tzu is on his hands and knees, gathering his scattered belongings. Another man rides past on a bicycle, yells stupid chink, rings his bell and keeps pedaling.
In Vancouver, there are rooms within rooms, dry-walled over, visible only from the outside. Between the compartments I've made in my mind, the walls that separate me from those people, the racists, there is a place where I remain one myself. The social forces that lead me to wonder about a person's ethnicity before their personhood, the whiteness as default position—these are the same social forces that create those chinks, the Confederate flag, the Indigenous woman in the alley gathering her scattered possessions, the defaced and disappearing murals. In the upper-left corner of the Lao Tzu mural, there is a quotation: "It takes knowledge to understand others, but it needs a clear mind to know oneself. It takes strength to surpass others, but it requires a strong will to surpass oneself."
My partner and I are still figuring out how to live into our different experiences of race, and I'm still learning how to live in a new city. As a child I lived an uncomplicated whiteness, mostly surrounded by people who looked and spoke like me. Being in a new environment has forced me to examine the ways I perceive that whiteness in relation to the world around me, a world where people of colour are more aware of the implications than I am. My partner has helped me learn that being racist doesn't mean you are evil: it means you have work to do.
The last time I walked past the Lao Tzu mural, the construction frames had risen to his chest.
---
Benjamin Hertwig's first book of poems, Slow War, is coming out with McGill-Queen's in 2017. His writing has recently appeared or is forthcoming on NPR, in the New York Times, THIS, Word Riot, Prairie Fire, Freefall, Matrix, Qwerty, and Geez. He lives in Vancouver, on the unceded land of the Musqueam, Squamish and Tsleil-Waututh First Nations.
Image obtained from the website of the Vancouver Mural Tour.