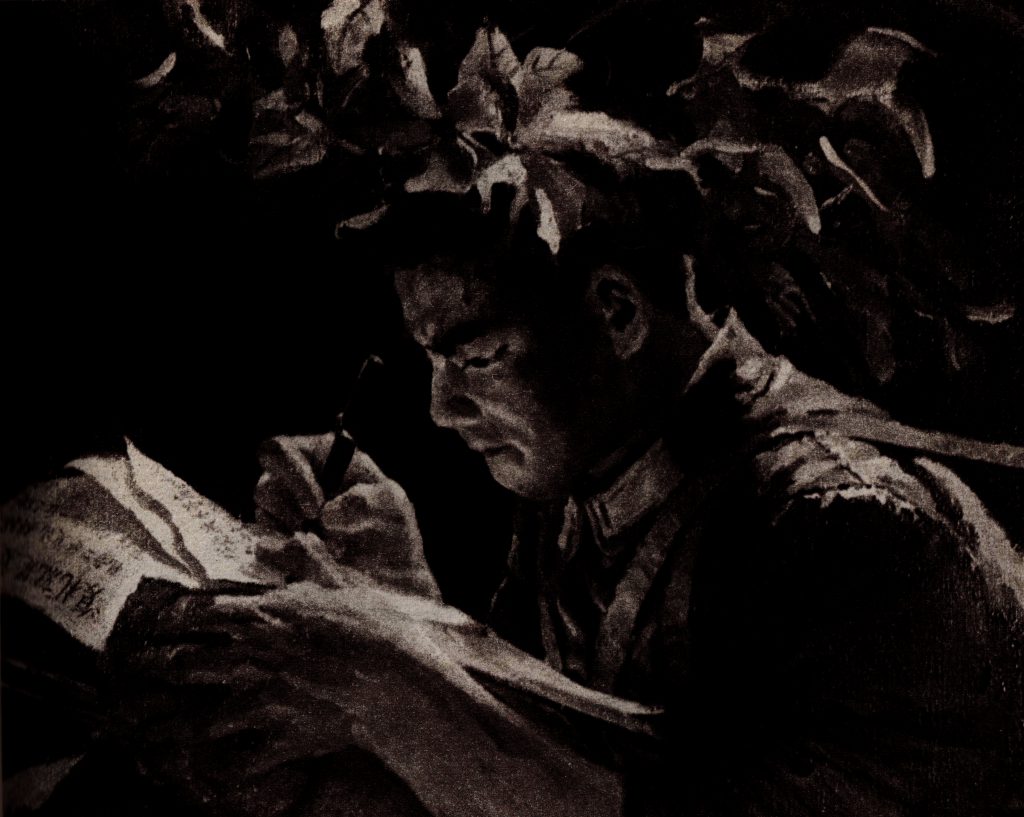 The trip home is always long.
Setting off from Toronto on a thirteen-hour flight followed by a two-hour bus ride, I finally arrived at a small town in the Central Plain of China.  I was physically exhausted but even more mentally fatigued by the anticipation of a special reunion. When I went through the front door of the family home I came face to face with a photo of my father in his prime, the thick black hair a testament to his youth, the straight nose indicative of his character, and the bright, clear, sincere gaze piercing through the thick dust of months and years.  Below the photo was everything he had left to me: approximately 3,000 books.  They stood in bookcases made of different materials, but at attention, as if waiting for my arrival.  In that one glance it was as if all the windows in that room had suddenly crashed open and a strong wind that had crossed the oceans lashed at the tree of my heart and shook down wounded fruit all across the ground.
The last time that I returned home was over a year ago when my father, having gone through all kinds of treatments, was still bravely pitting himself against lung cancer.  Who would have guessed that less than two months after I left he finally broke his halberd and buried it in the sand in surrender before the god of death?  And I, who lived over 10,000 kilometers away, would be reminded of him almost every day by tiny details that seemed to bear no obvious connection to him.  I would look up at the sun hanging in a clear azure sky, think that he would never again feel the warmth of sunlight, and then my tears would fall.  Or there would be news on the TV of a stranger's death, making me feel sad for the children of someone I had never met, because I knew only too well the pain of losing someone close.  Those wounds had been wrapped carelessly in the white gauze of time, but how could I avoid my heart breaking now as I faced my father's image and his book collection?
My father's photo was in black and white, taken in the 1950s.  He had been studying Chinese literature at university then and was known for his exceptional literary talent.   He was also an assistant chief editor of a student journal. He had published some short stories and even been awarded a provincial literary prize.  Not long after, however, during the "Anti-Rightist" campaign, because he had told the truth in commenting that "ordinary people don't have enough grain to eat", his words were declared "Rightist".  After graduating, he volunteered to go to a small town in the Northeast to teach language at middle school.  It was as if Fate's cold finger had flicked lightly through the secret ledgers and inscribed his name in the shadowy official files, unwilling to release him from torment for the next twenty years.  He maintained his deep abiding love for writing and, relying on a rich foundation of classical learning, in his spare time had translated into modern Chinese many classical language texts such as statesman Su Dongpo's "Random Sayings of Master Ai". He sent them to the famous historian Mr. Wu Han, receiving accolades and recommendations for his work.  When the Cultural Revolution began in 1966, Mr. Wu Han suffered terrible persecution and my father, because of his correspondence with him, was labeled a "member of the Black Gang".  Red Guards shaved my father's hair in the "yin-yang" pattern, and tried him before a citywide rally. They hung a big blackboard around his neck, and then paraded him through the streets standing in an open truck. His newly published short story collection was dispatched back to the printer's and pulped, along with his smashed literary dreams. The day I was born he had been locked in the "cow shed" to "reflect on his crimes."  He asked one of the guards to take a note to my mother on which he had written the name he had chosen for me: Xiaowen – profound literary discernment – thereby entrusting his literary dreams to me.
I slowly passed my hand along row after row of books, their spines still seeming to hold onto my father's warmth.  In the 1960s, my father had been sent off to a tiny remote mountain village in the Northeast to do "reform through labour", carrying me with him on his back to be left to be raised by a peasant family.  A year later, he carried me on his back again to the city, sending me to stay at my maternal grandmother's.  His back was my childhood cradle.  On the farm he planted crops and drove an ox-drawn cart, only returning home to the city seven years later, but still deprived of the right to teach and only able to do some odd jobs in the school's factory.  In the summer of 1976, because he came under suspicion in the movement to oppose the tendency to "Rehabilitate the Case for Rightists" he was unjustly sent to prison, nearly being sentenced to death.  During the time he was in prison I was shunned by neighbours and insulted by my classmates, hiding alone in a small room reading his collection of books, using the lamplight of literature to stave off life's darkness.
Over the last twenty years whenever I phoned home from abroad my father would enthusiastically report on the new books he had bought, even going into detail of which bookshop in which town and how much of a discount he had obtained.  Books and alcohol – these were his life's obsessions.   Throughout his life he teetered between the clarity of books and the haze of drink.  It is only now that I have come to realize that it was due to the mental anguish caused by a series of tragic experiences that he looked to alcohol for escape; but perhaps it was only books that served as the vessel for him to cross the bitter sea.
I decided to select a few boxes' worth of my father's collection to be shipped to Canada.  These books had accompanied my father as he moved from place to place and now would accompany me on a new journey.  Without my father, home would lose the deep significance it had once held.  All I could do was to take some books with me, preserving a life's memories.
And yet how painful and difficult this process of selection was!
On opening each volume the countless creative spirits of the original Chinese characters created by Cang Jie would jump out at me and for a split second the world would become something extraordinary.  When I returned home in 2005 I took back with me the first 20 volumes of the Twenty-four Histories, and this time I packed up the remaining 46 volumes in cartons, thereby ensuring I at least had the complete history.  My father had said that everyone should study and respect history.  I found Romain Rolland's Jean-Christophe.  Many years ago when I set out on the tough road of studying for a master's degree in world literature my father began collecting foreign literary works.  He knew that Jean-Christophe was my favourite and bought three different translations of it all at once.  One sentence has always been an inspiration to me: "I have struggled; I have suffered; I have erred; I have created.[1]"
I saw several of the books I had written.  Those days when I had relied on the warmth of the written word in the cold winters of a foreign land once again came walking towards me on snow in my memory. After I had published my first book my father enthusiastically bought a hundred copies which he gave to his old classmates, as if announcing to them that I had inherited his reverence for literature and great love for writing – his literary dream like a phoenix rising from the ashes.
I slowly took down two plainly bound handbooks on classical Chinese for the national university entrance exams that my father had written.  A few years ago, when he knew he had an incurable disease he had ignored his family's objections and grabbed hold of every spare moment to write.  He had been a teacher for nearly half a century and committed himself to passing on his experience of teaching middle school Chinese to a new generation.  He did not know how to use a computer, so he wrote everything by hand. After he had written the first draft he proofread it five times.  I could not imagine how he could carry on working while undergoing chemotherapy and radiation.  These two books were no more than 600 pages in all, but the abundant strength of his willpower made them weigh as heavy as a ton as I held them in my hand – from this time on I would never again dare to think of giving up while writing.
My gaze fell on a collection of Pushkin's poetry.  Opening the cover was like opening up the silver screen of the years, once again finding myself in a familiar landscape.  Many years ago my father had stood in a small room with bare walls, reciting "Exegi Monumentum" with great emotion:
Exegi Monumentum, By A.S. Pushkin. Translated by A.Z. Foreman
I've raised a monument not made by human hands.
The public path to it cannot be overgrown.
With insubmissive head far loftier it stands
Than Alexander's columned stone.
No, I shall not all die. My soul in hallowed berth
Of art shall brave decay and from my dust take wing,
And I shall be renowned whilst on this mortal earth
Even one poet lives to sing.
My father never became a well-known poet or writer, but he was admired and loved by legions of good friends and students, and I somehow return again and again to recording chapter after chapter of his life, so that now his life history occupies every corner of my world.  These memories are stacked up in our hearts to form his Exegi Monumentum.
Several months later, when my father's books had arrived at my house in Toronto, I was unable to sort them out immediately – not for any physical barrier, but because of a mental one.  The boxes of books seemed to be filled with a fog of anguish that would cover my heart like a pall if I opened them.  Facing a personal unalloyed spiritual emptiness, all I could do was to sit at my desk and write.  My father had many regrets on the eve of his passing, one of them being that he would not be able to read more of my works.  If only I were to write, his life would continue.  And although the stories I write have no connection to his own experience, in my thoughts he is always my first reader.
I commissioned someone to make me an oak bookcase fitted with lights and finally tidily arranged my father's books on the shelves, as reverentially as if performing a religious rite.  My father and I were living in completely different realms, and yet his comments and fingerprints in the books were still in my world.  In legends it is said that a shaman can carry the soul of the departed back home to communicate with the living.  These books were like countless shamans pulling me into an endlessly unfolding dialogue with my father, so that in the midst of the hubbub of this chaotic world I had a tiny bit of serenity.
I live in a foreign country where Chinese is not the primary language, ceaselessly writing in my spare time, carving out a clear spiritual pool where the roots of my soul can plant themselves and my deep-seated feelings can spread out on the water like lotus flowers all year round.  Perhaps I, along with other writers living abroad, carry on my back the legacy of Chinese culture as we endlessly walk along the road to our spiritual home, raising a "monument not made by human hands", using words to "awaken people's noble feelings."
---
[1] Rolland, Romain, Jean Christophe: Journey's End, Dodo Collections, 2015
---
Zeng Xiaowen has published three novels – The Daytime Floating Journey, The Night Is Still Young and The Immigrant Years; a collection of short stories and novellas – The Kilt and Clover; a collection of prose – Turn Your Back to the Moon;and more than three hundred other short stories, pieces of prose, poems, and essays. Her works have been included in a number of literature collections. The short story, The Kilt and Clover, was on the China Fiction Association's Top 10 List for 2009. Further, she co-wrote and published, with Sun Bo, a 20-episode TV drama Invented in China, which won a Chinese Writers Erduosi Literature Award and a Zhongshan Cup Overseas Chinese Literature Award in 2011. It has recently been made into a 33-episode series re-titled Let Go of Your Hand.
Alison Bailey is a professor in the Asian Studies Department at the University of British Columbia.
Picture obtained from 'Selected Images of Workers and Farmers', Tianjin People's Fine Arts Publishing House, 1974.