This year at Anime North 2018, Ricepaper Magazine's JF Garrard was fortunate to encounter Jasmine, a Japanese-inspired, decoden entrepreneur and event coordinator. What is decoden and why should you have this in your life? Let's ask her a few questions and find out!
Ricepaper Magazine, JF Garrard (JFG): Can you tell me a bit about your background [education and work experience] and how you came up with Mowgen and Kawaii events?
Jasmine Mowgen (JM): My name is Jasmine and I studied history and politics in university.  I have a Masters in History, wherein I focused my studies on public history and teaching history to the public through virtual means.  When I finished my degree, I managed a small cafe for a couple of years, cooking treats and serving coffee to customers. I've always had a sweet spot for treats. When I left my job at the cafe, I had just purchased a new phone and  wanted to have a very kawaii-looking phone case. I knew what kawaii phone cases were because when I was growing up, my dad had always taken me to little shops that carried Sanrio items in Toronto and Vancouver where I could buy stamps, stickers, and things to decorate objects with. Sometimes my parents would bring me back gifts from Hong Kong and I just loved how all the things they bought for me were so cute.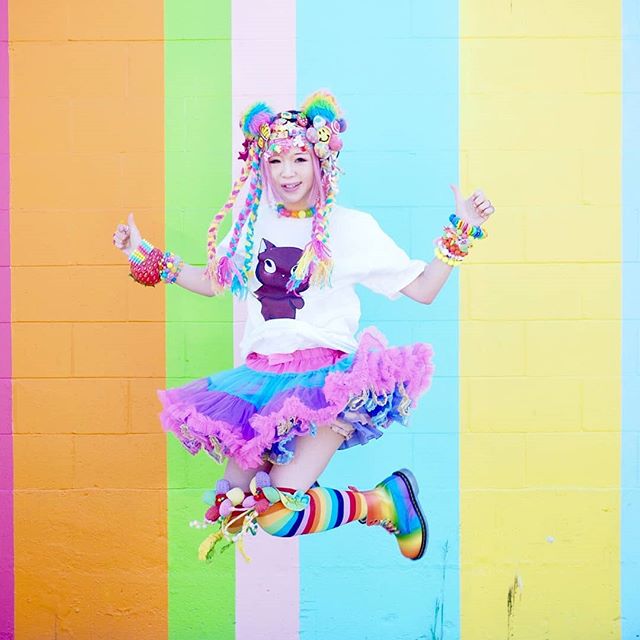 This is how I came up with Mowgen. I wanted to create a cute phone case for myself when I bought a new phone. I knew I would probably break it within a year if I did not have a case. So, I decided to craft one of my own. Most decoden stores have the name, "Deco," "Decoden," "Milky," "Crafts" or some variation of the sort. When I made my store, I wanted a name that nobody knew. I wanted to make something special, so I named my store after my cat's nickname, Mowgen—her real name is Morgan. I launched www.mowgen.com in late 2014, early 2015 and I started to run the convention and craft show circuit to get my products out there more locally in Toronto. By 2017, I wanted to start my own art events that catered to my niche interest in cute things and fashion.
Kawaii events at its inception was a difficult task for me to build. When I ran my first event, I ran into all sorts of difficulties with other J-Fashion communities that I had tried to work with.  What I learned from running my own events now, is that there must always bea very clear mandate of what my event is and what it is not. I aim to make an inclusive fashion space where people are not judged by their creed, the brand of their dress or the costume they chose to wear.
As explained on the Mowgen site: "Our mandate is to create a community space influenced by art, illustration, and fashion, inspired by the root word "可愛." Our kawaii events differ from regular comic conventions and anime conventions because of our passion of curating cute artwork and fashion from Asia. We strive to create an accessible market and mini con that is free to the public. Our kawaii events cater to those who cannot afford to attend an expensive convention, for those who want to hang out with their friends at a convention, for people who love to cosplay, for those who love photography, and for people who want to do holiday shopping at an adorable market."
Every year, I aim to change the name of the Kawaii event to match the feel and expansion of the events. I try to invite guests who have been [influenced] by cute culture in Asia, [and aim] to promote Asian artists, and create an inclusive community space while also being sensitive to various Asian cultures. Through my personal experience as an Asian-born Canadian, I also want to set a good example of how a female, vibisible minority can be a positive community leader.
JFG: Please explain the decoden trend. In an article with Virago Magazine, there was mention of a dark side. Why was there any conflict?
JM: When I was a kid, growing up, and even now, you can buy custom "bling" cases for cellular phones at Pacific Mall.  Decoden, also known as Sweets Deco, is a popular craft in Japan, Hong Kong, Singapore and China. This concept is similar to popular crafts in Canada,  except this craft is specific to the simulation of fake sweets and cake. Many popular craft brands like Padico and Floree sell products from Japan to crafters so that they can make their own decoden. For me, early exposure to kawaii things from my parents as a child lent itself to my gravitation towards this art form.
However, there was a conflict I found online shortly after I had started my website and my Instagram account.  There were these non-Asian, Caucasian twenty-something-year-olds who would take pictures of my work and tell me that I copied them—I had never seen these people or their work in my life.  These three women were from California, and when I looked up their profiles, I was flabbergasted at how they were telling their followers on Instagram that they refused to share where they bought their supplies from or how they made the craft. They even had posts that accused other people of copying their work. Many of my followers reported these Instagram users and the posts were taken down.
One person even went so far to take a simple idea, a cake with frosting and icing, put it on a phone case, and tried to copyright it as her own invention even though there were dozens of examples of cake phone cases made in Japan five years ago. For me, I found this to be problematic. These three western Caucasian Instagrammers took an art form, a craft, from the East and claimed it as their own invention—basically negating the influence of where this craft came from and tried to reinvent it in California as something that was their own idea or art form.
End of Part 1