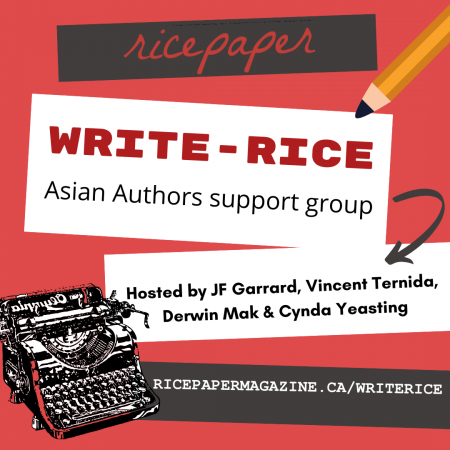 Write-Rice is an Asian Writers support group which gathers once a month. It's an informal session in which a host leads a conversation aimed to improve the craft of writing. It's also a place for people to share things they have experienced in their writing careers and to help each other do better as writers.
No writer is a lone island!
Our hosts for 2021 are JF Garrard, Vincent Ternida, Derwin Mak and Cynda Yeasting.
These sessions are free and will require Zoom registration (available a month prior to each topic). Each session requires individual registration (signing up for one doesn't sign you up for all of them), please click on the topic you are interested about and you will be led to the Zoom registration link. Sessions start at 5pm PST/8pm EST and is scheduled for 1.0 hours.
Feb 19 – JF Garrard (What are the different options for publishing? Traditional/Self-Publishing/Vanity/Podcasting/Youtubing, etc) -Zoom registration available
March 19 – Vincent Ternida (What is the difference between short stories, novels and poetry?) – The Short Story, Novel, and Poem powerpoint download
April 16 – Derwin Mak   (What do editors look for? Surviving the slush pile and looking for submission calls for fantasy and science fiction genres)
May 14 –  Cynda Yeasting (What is an author platform? Discussion about networking and promotion ideas)
June 18 – JF Garrard (What is the difference between genres? Scifi/fantasy/horror/specfic/magical realism, etc) -Zoom registration available
July 16 – Vincent Ternida (Writing a good villain and interesting characters)
August 20 – Derwin Mak  (What happens at genre conventions for science fiction, fantasy or romance? Are they worth the money to learn about writing?)
Sept 17 – Cynda Yeasting (Social Media 101. What is the difference between Facebook/Twitter/Instagram/Tiktok, etc)
Oct 15 – Vincent Ternida (Writing realistic fiction and plotting)
Nov 19 – JF Garrard (Nainowrimo Write in session, e-book prizes during "Word Wars" in which people compete to see who can write more words in 10 mins)
Dec – no session, survey link will be made available for feedback
Host Bios
JF Garrard is an award winning speculative fiction writer, editor and publisher. She is the President of Dark Helix Press, serves as the Co-President for the Canadian Authors Association's Toronto Branch, Festival Coordinator for LiterASIAN Toronto, Deputy Editor for Ricepaper Magazine, and Assistant Editor for Amazing Stories. Her portfolio of books and short fiction is listed on jfgarrard.com and you can find her on Twitter/Instagram @jfgarrard, Facebook @JFGarrardauthor.
Vincent Ternida is a screenwriter, filmmaker, and author with several published short fiction and creative non fiction pieces. He was a second rounder for Austin Film Festival's screenplay competition and a finalist for Writer's Guild of Canada's Diverse Screenwriters in 2013. The Seven Muses of Harry Salcedo is Ternida's first novel. He lives in Vancouver, British Columbia. Vincent made the 2019 CBC Short Story Prize longlist for Elevator Lady. His CBC interview is here.
Derwin Mak's story "Transubstantiation" won the Aurora Award for Best Short Fiction. The anthology The Dragon and the Stars, edited by Derwin and Eric Choi, won the Aurora Award for Best Related Work. Another anthology, Where the Stars Rise, edited by Lucas Law and Derwin, won the Alberta Book Publishers Award for Speculative Fiction. The anthologies have stories by overseas Chinese or Asian writers to get their viewpoints and experiences in science fiction and fantasy. His novels The Moon Under Her Feet and The Shrine of the Siren Stone are available again from Dark Helix Press. Derwin's stories have a range of topics, especially the interaction of religion with science and politics ("Transubstantiation", The Moon Under Her Feet), political power ("Songbun"), and LGBTQ+ issues ("XY-Girls", "72 Virgins"). His website: www.derwinmaksf.com.
 Cynda Yeasting has been writing her entire life and continues to write, but only the most special of stories made its way to being her first published book, For Michael, Love Cynda. She had always wanted to be a writer and had tried her hand at romance in her teens.  She soon realized that she did not have the life experiences to carry off a convincing story.  In 2007, as a divorced, single mom of two sons, she decided to try her hand at love, give it one more try.  She turned to online dating and out of the thousands of men, she met Michael Chu, who was living with stage 4 terminal cancer.  After meeting Michael, falling in love, and spending the rest of his life with him, she now had a story she needed to write about. www.formichaellovecynda.com