A Book Review by Jessica Rose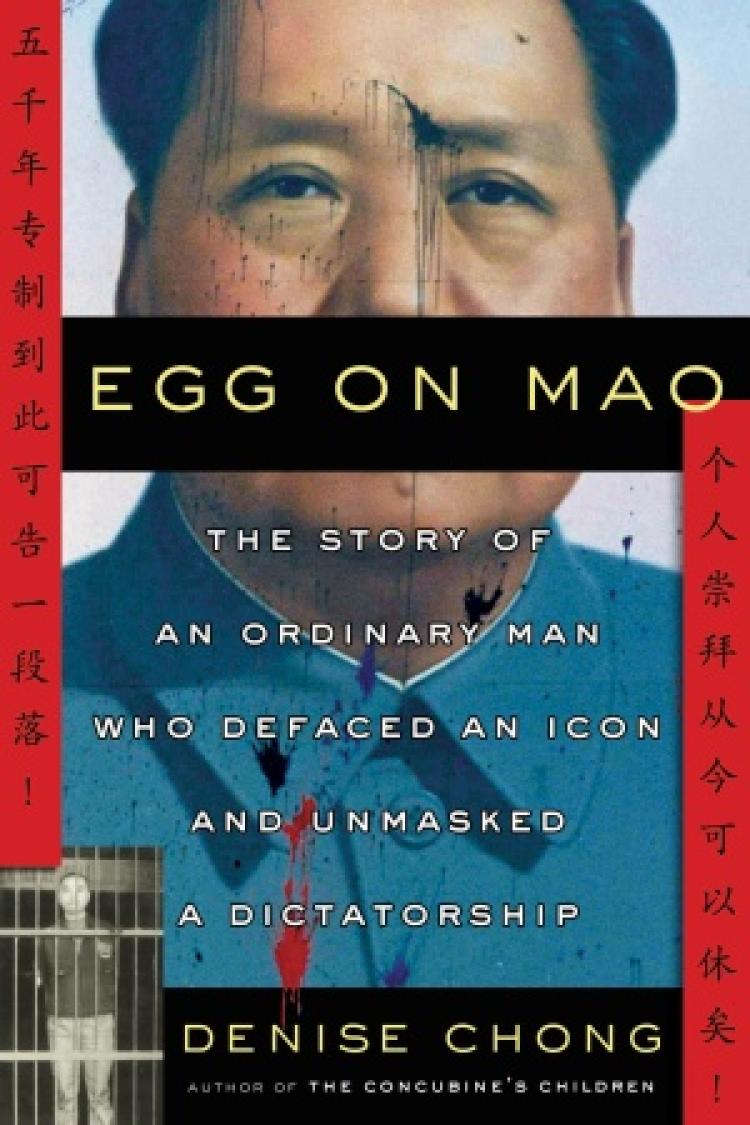 Just after 2:00 PM, on May 23, 1989, 25-year old Lu Decheng clutched a paint-filled egg in the palm of his hand, as he eyed the infamous portrait of Mao Zedong that dominated Tiananmen Square. With one swift movement, he took aim, sending the egg high into the air toward Mao's steady gaze.
Moments later, globs and streaks of colourful paint soiled the oil painting, as onlookers questioned the motives of Decheng and his two friends.
Decheng had never felt so alive.
The heartbreaking, yet often heartwarming plight of Lu Decheng, a bus mechanic from southern China, is the subject of Denise Chong's latest book, Egg on Mao: The Story of an Ordinary Man Who Defaced an Icon and Unmasked a Dictatorship.
Chong's third offering of non-fiction—following two Governor General Award nominees: The Concubine's Children and The Girl in the Picture—opens with Decheng's moment of defiance against the Communist regime, less than two weeks before tanks bulldozed hundreds, maybe thousands, of pro-democracy protesters. In this book, Chong seamlessly intertwines glimpses of Decheng's modest childhood and young adulthood with detailed descriptions of his nine years of imprisonment, following a criminal charge of counter-revolutionary destruction.
Raised by a widowed father who tried to teach him to respect the Communist regime Decheng was chastised when he failed to shed tears during the mandatory period of mourning that followed Mao's death in 1976. Decheng's feelings of powerlessness were exemplified when his young love Qiuping became pregnant. Forced to lie and hide from authorities, as forced abortion was the strict penalty of children outside of wedlock, their young son died soon after birth when the couple couldn't get him proper medical care due to the regime's strict policies. Intrigued by the student pro-democracy movement like thousands of others, Decheng climbed aboard a bus, and later a train, to Beijing, with the goal of forcing change.
Twenty years after the massacre in Tiananmen Square, many details are still shrouded in secrecy, largely because of a ban on discussion that still exists today. Chong, who is herself of Chinese heritage and who lived in Beijing for a number of years, offers readers a rare glimpse, based on her own interviews with Decheng following his move to Canada in 2006.
Unlike other books that piece together the events leading up to the Tiananmen Square Massacre, this is not only a political story. Rather, Egg on Mao puts a human face on a movement that had thousands of players, each with their own distinct story, marked with tragedy and rare triumphs.
Denise Chong's careful prose is a testament to her deep passion and understanding of the human story, examining the most universal themes: regret, love, family, and perseverance, to name only a few. She is a masterful storyteller with an ability to reveal the inspirational side of even the vilest of situations.
Using direct quotations sparingly, Egg on Mao is an exemplary piece of literary non-fiction, reading like a novel, and undoubtedly breaking reader's hearts—and picking them back up again—along the way. Readers can't help but feel great sympathy for Decheng as imprisonment leaves him malnourished and worn, especially after Quiping asks him for a divorce.
Readers who are well-versed in the story of Tiananmen Square will inevitably appreciate the human face presented in Egg on Mao. However, because Chong's storytelling is not riddled with the rhetoric of the Communist movement, it also acts as a worthy introduction to a very dark chapter in history.
Chong describes her writing and process as tracing a "biography of a gesture" from its beginning through to its consequences, asking us what it means to make a stand in the face of adversity. Undoubtedly, readers will be attracted to the symbolism of Decheng's defiant gesture, defacing not only a portrait, but an entire movement, as the entire world looked on.
Subscribe to Ricepaper, to get your quarterly fix of Asian Canadian cultural awesomeness.