Asian Canadian Writers' Workshop is proud to be official hosts of Indie Author Day, happening Saturday, November 7 in 2020! We are one of the few hosts in Canada, please check out the official website (click here) to see what other events are going on all over the United States & Canada. To access ACWW events, please see below for details and Zoom registration links. Note that these free tickets are limited in number and are first come first serve.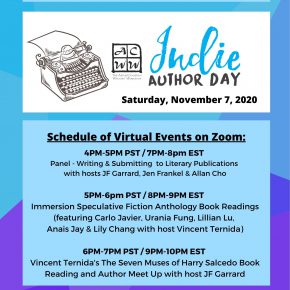 NOV 7 – 4PM-5PM PST / 7PM-8pm EST
Panel – Writing & Submitting to Literary Publications with hosts JF Garrard, Jen Frankel & Allan Cho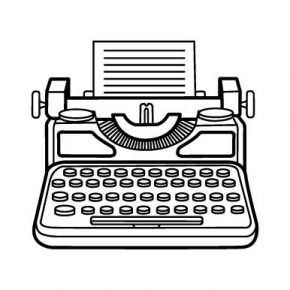 When submitting to a literary publication, it's very easy for even the most creative and accomplished pieces to be thrown into the "slush pile." Literary magazines range from niche webzines to university-funded print journals to renowned publications like Paris Review. The amount of slush published varies accordingly, but one thing is certain: acceptance is no sure thing as submissions far exceed quotas.
Unpublished writers who are looking for their first publications are often concerned about whether literary magazines or anthologies ever publish unpublished writers for good reason: all publications receive far more work that they can publish and far more work than the editors can read.
Every writer starts out unpublished, so we have to start somewhere. This workshop is intended for those who are starting out in their writing careers who need a strategy or a spark to getting their early craft accepted. Two editors offer their experiences and guidance on the inner workings of the often exclusive and opaque world of publishing.
Featuring:
JF Garrard, deputy editor of Ricepaper Magazine and editor of Trump: Utopia or Dystopia anthology, Immersion anthology
Jen Frankel, editor of Trump: Utopia or Dystopia anthology, author of Undead Redhead, Blood & Magic series
Allan Cho, executive editor, Ricepaper Magazine and editor of Alliterasian anthology, Immersion anthology
*********************************
NOV 7 – 5PM-6pm PST / 8PM-9PM EST
Immersion Speculative Fiction Anthology Book Readings
Featuring Carlo Javier, Urania Fung, Lillian Lu, Anais Jay & Lily Chang with host Vincent Ternida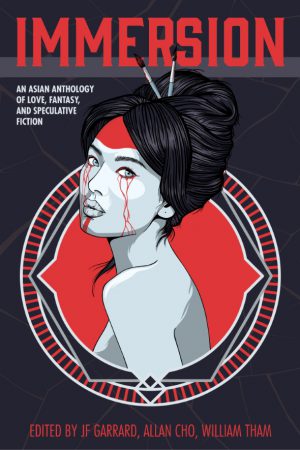 Join us for our author readings from the Asian Canadian Writers' Workshop/Dark Helix Press' Immersion Anthology which features speculative fiction stories.
Your janitors are secretly part of an underground society. Craigslist shamans are available for shape shifters. Hopping corpses terrorize a small town while an aging samurai embarks on his final quest. These are just a glimpse of the fantastic scenes within the pages of this book.
Journey to places where your understanding of reality is inverted in this new speculative fiction anthology featuring fifteen stories by Asian writers from around the world.
The session will be hosted by Vincent Ternida.
Featured authors:
Carlo Javier was born in Quezon City, Philippines and received a BA in Communication Studies from Capilano University. His short story "Janitors" was published in Immersion: An Asian Anthology of Love, Fantasy, and Speculative Fiction. His work has also appeared in Ricepaper magazine. He lives in Coquitlam, Canada.
Urania Fung is an English professor who grew up in Texas with 1980s Hong Kong entertainment as her babysitters. Monsters and martial arts have been swimming in her head ever since. For more on what she does besides grading papers, please see Urania Fung's Blog.
Lillian Lu (she/her) is the author of "Heirlooms," a short story in Immersion: An Asian Anthology of Love, Fantasy, and Speculative Fiction (Rice Paper Magazine 2019). Her academic work can be found in The Rambling (October 2018); Whiter: Asian American Women on Skin Color and Colorism (NYU Press 2020); and Eighteenth-Century Fiction (September 2020). She is an English Ph.D. Candidate at UCLA, where she studies British Romanticism, gender, and the novel.
Anais Jay is a Filipino entrepreneur who reads and writes fiction to keep her sanity. When she was a little girl, she wanted to be a doctor, a lawyer, and a soldier. Fortunately, she can be all of those and more by being a writer. Her short stories have been published in Toasted Cheese Literary Journal, The Vignette Review, and in Curtiss Bausse's anthology, Second Taste. She currently has a post-apocalyptic short story forthcoming in Philippine Speculative Fiction Volume 12. Get more doses of strange fiction from her Facebook Page (@AnaisJayWrites) and her IG (@AnaisJay_Writes).
Lily Chang is a writer, editor, and filmmaker based in Montréal, Québec. She is a graduate of Concordia University's MA program in creative writing. Her work has been published by Frog Hollow Press, Headlight Anthology, HerStry, and Dark Helix Press. She is a finalist for the 2018 CBC Nonfiction Prize and the Speculative Literature Foundation's 2018 Diverse Writers Grant. She is currently at work on a magic realist play set in Taiwan supported by a Canada Council for the Arts grant.
*********************************
NOV 7 – 6PM-7PM PST / 9PM-10PM EST
Vincent Ternida's The Seven Muses of Harry Salcedo Book Reading and Author Meet up with host JF Garrard
Meet author Vincent Ternida virtually in the reading and Q & A panel for his novel The Seven Muses of Harry Salcedo, published by the Asian Canadian Writers' Workshop/Dark Helix Press, This event will be hosted by JF Garrard, President of Dark Helix Press.
In Vincent's novel, we meet disgruntled Vancouverite Harry Salcedo and his three vices – caffeine, overthinking, and dead-end relationships. Ten years after migrating to Vancouver, this former third culture kid has grown sick of the West Coast and seeks solace in his dream to move to Toronto. He vacillates between his on-and-off paramours, overbearing parents, and exhausted confidants. As he slowly approaches forty and his personal window for escaping the coast closes, Harry rushes the novel he's always wanted to write while there's still time.
Vincent Ternida's humourous, poignant, and heartbreaking book contrasts the uncertainties of migration, ambition, and love with the beauty of the Lower Mainland. It is an exciting new take on the classic Asian-Canadian narrative.
Questions/Comments? Please send a message to jfgarrard at ricepapermagazine.ca