With every year full of change, 2018 has been no exception around the world and within Ricepaper Magazine. There has been a greater push for equality, increased awareness of environmental issues, and as an Asian Canadian publication, the notable and welcomed presence of Asian faces on the front line of the entertainment industry.
To follow suit with Time Magazine's "People of the Year" awards, Ricepaper is awarding the title of "Asian of the Year" to celebrate and recognize two people who have risen to the top of their respective fields over the course of their ongoing careers. As a Canadian magazine, Ricepaper will be staying true to their roots and recognizing only Asian Canadians. Every year the award will be rotated to different professions to highlight a diverse selection of careers.
Asians in the entertainment industry have made an enormous presence on screens around the world, so this year we are awarding the title to actors Paul Sun-Hyung Lee and Sandra Oh. Lee has won multiple awards for his role as Mr. Kim (Appa) in "Kim's Convenience" while Sandra Oh has been making major international headlines with her award nominations in "Killing Eve." It is heartening to have these two Canadians leading the edge of diversity changes in an industry that has traditionally been criticised for a lack of diversity. By seeing similar faces on film or television screens, younger Asian Canadians can now feel empowered to pursue decidedly non-traditional careers in the arts.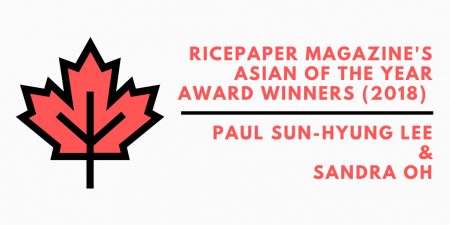 About Paul Sun-Hyung Lee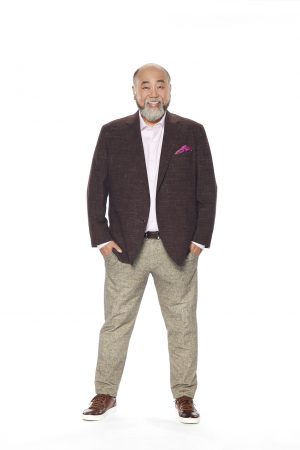 I am tremendously humbled and honoured to receive this recognition from Ricepaper Magazine. It is the perfect capper to a year that contained many personal and professional highlights that I never thought possible. 2018 truly was a "coming out" party for Asians in Media, and I know in my heart of hearts that this explosion of Asian talent marks only the beginning of what we are capable of as a community of artists and storytellers. I am proud to be one of the first ever recipients of this award and promise to continue to advocate for the Asian community in the Arts."
Paul Sun-Hyung Lee has been making inroads ever since starting out as a rebellious Korean-Canadian teenager wanting more involvement in the creative arts. After producing an amateur high school video—it was terrible, by his admission—he left his long-time home in Calgary for the University of Toronto to study drama.
He started out slowly, but he landed a huge break with his first performance as Randy Ko on "Train 48," a soap opera that took place on a commuter train from Toronto to Burlington. It was many years until Lee eventually gained nationwide fame playing Mr. Kim, the gruff but caring patriarch on "Kim's Convenience." Before becoming a full-fledged play, it was initially conceived by Ins Choi as a play for the Toronto Fringe Festival. Lee stayed in his role as Mr. Kim when the play was remounted by Soulpepper Theatre, and the play received critical acclaim on its tour across the country. In 2016, it made its debut as a sitcom on CBC television. To date, it is one of the relatively few representations of Asian-Canadian family dynamics for mainstream audiences. In both guises, it transcended various boundaries and eventually paved the way to Lee's current role as the host of CBC's "Canada's Smartest Person Junior."
Despite his growing stature as a recognized actor, he is still humble and jovial about his role as one of Canada's relatively few well-known actors of Asian descent. Working retail jobs and contending with the pressure from his parents as he chose to pursue his passion, Lee's path into the acting world was not easy. Though he has come a long way from his scrappy beginnings, his work is not done yet as he explores other artistic endeavours such as writing.
In a Ricepaper-exclusive interview, Lee shares his upbringing and passion for acting as well as advice for budding actors: https://ricepapermagazine.ca/2018/12/interview-with-paul-sun-hyung-lee-from-kims-convenience/
About Sandra Oh
Thank you for the honor of Asian of the Year, Ricepaper magazine. And even better, sharing the title with Paul! We both started in Toronto years ago and it warms my heart to see all his success.

My start began at the same time as Ricepaper's. We're still going strong, looking better and reaching more people!

I'm very proud of my Canadian Korean roots and am grateful to Ricepaper for being here for all these years to gather and support all our voices. Thank you."
A Korean-Canadian, she has performed in roles that may have once seemed inaccessible to Asians. Her recent turn on BBC America's "Killing Eve," based on the British Luke Jennings's Codename Villanelle novella series, which has earned her nominations for several awards, including the Primetime Emmy Award—in fact, the first person of Asian descent to gain the nod —and the Television Critics Association Award. She has come a long way from an earlier life as one of the few Asian-Canadian faces in Nepean, today part of the city of Ottawa.
Her route could easily have followed a well-trodden path: by the time she left high school she played the flute, had ballet training and was the Student Council President. Although she had some acting experience in school, the performing arts were never a serious consideration for her parents. All that changed when she opted, much to the chagrin of her family, to reject a journalism scholarship from Carleton University. Following this, she decamped for the National Theatre School of Canada in Montreal instead.
After graduating in 1993, she started landing roles and things began to pick up. She starred in two major roles on television as Vancouver-based poet and writer Evelyn Lau and former Governor General Adrienne Clarkson. Oh eventually made it to national consciousness by playing Jade Li in Shum's acclaimed feature film "Double Happiness" and gained domestic fame by clinching the Best Actress in a Leading Role nod at the 1994 Genie Awards.
Following the success of "Double Happiness," her work began to take her south of the border, the same way many Canadian actors achieve fame. She had a role on the HBO comedy "Arli$$," where she played Rita Wu from 1996 to 2002. Over the course of her career she has worked alongside directors such as Steven Soderbergh, Alexander Payne and David Slade. Although she has worked on various projects across a variety of media, including television, audiobooks, and voiceover work in animated films, the role that took her to global prominence was arguably her performance as Cristina Yang, one of the main characters of the hit television series "Grey's Anatomy." She carried this role for several years, eventually concluding when her character left the series at the finale of the tenth season.
Following a brief interlude during which she pursued smaller, more personal projects, she soon returned to television portraying Eve Polastri, a British spy on "Killing Eve." She had not realized that she was even considered for the role of the main character during auditions, which went to show how far Asian actresses had come in North America, especially since Polastri was decidedly not Asian. It was also one of the few times that she was portraying a character in a leading role and not as a supporting character.
The Golden Globe awards recently announced that Sandra will be their host for their January 2019 ceremony. As an Asian female who has made history through her Emmy Award-nomination for "Killing Eve" and as the host of the prestigious Golden Globes, Oh keeps the world waiting in anticipation for what she is about to achieve next.