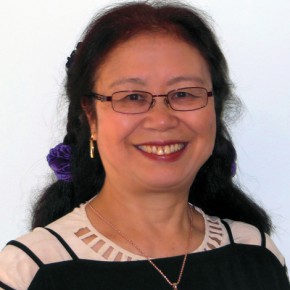 Born in China, Zoë S. Roy, has always been an avid reader, even during the Cultural Revolution.  As a writer of literary fiction, Zoë focuses on women's cross-cultural experiences. Her Publications include ButterflyTears (2009), a collection of short fiction, and two novels, The Long March Home (2011) and Calls Across the Pacific (2015), published by Inanna Publications. She is a member of The Writers' Union of Canada, and works as an adult educator with an M.Ed.  She lives in Toronto.  Ricepaper interviews Zoë as part of its continuing focus on Asian Canadian writers.
---
You were born in China and personally witnessed the Red Terror during the Cultural Revolution. How has that experience translated into your fictional work, particularly Calls Across the Pacific?
As a teenager growing up during the Chinese Cultural Revolution, I lived with my family on a university campus. At that time, imprisonment, suicide, and thought reform at the May Seventh Cadre School were part of daily life for my parents' generation. For my generation, most of the youth were sent down to the countryside for re-education. I heard stories about those who had snuck across the borders into Vietnam, Laos, Russia, or Hong Kong. Such action was labelled anti-revolutionary. If caught red-handed, the escapees would be shot to death. Those tales in the past inspired me to write a short story, which was later expanded into the novel Calls Across the Pacific.
The heroine in the book, Nina Huang, is a complex and evolving character. After her escape from Mainland China and subsequent immigration to the U.S. and later to Canada, she experiences romantic and sexual relationships that are a radical departure from the moral codes that she was brought up in back in China. Nina later studies political science at university, after she becomes a political dissident. How did you develop Nina's character? Was she based on anyone in particular that you knew? Yourself, perhaps?
Unlike several characters in some of my stories and another novel, Nina isn't modelled after any person nor based on myself. The stories about the escapees that I heard in my youth inspired me to write the short story, "Yearning." My research about her escape included corresponding with a pen pal in Hong Kong about successful attempts by mainland defectors. My walk across the bridge at the Lo Wu Immigration Control Point between Shenzhen and Hong Kong confirmed to me that my protagonist, Nina, would be able to swim halfway to reach Hong Kong.
To make my story real, I read many life stories of youths being sent down to be re-educated plus my own experience of working in the countryside in China as a student or a teacher. I did research on the refugee program in North America and the Vietnam War as well. I also browsed through the records of the graduates at the West Point in the late 1940s and found a couple of Chinese cadets therefore making sure that it's plausible for Nina's father to study there.
I've been interested in cross-cultural comparisons, especially about social influence on women so that Nina's romantic and sexual relationships are to show the cultural differences and conflicts in her life in the different culture. For example, according to the Chinese traditional moral standards, a good woman only loves and marries one man, and premarital sex is immoral. At that time, students and youth under a certain age on the military farm were even forbidden to have love affairs. Growing up under such traditions and restrictions, a Chinese female is certain to experience culture shock, so here goes Nina's story.
Fleeing the Cultural Revolution, Nina emigrates to North America, only to return to China not once but twice, to reunite with her mother, putting herself in dangerous situations. Was this common for people to return after escaping China? What would it have meant to be caught? Was death the only option?
Personally, I don't know any escapees, but I read about the detention of Harry Wu, a human rights activist, during his trip to China in 1995 and also that Su Xiaokang, a writer in exile and the founder of Democratic China in the U.S. never returned to China. These facts helped me create storylines of Nina's trips back to the country with a vignette that she's held in a labour camp. By 1978, Mao had been dead for two years and the Chinese Democracy Movement had begun. If Nina had been caught without evidence of her escape and her involvement in so-called anti-revolutionary activity, she wouldn't have been killed, but would've been put behind bars. However, if she had been caught when sneaking across the border in 1969 under Mao's regime, she would've been executed.
This is the 50th anniversary of the Cultural Revolution. What can literature do to remember a history that is slowly fading away, particularly as it's being repressed in the historical memory of Mainland China?
I think literature always functions to reflect on the life and history of a certain period. Like the Holocaust being uninteresting to some younger generations of Jews, the Cultural Revolution is ignored by many of Chinese youth, especially in China. Time dilutes and finally wipes memory, but written words keep it alive. I hope my writing is part of a collective historical memory, which may help prevent such a social disaster from happening again.
Your book is derived from a previous short story called "Yearning." How do you expand and enrich a short story into a novel? What was your process?
I wrote "Yearning" in 1997. When I shared my manuscript at writers' workshops, some readers asked me if Nina had arrived in the U.S. and if her boyfriend Hai had reached Vietnam. These questions made me imagine what would have happened to Nina if she had made it to the States. After finishing a number of short stories, I started the novel The Long March Home, in which the protagonist's brother, Dahai, was sent to a military farm, escaped, and eventually died in Burma. Dahai, similar to Nina's boyfriend in "Yearning", proved to be the inspiration for the character in my new novel, who made a bold, dangerous escape from Communist China. After my collection of Butterfly Tears was published in 2009, I received positive responses and inquiries from some interested readers about Nina and her boyfriend in "Yearning." Then I started to write Calls Across the Pacific with a storyline that had grown in my imaginary world.
You've said that you enjoy reading. What are some books that influenced you? Influenced your writing style? What are some books that you recommend to readers of Ricepaper that are must-reads?
The modern Chinese literary works and the world classical literature interested me most in my youth. For example, Ba Jin's The Love Trilogy, Qian Zhongshu 's Fortress Besieged, Yu Dafu's Sinking, Eileen Chang's "Love in a Fallen City," Charlotte Brontë's Jane Eyre, Dickens's David Copperfield, Tagore's poetry, Pushkin's Eugene Onegin, Turgenev's Fathers and Sons, Hugo's Les Misérables, Maupassant's short stories, Goethe's The Sorrows of Young Werther, Jack London's The Call of the Wild, O. Henry's short stories, and Hemmingway's For Whom the Bell Tolls opened windows for me to a world different from the communist country I lived in. I did most of my reading behind the scenes since all my favourite books had been branded as poisonous weeds growing out of feudalism, capitalism, and revisionism during the Cultural Revolution. Anyway, these masterpieces sheltered me from the confusing social chaos and cruel reality of daily life and nourished me with human values and humanity.
I recommend Pearl Buck's Pavilion of Women, Amy Tan's The Kitchen God's Wife, Ling Zhang's Gold Mountain Blues, Ha Jin's A Map of Betrayal, and Sanmao's Red Dust.  It's hard to say that my writing style is influenced by any specific writers. I've developed my style through writing the sort of human stories I enjoy reading and with the writing skills I learned from writing books and writers' workshops.
Along with your other works, Calls Across the Pacific is written in English. Why did you decide to publish in English? Is this book meant for an English reading audience only? Are there plans to translate it into Chinese, too?
I love both the Chinese and English languages, but I chose to write in English since in Canada, most books are published either in English or French. Certainly, I hope Chinese readers can read this book, as they would be more or less related to the contents. However, translating needs time, so does finding a Chinese publisher. Thus, no plans is a good plan for me.
How many drafts or versions did it take for this book to be completed? How long did it take to complete this book from start to finish?
I rewrote it about eight times during four years while working full-time.
How did you find your publisher? Or how did it find you?
I received numerous rejections before I found my current publisher for my collection of short stories, Butterfly Tears. I met Luciana Ricciutelli, the editor-in-chief of Inanna Publications, at an event organized by the Canadian Author's Association.
Are you working on your next project? What is your next book project?
My next novel, Spinster Kang, has been scheduled for publication by my publisher. Right now I've started another one about a Canadian woman who teaches English in Urumqi, China where potential riots exist. Her main purpose being there is to look for her secret aunt, following the will of her grandfather who served in the country as a pilot of the American Volunteer Group during World War II.
What would you tell a new writer who is interested in writing a novel? What types of advice can you give him or her?
A new writer could practice plot making and character development in a couple of short stories before writing a novel. Joining a writers' workshop and listening to readers' feedback are a way to improve a manuscript. Last but not least, to live and gain life experience to write what needs to be told.