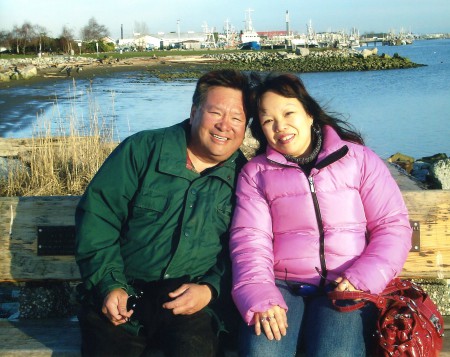 For Michael, Love Cynda is Cynda Yeasting's book about her experience of loving a man who was terminally ill with cancer.  A unique love story between Michael Chu and Cynda, the book ultimately helped her reconcile and mourn her partner's death.  This book is their love story, from a first date to dealing with the challenges that Michael's terminal cancer diagnosis brought them.  Ricepaper interviewed Cynda about her new book.  To learn more about her story, please visit her website.
Can you tell us more about your story?  How did you meet Michael and how did this relationship flourish?
I had been busy raising my two sons and had not dated in 14 years.  A co-worker suggested dating online with PlentyOfFish.  I signed up and had a few dates before meeting Michael.  On PlentyOfFish you can see when someone was last online.  I wanted to find someone that wasn't online all the time and so I went to the other end of the spectrum and there I found Michael.
In our modern day world of text messages and emails, Michael and I wrote to each other and often.  We really got to know each other before the relationship became intimate. Ours was an old fashioned courtship and that was a great foundation for us to build on.  We also talked, all the time.  Soon after our first date we began to speak daily when we were not together, and in the evening we would talk for an hour or two before going to sleep. Often we would say goodnight, only for one of us to call the other to say one more thing.
Of course we had many ups and downs. The challenges of his health, my working full time and being a single mom to two sons was a struggle.  But it was our ability to always be able to talk to each other that kept our relationship strong when times were tough.  
Why did you decide to write a book about your relationship?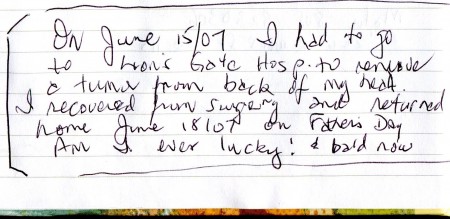 I really wanted a record of us and Michael told me he never wanted to be forgotten.  Being stage 4 terminal cancer, Michael  knew his "best before date" was looming and he wanted one last chance to find love again.  Putting himself on a dating website under these circumstances made our story unusual. For myself, I was healthy and had everything to lose by getting involved and yet I did.
I really believe that Michael and I were meant to meet.  The fact that I found him through an online dating website with thousands of members was nothing short of miraculous.  Michael's uncle was my former boss' best friend and I had met him about 10 years before I ever met Michael.  This was the first of many connections.
As painful as losing Michael was, I have no regrets about getting involved. I believe in fully living and taking chances. One day we are all just going to be just a memory, so why not go after everything that we want.
You're from a pioneer Chinese family.  Can you tell us more about your family and your growing up in Vancouver?
My paternal Grandmother, Kim Yock Yeasting (nee Yuen) emigrated from Canton, China to Victoria in 1913/1914.  Her parents Kim Fong and Wah Yuen were both born in 1877 and had an arranged marriage in 1896.  Her father owned and ran a small logging business.  The family also had a curio shop on Government Street in Victoria which was still operating in the late 1980's.  My paternal Grandfather, Stephen Fee Yeasting came to Canada with an uncle.  My grandparents married on July 4, 1920 and I have my Grandmother's wedding shoes.
My mother May and her brother Chuck came to Vancouver in 1956 to live with my maternal Greatgrandparents Tom Yuen and Lan Toi Yuen (nee Lee).  They owned and operated a fish and chip cafe on Nanaimo just off of East Broadway. My mom and uncle were originally from Canton, China and fled to Hong Kong when the communists invaded China.
My parents, three sisters and I lived in a two bedroom apartment above our family grocery store, an IGA located at 1220 Davie Street which opened in 1949 and closed in 1972.  My grandmother Kim Yeasting lived in a second apartment. My grandparents also owned the Maple Leaf Bakery which was next to the IGA.   My father Matt, Uncle Ben, Uncle Lincoln were full time employees of the grocery store with my grandmother.  Other family members worked there at various times, including my mom.  My grandparents also operated the English Bay Cafe at one time. It later changed hands and was owned by a cousin.
Despite being very hurt by being called "chink" on a few occasions, I had wonderful childhood memories of growing up in the West End. Going to the beach, walking home from school with my friend Darcy Woodward and trick or treating in the apartment buildings. I went to Lord Roberts elementary school with a few Chinese families (Lowe, Lee, Chiang and Lam).  I also went to Chinatown with my mom on a regular basis and loved going to the Hong Kong Cafe, Kam Gok Yuen restaurant and Dollar Meat Store. My children grew up going there with me as well.
In December of 1972 my family left the West End to move to a new home on the Vancouver/Burnaby border.  My mother was expecting her fifth child, my brother.  I was heartbroken to leave my West End.  For many years I talked about moving back to the West End after my sons grew up and moved out.  In 2012, I sold my home in Burnaby and moved back. I live in an apartment building built in the 1950's about one block from where the family store was.  The Maple Leaf Bakery still operates in the same location.  The two apartments are also still there and I would love to get to go inside one day.   
How long did it take you to write this book?   Why did it take that long?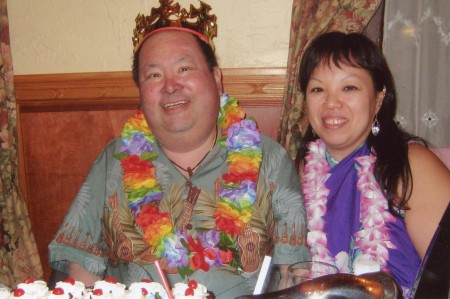 It took me seven years to finish writing this book. The majority of the book was mostly written after about five years, but it was in a lot of  pieces.   I started writing less than a month after Michael died.  I had already documented much of our story by journaling as well as emails to friends and family.  I never wanted to forget my time with him and so it was important for me to record them in the moment, whenever possible.  As much as I hoped for a "beat terminal cancer miracle" I knew that the cancer would likely take him away from us.  It took so long because I would write for a period of time, feel like he was still alive and then relive his death again.  It simply hurt too much so I would stop.  Over the years as a single parent it wasn't always a good time to cry and I learned to put crying on the shelf, for later, for a better time.  I found I did that with Michael as well.  I cried in the shower when I could and also on the yoga mat.  I cried a lot on the yoga mat and I also cried when I went running.   By finishing my book, I feel I have finally allowed myself to fully grieve and heal.  It forced me to deal with the pain, anguish and sadness.  
Did you approach a publisher?    How did you get your book published by Friesen Press?
No I did not approach a publisher.  I considered doing that and I suppose I could have and when I was doing research on getting my book published I found articles saying that most new authors go the self published route. I found Friesen Press and liked that they have been around since 1923, is North American and has an office in Victoria, BC.  I contacted them and they were able to offer what I wanted.  My goal is to eventually sign with a literary agent.
You're quite active in promoting your book through book reading events.   Do you actively seek opportunities for others to know about your book?
Yes, I am constantly looking for as many opportunities as possible to get the word out about my book.   You are my fourth  interview in less than two months.  Although I am very active on social media, before we had that, we had word of mouth and I am a firm believer in that as well.  
Cancer is a recurring theme throughout this book.    Most of us have come across someone whom we know or love have cancer.   How has it changed you and your outlook on life?
I was always so very scared of cancer. It is a horrible disease.  It is that word that you never want to happen to anyone you know and love. I have known others before Michael who had cancer and survived and others that were not so fortunate.  I myself had a cancer scare a few years before I met Michael.  Luckily for me it was resolved with surgery.
Although we all know we are going to die one day, our perception is that it is one day, far off in the future and most of us don't think about it.  If we all had a set "best before date" would we not work harder to have the best relationships and to make the most of the time we have?  This is what cancer does to you.  Even before Michael I worked hard to think this way.  Michael and I only had 19 months together but we filled that time with a lifetime of adventures.  It was real life, compressed; we laughed, cried, hugged, fought, yelled and made up. We lived.
Since Michael's death I have made sure I am doing the things I have thought about doing one day.  I finally went to Europe and went for my 49th birthday, I wasn't going to wait until 50, just in case.  I went to Cambodia and did the volunteer trip I always wanted to do.  And now, I am the published author of a book.  11% of the proceeds of sales from my book will be donated to the BC Cancer Foundation.  My contact there is Lindsay Abbott.
Do you plan on continuing to write?  Do you have any projects that you're currently working on?    Will you write fiction one day?
Yes I will write another book but maybe some short stories as well.  I also really enjoy blogging and want to start again soon.  I have always loved writing and really wanted to write a book from the time I was a teenager. I tried to write a Harlequin romance and my attempt was terrible, I had yet to live and love.  I have written a couple of blogs on Travellers Point, one about my first trip to France and the second a volunteer trip to Cambodia.  
No projects right now as I am working a day job and promoting my book are two full time jobs.  I would like to write about my family history in Vancouver as that is something I have always been passionate about.  When I was 16 years old I spent three months working on my family tree as a high school project.  I think I prefer non-fiction as I like truth and facts, but fiction would allow me to create some interesting characters and stories.  
What advice do you have for others who have stories to share and want to write about them?  
Just do it.  Write your stories, write for yourself, for your family and friends. Stories need to be written and shared.  It is part of who we are.  Don't let them be lost and forgotten.