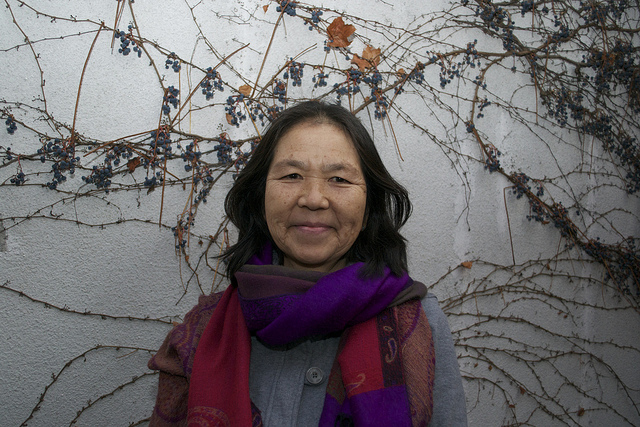 As one of Jean Lumb's six children, Janet Lumb has in many ways continued her mother's legacy in fighting against racism and fighting for social justice while advocating for self-representation of Asian Canadians. As a community-minded and warm-hearted individual who has lived in Montreal, Vancouver and Toronto, Janet talks about her mother, Jean Lumb, and how she has influenced Janet throughout her life.  Jean Lumb's contributions to Canada are no small feat.  Through her charm and inner-strength, she led campaigns that ultimately changed immigration restrictions which had afflicted Chinese Canadians, and thereby facilitated reuniting families. Jean Lumb was the first Chinese-Canadian and restauranteur to receive the Order of Canada.
I interviewed Janet at her home in Montreal. This interview took place on August 7, 2016, and has been edited for space and clarity.
---
What is your mother's Chinese Canadian identity?
 I am number 5 out of 6 children—3 boys and 3 girls. My mom used to get very upset when she heard us fighting. She would come over and tell us—number one the most important thing is the community, number two is your family. After you think about your family, then you can think about yourself. So everything else is first. That is to me her Chinese part. The Chinese side of her was never forgetting who you were, never forgetting where you came from. And that used to be something that her father taught her—community, family and you are the last. Her western side was more celebratory, let's eat, have a drink and enjoy life in that way. Even though she was very proud of being Chinese, she was also very proud of being Canadian. She was very proud to be a Chinese Canadian and knew how important the Chinese were in Canada.
What's her contribution to Chinese communities in Toronto?
Lots of times it was based off a mistrust of Chinese communities in western society. Western politicians, when they connected to Chinatown, misrepresented, or abused their rights, and spoke very poorly of Chinese. It was based on a history of misrepresentation. Toronto was always seen as a western city that was full of lots of immigrants, but Chinese were outside of the circle. My mom was really active in the Toronto Chinese community. She was the bridge person between Chinese and non-Chinese people to show how Chinese communities were important in Toronto. She was on lots of boards, went to women's hospital to be a representative as a Chinese person within the dominant society. And as a result, Chinese became very much part of Toronto. It is even right now that there is an ethnic museum built in Toronto. It only happened now. Back at her time, it wasn't like that.
Your mother faced racial discrimination at school in her childhood. She also did a lot of hard work. How did it shape her to become an activist?
When you are 16, 17 years old, you just accept that. She would just tell my brothers after she was pregnant and came home with sisters, "I picked you at the railway track on my way home." She worked and got big when she was pregnant, came home with new babies and continued working that day. It was never a hard life to her. She became very emotional when she told us "you have to very proud of who you are as a Chinese." She would nearly yell when saying that. It was her way of combating the experience of racial discrimination. She never talked about blatant racism. She just activated the fight for justice.
You mother lost citizenship after marrying your father. What was the impact? And how did it motivate her to change the Chinese immigration restrictions?
She was definitely angry. But my mother was very positive. We found out years later that she lost her citizenship after she married my father. But she said this as a side comment. I think it drove her to be more determined. And she told me she learned this from my grandfather. My maternal grandfather was community-minded. He taught that to my mother and I learned that from my mother. She always felt there are a lot of things to change. But she was a proud Canadian. If her father had not come here, she would not be here.
What steps did she take to make change?
She saw many Chinese whose families were separated because of the head tax law. She was very affected, and heartbroken when she saw Chinese mothers who raised their children alone while their husbands were still in China. She approached politicians she knew and asked what could be done.
Your parents' restaurant Kwong Chow Chop Suey House was very successful. How did it contribute to your mother's goal of cultural integration?
My father was very entrepreneurial, very business-minded. He brought chefs from Hong Kong to cook at the restaurant. He came up with an 85-cent menu which helped to change the way Chinese restaurants in Toronto used to serve food. The restaurant was right behind Toronto's City Hall, and in the business district. So he came up with his idea, and all the restaurants do that. They do this even here (in Montreal).  Because business lunch is only one hour long, ordering and eating had to be fast. The menu items were numbered 1-10 with 3-4 choices of dishes per plate costing from 85 cents to $ 1.25. Everything will go into one plate.  The idea was very western-influenced. It took no time to order—the waiters went to the kitchen to fill the plate, and serve it to the customers. The smartest thing my father did was to have the first restaurant serve alcohol.  The restaurant was based on share holders and at the end of the year, the shareholder received a compensation.  But when they first started, it was all Chinese. Once they started to get the liquor license, all the foreign English people started to come. Because the restaurant was right behind City Hall, politicians came to eat.
My mother loved people. They would come in, and she would go around all the tables, and said "Hello. Are you enjoying your meal? Have you tried number 3 yet?" My mother knew many politicians because of City Hall and famous actors because of Ed Mirvish people. She was very warm. But when it came time to stop the closure of Chinatown stores, she did something about it.  She let the mayor know about it when he came in to eat.  Being a restauranteur gave her the network and ability to work with people, to eventually become an unofficial spokesperson of Chinatown in Toronto.
Did your mother's public life take time away from her family life?
My mom would go to work, and come home for half an hour after school to see us, and then go back to work. We had Chinese school from 5 to 7.  It was her idea to send us to Chinese schools. At the time, we had no idea that she was so busy doing all of those things for everyone.
What was your relationship with your mother?
I moved to Vancouver when I was 20, and lived there about 10 years. I had wanted to have nothing to do with being Chinese and being with my family. My mother was very overpowering. I had to move away from home to find myself. Our family of 6 kids, my parents, aunt, uncle and family friends who all lived with us, took a lot of place. My mother was very well-known, active, and well-loved. As a daughter, I feel I didn't have space. So I decided to move to Vancouver.  But by the time I was 22, 23, 24, 25, I started to become closer to my mother again. She also changed and began to acknowledge my interests in music. I went back to see my family and started to become friends with my mother. And we became very very close friends. I started to know her in a very different way, accept myself more and how incredible my mother was. By the time I was in my mid-thirties, I remembered at one point, my mother said to me: "Jing, I think I finally understand why you do what you do, and I accept the fact." That's when she came to the performances of my bands. Before then she never asked about my music. My mother changed towards me. It was a two-way process.
What is Jean Lumb's charisma?
On a public level, it was her great influence on the Chinese communities in the city. On a personal level, what stands out from a daughter's perspective is that for her, everyday was like a party, a time to celebrate. She loved people, she loved to eat, to drink. When she met someone, she would say "Let's go celebrate!" She taught me to love life.
What is your mother's legacy?
My mother recently received a city plaque acknowledging her contribution. Lots of people were there from the community. And it was across generations. I think it was an inspiration to realize that you don't have to be highly-educated to make changes, to fight the law, to go to the government to see what I can do. You don't have to be at the mercy of the government institution. If you believe something, just keep talking to the right people. I saw a few activist Chinese friends in Toronto, who are still fighting racism in Toronto, and they talked to me that my mother is such a huge inspiration because of what she did. She was not educated, was a restaurateur, and her influence was as an individual, simply as one person. People are charmed by knowing that one person such as my mom, can make such a difference.