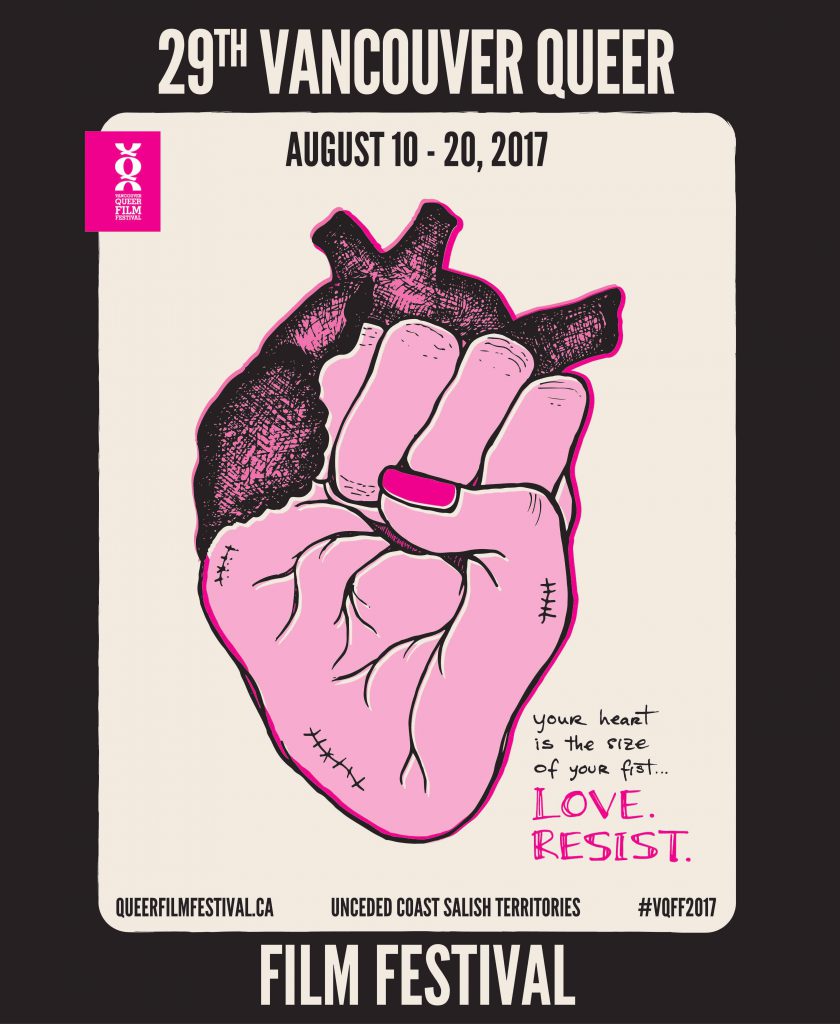 Mark your calendars! The 29th Annual Vancouver Queer Film Festival (VQFF) is almost here. The schedule is packed with exciting screenings, parties, and workshops. Ricepaper joined with the VQFF to interview Anoushka Ratnarajah, one of the Artistic Directors for VQFF, a writer, performer, and arts organizer, to discuss what we can expect from the film festival and expand our knowledge regarding the LGBTQ community.
In your own words, why should people check out the VQFF?
For queer and trans folks, it's an important and necessary opportunity to gather and share stories with each other. It's one of the few opportunities we have in this city and our lives to see experiences like ours on screen and centred. For film lovers of any identity, we showcase some of the best in queer and trans cinema from around the world. We're the second largest film festival in Vancouver, and are committed to bringing our audiences international, Canadian and local films of the highest quality, that take aesthetic and narrative risks and challenge our audiences. We are also champions of emerging queer and trans filmmakers, and our festival is proud to screen the up and coming talent of new filmmakers, many of whom will go on to tour the international festival circuit after VQFF ends.
What has the Queer Film Festival done for you? What can it do for others?
For me, the most important and impactful aspect of the festival has been the increase in programming films featuring the stories of queer and trans people of colour. While I think this is a reflection of the broader film industry becoming slightly more accessible to and interested in stories by and for people of colour, I also think queer film in particular have an expectation to push the boundaries of storytelling past what is dominant and mainstream. VQFF is one of few arts festivals in this city where I feel I can experience stories that both reflect my experiences, and push me intellectually and emotionally as a viewer, by introducing me to stories I have had limited or no access to previously. I hope audiences this year will be able to have this experience as well—to see their lives reflected onscreen with humanity and nuance, and be challenged and called in by films that window into worlds they otherwise narrowly or never see.
Is there anything at the festival we can see and think, "That's prototypical Anoushka! I can totally see her in that work!"? 
I think there will be many moments where folks who know me will hopefully see my curatorial hand at work. I hope that QTPOC (queer and trans people of colour) audiences who know me will feel like there is a broad, diverse and nuanced representation of stories that speak specifically to us. The curation of a robust program of films helmed by queer people of colour (otherwise known as our Experiential Lens Spotlight) was extremely important to me when I started this job. Friends and family will recognize humour and multidisciplinary performance collaborations as the Festival as part of my broader artistic practice. I not-so-secretly love horror films, as does my co-Artistic Director Amber Dawn, and we're both excited for our program of queer horror shorts, DTF: Down to Fright on Friday August 11th.  But for so many audience members, I'm a new face; I am mostly looking forward to the chance to introduce myself to VQFF audiences and continue to build that relationship for however long mine and Amber Dawn's tenure lasts. 
What narrative is the VQFF working for and against?
I wouldn't say the Festival is framed by a "for" and "against." We uplift, illuminate and are inspired by complex and entertaining queer and trans cinema and art. The Festival offers opportunities for dialogue and critical engagement between our audiences and our filmmakers. It's a chance to celebrate ourselves, while looking forward at the work that needs to be done to make our communities (and society as a whole) safer for all queer and trans people. It's an imperfect and always growing process to create spaces where the diverse, intelligent and invested queer communities we serve feel empowered and challenged. 
Where does the festival want to be in 5 years, 10 years, 20 years?
Continuing to screen and forefront the work of queer and trans filmmakers and connecting local queer, trans and allied communities and artists in dialogue and solidarity!
What is it like being a queer mixed-race woman in the art and filmmaking industry?
Like most artists with multiple marginalized identities, it's a challenge to get your work seen and heard; it's a challenge to access resources and to be taken seriously. The arts generally, and film specifically, is still an old, white, cisgender, straight boys club. As a curator and Artistic Director, I find myself facing the same issues I do as a writer and theatre artist. Those of us who have complex and intersecting identities experience stereotyping and tokenism, pigeonholing us into specific roles that serve dominant narratives, aesthetics and power structures in the arts. Things are shifting extremely slowly, and as a curator, I feel deeply responsible for facilitating these shifts where I am empowered and capable to do so. 
What are some of most commonly misunderstood aspects you would like the public to be aware of regarding the LGBTQ community?
This is a difficult question to answer—like many other oppressed/marginalized groups, it feels frustrating to have to have to teach dominant people/cultures/structures, that queer and trans people are human. It should be a no-brainer. So I invite those folks to the festival; because I believe art is the most effective empathetic tool for social justice we have. I truly believe in the power of story to transform, uplift and liberate. 
Vancouver Queer Film Festival takes place August 10-20 at various theatres. Check out their website, Facebook and Twitter (#VQFF2017) for more details and showtimes of all films.