Victor Yong of Eye Bender has had many years of music experience under his belt. He first started out with Orient Express (OE), a cover band that was previously featured in Ricepaper 14.3. We talk to Victor about the changes he has gone through since we last caught up eight years ago.
Ricepaper Magazine:You were with your cover band Orient Express when we last corresponded. Can you give our readers a brief recap of your career since then?
Victor Yong: When I was with OE we covered a lot of ground in the Chinese community. As the years wore on I started to find doing covers just wasn't fulfilling enough to me as a musician – something was missing. There was nothing wrong with doing covers but I felt I needed to explore, since there are some things I want to achieve in music before I got too old. I thought of disbanding but we had a lot of absolutely wonderful and loyal fans who came to see us.
I started getting more interested in making original material. Around two years ago I started writing rock/pop songs. And there was no one better to sing than Betty Tse from OE.
RM: Tell us about the type of music that your new band, Eye Bender, pursues.
VY: Rock music, because I'm following my heart. Despite my love for all kinds of music – Latin, Blues, Jazz, Funk, and etcetera – it was rock and roll that first got me to pick up the guitar, starting with songs by the Bee Gees and CCR. As I got older I found I reminisced a lot about my younger days and the music associated with it like the Beatles, the Stones, Bad Co., Sabbath, and Slade. So I started writing songs in the style of the 60s, 70s, and the 80s, which are my favourite music eras.
RM: What, in your opinion, distinguishes Eye Bender from other bands out there?
VY: Firstly, Betty and I are Asians making rock music in a largely white industry. Our music is based on older eras but with modern sounds and influences. Although we use influences from mainstream music, our debut album has very strong roots in the 70s and 80s. Besides that, Betty has some very interesting outfits depending on the venue we play at. We are not so much a jeans-and-T-shirt type band.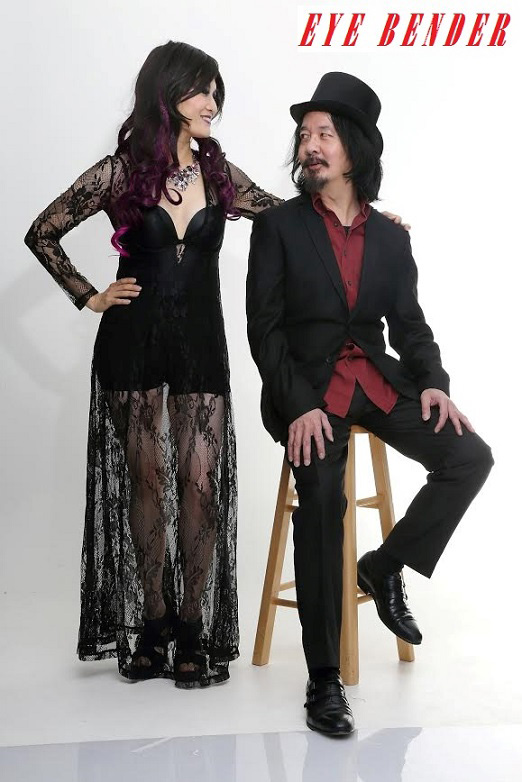 RM: You had a brief solo career. What is the creative process like when it comes to working in a band, versus going solo?
VY: To be honest, it's not much different since Betty and I are the only members of Eye Bender and I write all the songs. I still do most of the work and run the show, while Betty helps out when she can.
The first solo album I released was a Latin-Fusion album that took way too long to complete. The process took roughly three years, and I was mentally exhausted and my interest in world music began to wane by its completion. But I started to love rock and pop again, so it felt very natural to switch genres.
RM: Was it difficult to start a new band after going solo?
VY: Not in this case. Since OE is still working, I just pulled Betty aside and started this new project. I also got some old members from the band to record and perform. And if they were not available then I just hired new guys. By far the most difficult thing I and many solo artists faced was our budget, of course.
RM: Tell us more about Vancouver's music scene. Is it difficult to pursue music as a career?
VY: Yes. The grass is always greener on the other side, or so it seems. Vancouver has a lot of great musicians and bands. Look at the artists from here: Adams, Bublé, Krall, BTO, Loverboy, Marianas Trench, New Pornographers, Black Mountain, and Said the Whale.
Despite the many places that can cater to full-blown bands, original and upcoming indie bands find it hard to survive here. Why? People these days, especially the kids, just do not go out to see live bands anymore. Because of that most of these venues do not dare book live bands on weekends since most people prefer deejays. That's really sad when you think about it. It was not as bad even in the mid-70s, when disco first came out and club deejays were in full swing. Why hire a band and pay four to six guys when you can pay just one guy? You can't blame the establishments. They need to survive. The kids today just have to learn to appreciate and support live bands.
RM: Do you have any upcoming future projects?
VY: At the moment, promotion of Eye Bender on social media is in full swing. We have just released our debut music video for our single "Tomorrow".
[aesop_video width="40%" align="center" src="youtube" id="klMtr_hjyqo" caption="'Tomorrow', a single from Eye Bender" disable_for_mobile="off" poster_frame="https://ricepapermagazine.ca/wordpress/wp-content/files/2017/07/eye-bender-video.jpg" loop="off" autoplay="off" controls="on" viewstart="off" viewend="off" revealfx="off" overlay_revealfx="off"]
RM: How about any advice for aspiring musicians?
VY: Like anything else, hone your craft, whether you sing or play instruments. If you are serious about music then write your own material. Again, playing covers is good – you learn new things by playing someone else's songs. But if you want to get somewhere, write your own material.
---
Eye Bender's debut CD "Tomorrow" is available at Red Cat Records, Zulu Records, and Neptoon Records and CDs. It is also available online at iTunes, CD Baby and MAL music. Meanwhile, Orient Express celebrates its tenth anniversary and continues to work as a dance band in the Chinese community and as a house band at the Four Points Hotel.
The interview has been edited for brevity.