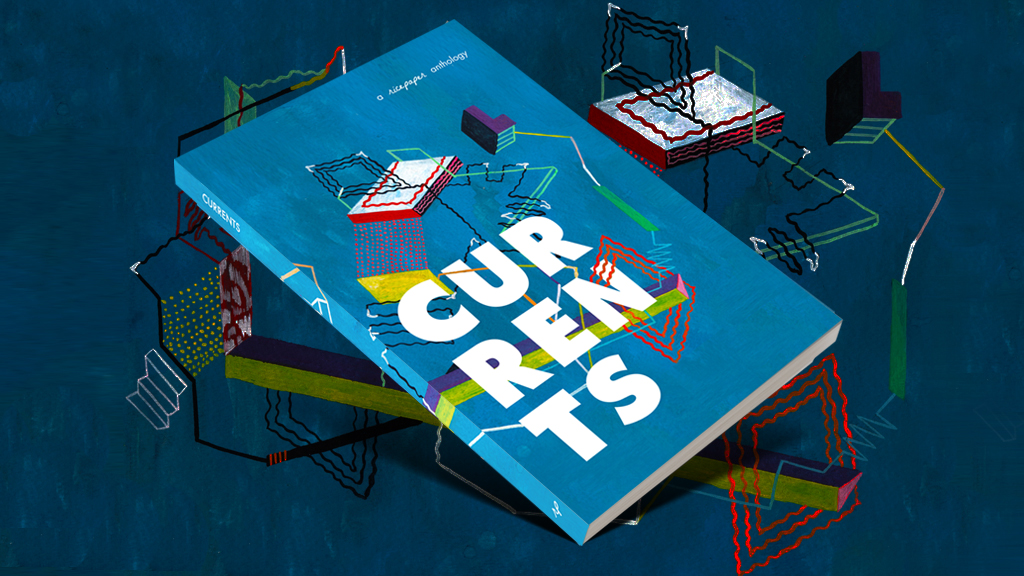 We are pleased to announce that our anthology, Currents, is live! When we transitioned from a physical quarterly magazine to a digital format, we felt that it was important to stay true to our roots in print. Nothing can quite replace the look and feel of printed words on paper. They have a presence that digital media can never quite replicate, and that is why Currents has been a rewarding and important project. In these pages we feature 25 selections that capture the spectrum of contemporary Asian Canadian writing through fresh and exciting voices.
Last year saw the launch of the Alliterasian anthology, which celebrated the best of Ricepaper's twenty years of history. We have come a long way since starting out, but it still remains clear that the magazine was steeped in the energy and passion of a generation that recognized and celebrated their heritage as Asian Canadians, and how they were products of two continents. But times change, and Currents reflects the nuances of Canada at 150. In addition to asking questions about who we are, we also look to the future of limitless possibilities and diverse new voices from the Pacific Rim and beyond. Released as part of this year's LiterASIAN festival — which saw the arrival of distinguished writers like Jen Sookfong Lee, Terry Watada and the announcement of our own Karla Comanda as the winner of the Jim Wong-Chu Emerging Writers Award — Currents was part of a celebration that highlighted the fact that we minority writers have our stories to tell. This sense of community and solidarity is important to us as we embark on a process of renewal, and we want to make it clear that we could not have done it without you.
You believed in us and generously supported our efforts to return to print. It is because of you that we continue to be able to tell stories which reinvent and blur the boundaries that define who we are as writers and activists. You have given us the responsibility to serve as literary gatekeepers for the community as we look beyond traditional geographical boundaries. We thus promise to continue to publish more stories, poems, non-fiction, and reportage.
Here's to the next twenty years. Thank you.
Contributors
Aaron Tang          Aileen Santos         Anna Wang Yuan         Benjamin Hertwig         Carousel Calvo         Céline Chuang
Cheonhak Kwon         John Mokrynskyj (Translator)         Hana Kim (Trans.)         Do Nguyen Mai         Dung Kai-cheung
Nick Stember (Trans.)         Hannah Polinski         Emi Kodama         Frances Du         Helen Tran         Jane Aiko Komori
Jasmine Gui         JF Garrard         Joanne Leow         Kawai Shen         Li Charmaine Anne         Linda Nguyen         Lisa Zhang
Mary Chen         Raine Ling         Stanford Cheung         Zeng Xiaowen         Alison Bailey (Trans.)
✽
Editors
Karla Comanda         Leila Lee         William Tham
✽
Kickstarter Backers
Kane Tan         Matthew Stepanic         Roland Tanglao         Wanda Yee         Val Lem         Vanessa Lowe
Saki Serizawa         Anna Wang         Annick MacAskill         Christine Wu         Carmen Tiampo         Gavin Hee
Lauren Dembicky         Peggy Thompson         KS         Dawn Chow         Floyd Sully         Xu Xi         Imogene Lim
Susan Pieters          John Matsui         Sylvia Tran         Ellen Matsui         Gary Yee         Andrea Ocampo
Kristen Wong         Chelsea Rooney         Raymond Nakamura         Janet Lumb         Jennifer Pham         Brendon Soltis
James Kim         Doretta Lau         Anonymous         Linda Point         Jason Li         Sennah Yee         Caiming Ysng
Guillaume Morissette         Walter Quan         Wiley Ho         June Chow         Louis Lapprend         M Moore
Cecilia Yuan Liu         Jessica Purver         Helen Koyama         Linda Lum         Kaitlyn Tsuruda         Vincent Ternida
Hailey Mah         Jonathan Lin         Rudy Thauberger         Helen Tran         Lori Leong         Melissa Roach
Jake Byrne         Caroline Teng         Alice Poon         David Ng         Edwin Lee         Anita Chong         Elyse Bouvier
Regina         Abby Ho         Stephanie Oliver         George         Kerrie Seljak-Byrne         Tamara Jong
Michael Beck         Mikayla Fawcett         Minghui Yu
---