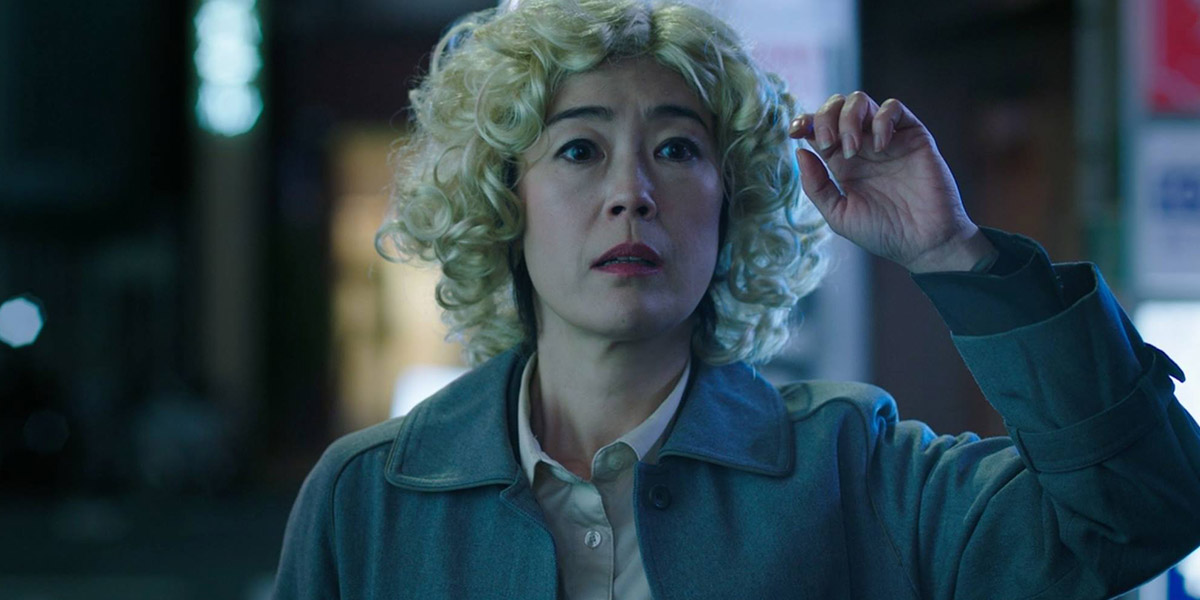 Hirayanagi Atsuko's refreshing debut feature Oh Lucy! is one whimsical cocktail, mixing one part urban alienation, one part domestic drama, two parts road movie, and topped with splashes of comic tragedy and cultural critique. Gloomy Tokyo office lady Setsuko (Terajima Shinobu) is given respite from the drudgery of her secretarial job when her niece (Kutsuna Shiori) sells her a membership to an English language class. The school is a seedy joint run by an American named John (Josh Hartnett), whose teaching style of cultural and linguistic immersion is as fascinating as it's oddball. To get a feel for American English, students must take on mainstream American personas by adopting Anglo names, wearing blonde or brown wigs, and learning habits like hugging. Setsuko's American persona is a blonde Lucy, and no sooner does she begin enjoying her new identity when she's informed one day that John has left town, but then catches him and her niece departing in a cab.
This scenario was originally the basis of Hirayanagi's 2014 thesis short film of the same name when she was a MFA student. At a running time of 21 minutes the short proved very successful, screening at numerous film festivals globally (including TIFF 2014) and winning a multitude of awards. Evidently recognizing its potential to play on a larger canvas, Hirayanagi expanded her story considerably. While the narrative of the short begins and ends as above, the feature version adds a major third act inspired by the romantic feelings Setsuko develops for John. When she sees the raw deal her niece has left her, she resolves to travel to Los Angeles with her estranged sister (Minami Kaho), ostensibly to assist in finding the wayward teenager, but secretly hoping to pursue her relationship with John. It's in a series of even seedier Southern Californian locales that the core of the story unravels, showing not only the extent of the sisters' disaffection with each other, but also the unflattering life of John, whose own escape to Tokyo mirrors Setsuko's transpacific journey for salvation.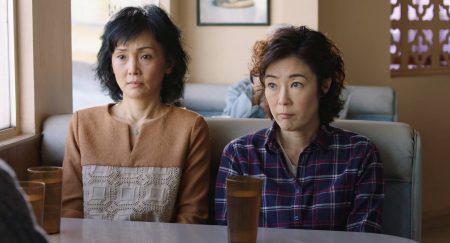 For the feature, Hirayanagi and co-writer Boris Frumin have crafted a rare Japanese film that is flavoured with a strong self-awareness of the county's peculiar sensibilities. The story was partly inspired by the cultural differences Hirayanagi experienced when she lived in the United States as an exchange student. Those whose lives traverse divergent climates such as Japan and the US will understand the gamut of perplexities that can engulf the soul. When hooked by the exotic pull of America in the form of a man she desires, Setsuko embodies a personality so unbridled that she forgets how exhibiting the same manners in her natural habitat or around people like her will trigger only the gravest consequences. Her ensuing journey to America thus gives her the cover she needs to unleash her caged sense of self-worth. There's deeper meaning to the alternate persona of Lucy, who has awoken in Setsuko the precious need to unmask her true self.
As with the short, the talents in the feature are admirable. As the chain-smoking titular herione, Terajima Shinobu is a captivating presence. Whether desolate as the jaded office worker or coquettish as the smitten paramour, her expressive features have a commanding effect. (Veteran actress Momoi Kaori, who played Setsuko is the short, submits an equally compelling interpretation, albeit as an older character.) Actor-producer Josh Hartnett, who has over the years declined lead roles in Hollywood for a career in independent cinema, turns in a low-key but resonant performance as the troubled American who struggles to overcome the odds in his backyard. Much of the film's comic relief springs from Minami Kaho, who plays the neurotic sibling in contrast to Terajima's mellower posture. Rounding off the cast are rising Australian-Japanese actress Kutsuna Shiori and the prolific Yakusho Koji, who make key appearances at Setsuko's niece and her fellow English classmate respectively.
Brandon Wee