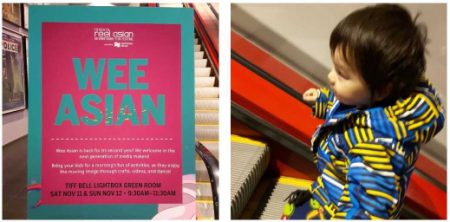 Seldom do film festivals involve children. After all, they are noisy and cannot stay still for a movie! Toronto Reel Asian International Film Festival in 2017 ran Wee Asian for the second time, a free weekend event for families to bring their children to the festival to watch animation shorts, learn baby kung fu, discuss the history of the lion dance, color, make buttons and face paint. This is a great strategy for parents to share their love of cinema with their children and for Reel Asian to attract a younger audience for the future. Ricepaper's diary on the Wee Asian event can be found here.
As Ricepaper was curious about how this children's event came to be, we requested an interview with the Reel Asian Head of Programming, Kristine Estorninos to learn more about the programming and how to volunteer at Reel Asian.
*
JF Garrrard: How were the films chosen for the Wee Asian schedule?
Kristine Estorninos: The kids programming component of the program was brought to life last year by local artist Lillian Chan, who we're excited to have back as our Canadian Spotlight Artist this year. The programming team reviewed titles that kids from all ages could enjoy. They're all heartfelt animations meant to spark creativity and joy for the little ones to watch at their leisure. The Wee Asian room also has activities other kids can check out; such as making their own buttons out of Lillian Chan's Yumi and Boom characters, or learning basic kung fu moves.
JFG: What are the messages you hope children receive from watching these short animations?
KE: We hope to spark future media makers to enjoy the creative space dedicated just for them at the festival. They can see themselves on the screen and from an early age that means a lot!
JFG: What advice do you have for aspiring film makers who want to focus on children's films?
KE: I think the best person to ask this question to would be our Canadian Spotlight Artist, Lillian Chan. (Lillian was unavailable for an interview)
JFG: How do people volunteer for Reel Asian?
KE: Please visit http://www.reelasian.com/support-us/volunteer-opportunities.