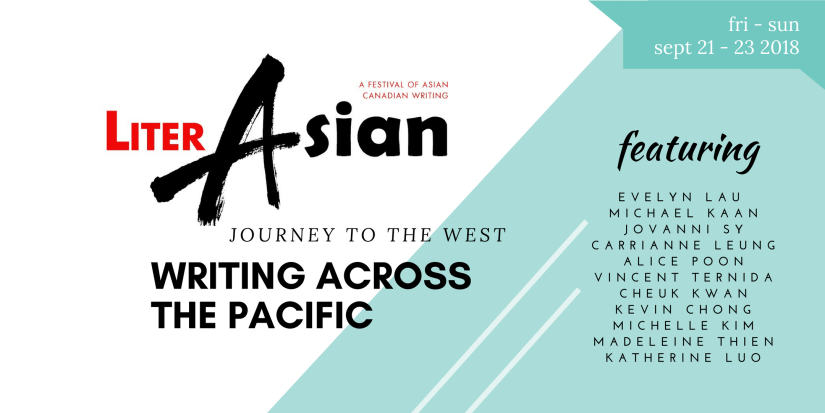 This year's theme is Journey to the West: Writing Across the Pacific. We have an incredible line up of authors with a full schedule of events, workshops, and panels happening all throughout Chinatown.
Purchase a $25 Festival Pass on this Eventbrite page for access to the entire three day festival. The Festival Pass includes admission to the Opening Reception, all workshops and panels, the Closing Performance, and a new copy of Chinatown Ghosts: The Poems and Photographs of Jim Wong-Chu. If you'd like to purchase tickets to individual events instead, please click on the event you wish to attend in the schedule below and you will be re-directed to its specific Eventbrite page. You will also find more detailed information on each event in their individual pages.
We look forward to seeing you at LiterASIAN 2018!
2018 SCHEDULE
Friday Sept 21
6.00-9.30 PM: Opening Event and Reception
Saturday Sept 22
12.00-1.30 PM: Writing Across the Asian Canadian Diaspora – Panel
2.00-3.00 PM: The Tale of the Re-Write: The Craft of Words and Memory – Workshop with Michael Kaan
4.00-5.00 PM: Writing About Dystopia – Workshop with Kevin Chong
5.30-6.30 PM: A Conversation on Writing, Memory, and Family with Katherine Luo and Madeleine Thien
7.00-8.00 PM: Translating Life to Fiction: Learning to See the World as Your Novel – Workshop with Vincent Ternida
Sunday Sept 23
12.00-1.30 PM: Is There Such Thing as a Canon? The Evolution of Asian Canadian Writing – Panel (link coming soon)
2.30-3.30 PM: What Next? Life After Writing the Inaugural Novel – Workshop with Carrianne Leung
4.00-5.00 PM: Turning to History for Inspiration: Writing the Historical Novel – Workshop with Alice Poon
6.00-7.00 PM: Closing Performance