BACK-ON is a hybrid rock band founded in Japan in 2002. Since making their major label debut in 2005, they now have fifteen singles and five albums under their belt.
The band is comprised of KENJI03 (vocals/guitar) and TEEDA (MC/rapper). KENJI03 has Japanese and Taiwanese parents and is fluent in Chinese, while TEEDA is bilingual in Japanese and English. They are well known for their anime theme opening songs, which includes Air Gear (TV OP1), Eyeshield 21 (TV OP4, ED5, ED6), Fairy Tail (TV 2 OP2), Gundam Build Fighters (TV OP1, OP2), Gundam Build Fighters Try (TV 2 OP), Murder Princess (OP), and One Piece (TV OP19).
Having played over fifteen live shows all over the world (Mexico, U.S., Netherlands, Singapore, Malaysia, France and Taiwan), the band was flown in from Japan to Toronto by Anime North, J-rock North Promotions Inc., Avex and ZEPP LIVE Inc. Ricepaper magazine caught up with them at Anime North 2018.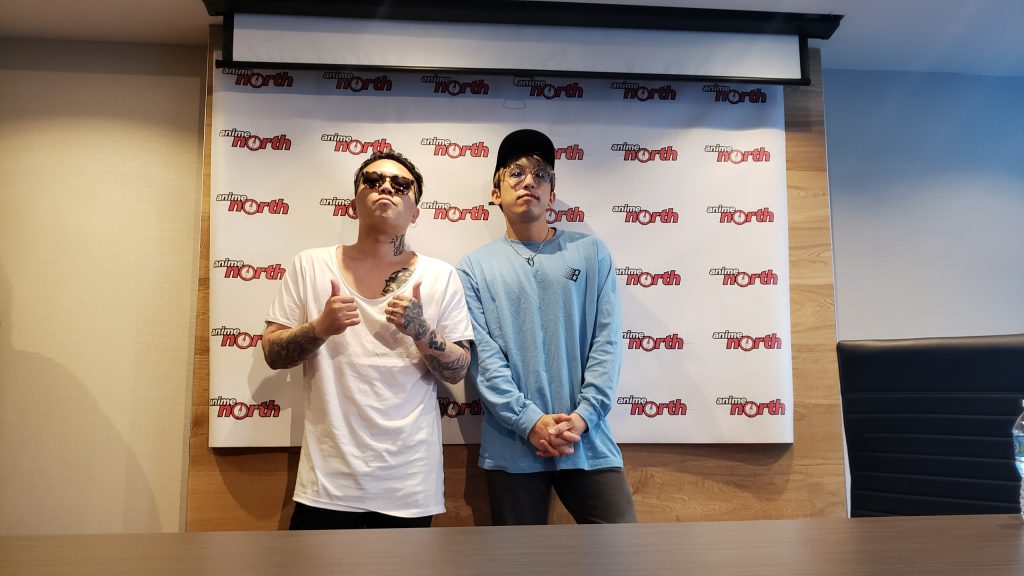 Ricepaper magazine, JF Garrard (JFG): How did you meet and what does your name BACK-ON mean?
BACK-ON (B-O): We met in the first year of high school and formed a band because we really wanted to make music together. We attended a live show by a band called Rize and in the green room we spoke with the vocalist Jesse about how we didn't have a name for our band. We asked Jesse to make a name for us and he came up with "BACK-ON." We thought this sounded good and BACK-ON was created.
JFG: Avex describes your music as hybrid rock band. How would you describe your music?
B-O: Hm, I wonder what that means? There isn't really a category for our band, this was what we were put into. We are like Linkin Park with a vocalist and a rapper. We are new style mixed with old style put together to make something new, that's what "hybrid rock band" means to us.
JFG: I'm curious, were you ever trained classically in music?
B-O: We were just playing around at first. Then we met a lot of musicians and wanted to up our skills and wanted to get better. Oh, we've been outed! We had pretty bad marks in music class!
JFG: What do you want audiences to expect from your show?
B-O: To put it plainly, we are naturally enthusiastic. We want people to come out, have a good time, and enjoy the music and sound. There is always the issue of walls through language, but rather than that, we want people to immerse themselves in sound and music and enjoy themselves!
JFG: What has been the most challenging thing you have faced on your musical journey and what have you learned from this?
B-O: It is pretty challenging in general to make songs, also to make songs and perform in front of a crowd. One can be excited and take in the response [of the crowd] as information to make more songs. This give and take is a difficult thing. Also, in general when writing songs, dealing with writer's block is very difficult.
JFG: What advice do you have for budding musicians?
B-O: Effort. Don't give up! There will definitely be a change that will come up, so keep going! Don't betray your own efforts, stay true to the work you put into it. Making music that is boring or drenched in despair is pretty tough. Make music that can resonate with people, so that they can feel the same joy as you do in the music, more in the forefront.
JFG: Did you have any mentors and what did they help you with?
B-O: One would be Jesse from Rize as mentioned earlier. When we first started, we weren't that good, but had a chance to open up for a rock/hip hop fusion concert. One thing Jesse said to us was: "You have to keep going, to keep going for the fans. You can't break up and need to continue on for the fans as BACK-ON."
JFG: Are your parents happy that you are in a successful band?
B-O: Probably, but would never say this to me. However, from friends I hear that my dad is proud and talks about us all the time. I like to think they are happy.
JFG: What is the next project on the horizon?
B-O: We're making a new album and working on a lot of new songs to go on that album. Of course, in addition to this, playing at a lot of events in Japan such as the "One man Live" concert, as well as some more overseas shows.
JFG: Thank you very much for your time!