Margaret Moran Cho is a Korean-American, Grammy and Emmy nominated comedian who was named one of Rolling Stone magazine's 50 Best Stand-Up Comics of All Time and has received rave reviews for her stand-up comedy routines. She is also an actress, fashion designer, author, and singer-songwriter. Born in San Francisco to immigrant parents who ran the influential Paperback Traffic bookstore, she has won many awards for her humanitarian efforts on behalf of women, Asian Americans, and the LGBT community.
Her highness was in Toronto as part of the Just For Laughs 42 Comedy Festival—where she'll be performing September 21 & 22, 2018—and Ricepaper Magazine's JF Garrard managed to catch up with her at this event. The Festival runs from September 20 to 29 and includes a lineup of other Asian comedians: Ken Jeong, Jo Koy and Bowen Yang (part of Las Culturitas duo).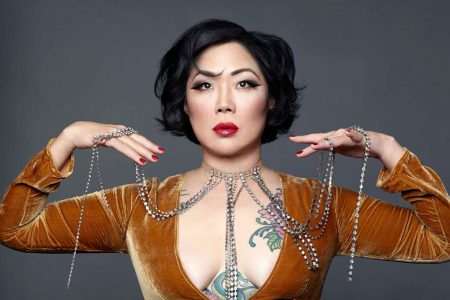 JF Garrard (JFG): Thank you for taking the time to talk to us! What are you going to do in Toronto?
Margaret Cho (MC): I am excited about going to Toronto's Koreatown because I've don't think I've ever been. Part of my family immigrated to the United States, San Francisco and the other part to Toronto. So I know there are pockets of my family still in Toronto. But I don't believe I've ever been to Koreatown specifically, so I'm looking forward to going!
JFG: A lot of Korean grocery stores such as H-Mart have opened downtown, so lots of Korean food in Toronto!
MC: Great! I love H-Mart and am excited to check things out!
JFG: We are living in exciting times with the #metoo movement, Crazy Rich Asians movie craze and talks about diversity in Hollywood. As a person who has been in the entertainment industry for so many years, do you see any real changes happening and have more doors been open to you?
MC: Yeah! I think it's really exciting. I'm hoping that Sandra Oh will win the Emmy tonight [JFG note: Ms. Oh was nominated for an Emmy in the lead actress category, in either comedy or drama, for Killing Eve at the 70th Primetime Emmy Awards]. This would be a great thing. It's the first time an Asian woman has been nominated for this award and it would be great to see her win, after all of her many years in the entertainment industry, it would be great to see her get this honour. Best supporting actress is different from lead, so this is very good. With Crazy Rich Asians, there's a sense of shift looking at Asians in entertainment nowadays. It's growing, I love it and I am excited for the future and very optimistic.
JFG: I was surprised to learn that your Fresh of the Bloat tour took you to Asia [Kuala Lumpur, HK, Taipei and Singapore]. Did you change your comedy routine in any way for this and did you find the audiences any different from North America?
MC: No, it's exciting to go to Asia to perform, to go to a place where you are in the majority, to have an Asian audience. But it's a different perspective too, as an Asian American. There's a big shift as well, but it's been really exciting. I've been touring Asia over the last few years and it's definitely been a change for me and incredibly fun. I love that I got to do it and want to do it more and more.
JFG: Some of the topics you discuss such as rape, sexual orientation and violence against women are topics typically not spoken about within Asian families. Has anyone in your family or fans ever told you that you aren't giving Asian people "face" and how do you respond to this negativity?
MC: I don't really care, I don't know. Because I'm older and to me, I am in the age of the generation that sort of always held us back. I am the older generation now. Before it was about rebelling against the older generation, but now all those people are dead. I'm really happy about what I get to talk about, what I get to do and it's really important to make those subjects easier to be discussed in an informed and vital way. To me, that's really valuable. I don't listen to negativity; I'm not aware of it, I don't try to seek it out and I just try to do my own thing.
JFG: There was an incident a while ago at Aroma Spa & Sports in which you were told to cover your tattoos at the spa. This was a clash of generations and cultures. Have you been back to the spa since, and in raising awareness about this, have there been changes in the community because this was made public?
MC: Yes, I have been back since and we tried to resolve the issue. I feel that the way Korean spas are run are similar to Japanese spas and people are treated differently if they have tattoos because the laws associate tattoos with organized crime. Obviously this is not the case in North America. Also nowadays, attitudes towards tattooing have changed. I think it's definitely resolved, this particular situation with me and that spa. But at the same time, there is a sort of culture clash around tattoos, but again I feel that it's a dying generation trying to uphold a fight around these outdated values.
JFG: When I went to Korea a few years ago [I'm Chinese and my husband's background is British/Irish] there were many older men who tried to push me down the subway stairs a lot because they thought I was a Korean with an American. It was rough to deal with these men in their seventies and very strange.
MC: That's so weird! It's such a crazy culture from what you know and that kind of stuff is unacceptable. Yet over there it's normalized and it's wrong.
JFG: Just like you say, they are the majority. To be a minority is to be white or American born. It's very different.
MC: Yes, it's very interesting.
JFG: What advice do you have for Asian kids who want to enter the arts? Typically, it's not encouraged among many parents, but kids have to stand up for themselves, among other things.
MC: You have to live your life for you. There are too many Asian kids living their lives for their families. They don't have dreams for themselves and they let their families dream for them. This doesn't necessarily result in your happiness and you have to figure out what you want to do with your life. But it's very hard to rebel; people get really bogged down just doing what their parents want for them. Of course, there's the tiger mom phenomenon and all that kind of stuff. For me, I just couldn't be contained! I had to do my own thing! You've gotta do what's right for you, not only for your family. Some people grow up in oppressive environments sometimes and it makes it hard to figure out what you want.
JFG: For myself, I only started writing in my thirties because I had no support [from family], so I'm a late bloomer myself. But like you say, sometimes you just gotta do what you gotta do!
MC: Yeah! Sometimes it takes a while because you almost need to come out of the ways of thinking which you've been programmed your entire life! It's tough!
JFG: Are there particular projects that you're really excited about at the moment?
MC: I'm just excited that I still get to do comedy, doing shows and I'm really active in that. To me, it's a really amazing thing to be able to do and I still really love it.
JFG: Do you have a routine for writing comedy? Jerry Seinfeld, for example, practices punch lines over and over again; Ali Wong does jokes over thirty times before she knows that it's good.
MC: About that, I think it takes a while, it takes time. Sometimes it's pretty instantaneous. There's no real way of understanding it, but you come back to it (the punch line) in a different way, it's hard to know.
JFG: Given you have accomplished so much already, are there still things left in your bucket list?
MC: I guess the most important thing is to continue to have a drive and do good work and do better. I just want to keep on going. l want to have a really long career. People that I admire such as Joan Rivers, who I thought was so great, could keep on doing it forever to the very end and to me that's really inspiring!
JFG: Thank you for spending some time with me. I'm a huge fan so it was very exciting to be able to talk to you.
MC: Wonderful! Thank you.
You can catch Margaret Cho in Toronto as part of the Just For Laughs 42 Comedy Festival on September 21 or 22, 2018 at the Winter Garden Theatre. She is also doing a behind the scenes chat at Second City on September 22, 2018.