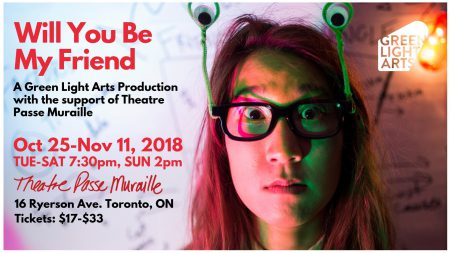 Korean-Canadian singer/songwriter/poet, Janice Jo Lee's solo show Will You Be My Friend is a conversation-starter musical about assimilating ethnic characteristics to fit in with white people. Originally titled The White Supremacy Smackdown, the show was changed to Will You Be My Friend to make it more accessible to audiences.
The premise of the show involves the concept of "Westian Friendiology" as explained by an alien scientist from Pluto, Dr. West. As a visitor to Earth, Dr. West believes that the best way for People of Colour (POC) to make friends and find happiness is to become white! His subject is Janice Lee, a lonely Kitchener-based, Korean-Canadian artist who is looking for new friends. Her best friend Leila has moved away and she hasn't been able to find a good boyfriend. Dr. West solves this problem by providing a new white boyfriend Mike, an activist who is woke and loves nature. Although the relationship goes well initially, there are increasing challenges as she encounters white privilege attitudes from Mike and his friends. People in her life who encourage her to be herself are zealously removed by Dr. West to prevent "contamination" of the experiment.
As a performer, Lee is a charismatic ball of energy, playing multiple characters while singing and dancing. Her most haunting song involves picking up a traditional Korean barrel drum and performing a piece she inherited from her family. The audience also gets to participate by filling out a survey for Dr. West at the beginning of the show in exchange for candy and are invited to sing along in English lyrics to her catchy songs. Admittedly, most of the audience was white on the preview night and there were some people who seemed uncomfortable with the subject of the show. Given the show was mainly a comedy, the jokes presented were very funny with deep meanings about the unfairness of the world.
While the message of the show about the importance of exercising the use of a voice as a POC rings true, perhaps a missing part is the incentive for why white people need to give space to others. As most of the piece deals with pleasing white people and erasing identity, perhaps devoting more of the show to the message would make it stronger.
Overall, a solo performance with fifteen songs while playing a variety of musical instruments is incredibly difficult to pull off and Lee did it with flying colors. A charming performer, she evoked much laughter from the audience with her quirky jokes and charming music. A powerful piece on identity politics, Lee is a force to watch out for in the future.
Written and composed by Janice Jo Lee. Directed by Matt White. Until Nov. 11 at Theatre Passe Muraille, 16 Ryerson Avenue, Toronto, Ontario. Get tickets here.