Book Expo, North America's largest publishing event took place May 27-29, 2019 this year in New York City at the Javits Center. Ricepaper Magazine's Deputy Editor, JF Garrard, attended on our behalf to check out the event.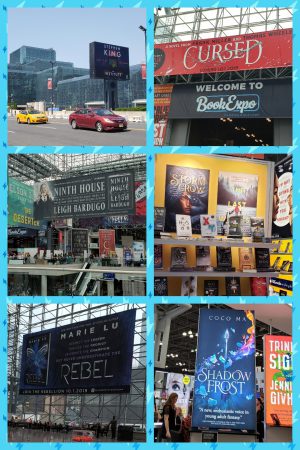 As my first time to Book Expo, it was an eye opener. There were hundreds of exhibitors, large and small. The larger publishers advertised extensively with huge, wall-sized ads of books hanging from the ceilings and they gave away hundreds of copies of books. There were books piled on tables for people to grab and all autograph sessions involved authors signing free copies of books as well. Exhibitors ranged from publishers to printing groups from overseas (Korea & China) and a large area was dedicated to Indies, featuring self-publishing services and smaller tables of Indie authors. A decade ago, the Indies were not part of the show, but the doors have opened to accept authors willing to take the leap into publishing themselves and many panels were available for authors who wanted to learn about the Indie route as well.
Out of an estimated 500 titles of books being promoted, given away or displayed, there were perhaps 25 books by Asian authors. A few of them were boosted by their publishers/PR people, such as Marie Lu (Legend trilogy) and Coco Ma (Shadow Frost) with giant displays of their books. It goes without saying that George Takei was a big name as well and he was there briefly—though my flight had landed when he made the appearance—to promote They Called Us Enemy, his new stunning graphic memoir. Da Chen (Colors of the Mountain, a New York Times bestseller) spoke at "The Power of Story: Diverse Books for All Readers" panel and Marjorie Liu (Monstress) made an appearance at the 2019 Adult Book & Author Breakfast. Authors we met at Book expo included Wendy Xu (Mooncakes), Mariko Tamaki (Harley Quinn: Breaking Glass), Katie Zhao (The Dragon Warrior), Mary HK Choi (Permanent Record), Jen Wang (Stargazing),  Sahil Shokeen (Feelings. A World of Pain) and Pierre Dimaculangan (Trials of the Middle Kingdom).
In searching for book giveaway prizes for Ricepaper Magazine readers, I sadly discovered it was similar to searching for needles in a haystack. There were hundreds of books being given away, but looking for Asian authors was quite difficult. Not all Asian authors had book giveaways and sometimes when they did, there were barriers such as obtaining special tickets from booths which I could never find.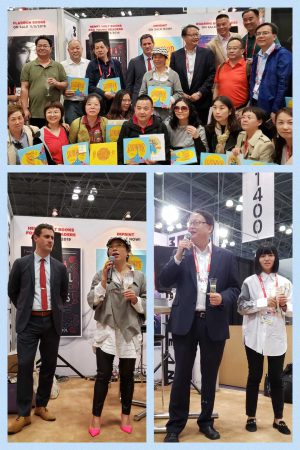 One of the more interesting stories (even published by the The Washington Post), was the collaboration between MacMillan and China's 21st Century Publishing Group in publishing Summer, a children's book by Cao Wenxuan and illustrated by Yu Rong. The storyline features animals fighting over space and then learning they can provide shade for each other by standing side by side. It's to be a parable of cooperation that could be applied to US and China relations. More importantly, it was the only booth that gave away champagne during a book signing!
Within the book piles, I found two books with Asian protagonists, not written by Asian authors. People are free to tell stories from multiple points of views in our inclusive society, however, I do hope that more Asian authors would be at the table in the future to tell their own stories.
In the upcoming months, I'll be sharing the bounty from Book Expo with our Ricepaper readers, so look our for our announcements on social media and on our website!