Director Li Cheng's second film José (2018) premiered at the 75th Venice Film Festival in September 2018 and was awarded the Queer Lion. It has won many awards and has been featured in numerous film festivals, please see additional notes below article for complete details. Featured as the Centrepiece Gala at the Vancouver Queer Film Festival (VQFF), José is about a young man who lives with his mother in Guatemala City, working for a food stall during the day and spending his free time on dating apps to cruise for men at night. He meets Luis, a migrant worker from the Caribbean and a tender romance begins. When Luis' time in Guatemala City runs out, José is faced with the decision to either pursue a new life with Luis or stay with his mother to care for her.
Ricepaper's JF Garrard caught up with Li Cheng at VQFF to ask him about José, film making and upcoming work.
JF Garrard (JFG): Hello, thank you for connecting with us at Ricepaper! According to IMDb, your background is in biotechnology research, which is quite different from film! Why did you make the jump to pursue a career in film?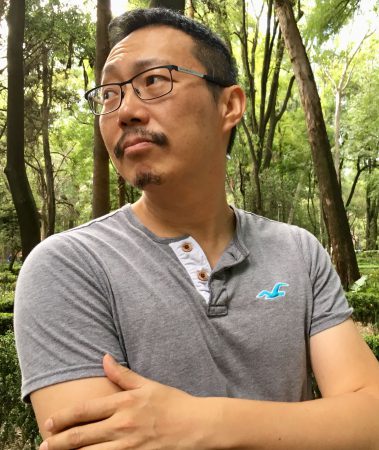 Li Cheng (LC): Yes, I originally came to USA for graduate school, and got a PhD in cancer research at Rutgers. But film has always been my passion – to express my opinions and feelings about human life, film-making is the best way to deliver.
JFG: Your first film, Joshua Tree (2014) focuses on the crisis of the American Dream. Your second feature José is about hopes and dreams of a young man in Guatemala. What drives you to tell stories about crisis and struggles?
LC: Well, what is life without struggle? Life, hopes and dreams – it's always all tied together. As a human, I feel for people who are struggling. Moments of crisis are where the opportunities lie so I want look at that, feel it, think about it, talk about it.
JFG: How did the idea for José  come about? For this film, you even researched many Latin American countries and even lived in Guatemala for two years. Why did you feel so much research was necessary to tell this story?
LC: Yes, we researched in a dozen countries in Latin America and mostly all the largest cities. The research is necessary to reflect the reality and texture of people's life. This is especially important for us as "outsiders" – I'm China born and raised (now a USA citizen) and writer-producer George is US American. With all the toxic talk about "south of the border" we felt a responsibility to leave USA behind and to go, feel, and experience things first hand. When we started the project (in August of 2016) we started with an empty page, nothing was set. For example when we arrived in Guatemala for the first time we didn't know a single person there. We also left USA with a lot of anger about how things are headed.
JFG: Having never been to Latin America, I was wondering if you found any parallels between cultures in these countries and Asian cultures? Did understanding similarities/differences help with the process of film making?
LC:  Sure, the mother-son relationship, the family structure, the society in Latin America always reminds me of Chinese people. That is why I am very attracted to and also the passion of love.
JFG: The different scenes portraying Guatemala City were very vivid, from the preacher on the bus to the busy traffic on dusty streets. How long did it take to piece the film together and were there any challenges?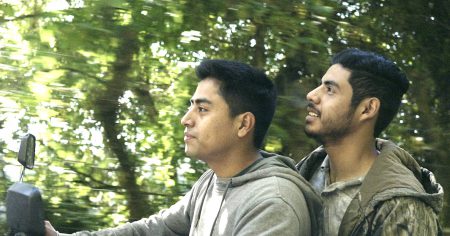 LC: (laughing) Many challenges…but that's when opportunities pop up and there are always ways to overcome them. We shot 40 days in two months starting in December 2017. We tried our best to capture the reality of people's life in these scenes – as with you, most people have never been to Latin America. Though we see these graphic images on the media all the time, so it was important to be honest and clear: a few seconds news report and political talking points don't show much about what's really going on with the people, their lives, their families, their loves
JFG: In many ways, the scenario of young people growing up and needing to make a choice about leaving their parent(s) is universal. What message did you hope to give to the audience with this movie?
LC: The poverty, machismo, violence and inequality of most people's lives in Latin America makes this choice difficult for young Latinos to leave their mom and equally difficult for mothers letting their sons go. When I talked to the young people in Latin America, I found many had a hard time – even traumatized, after the loss of love; especially for gay guys, mostly because it is difficult to find a romantic relationship at the first place. I hope when these people watch my film they will feel they are not alone and it will be okay
JFG: What project are you working on next?
LC: I want to rest first ! (laughing) We're still very busy with José: diligently bring him around the world to meet the audience and to spark dialogue and debate. Just before arriving in Vancouver I've been dashing around: Brazil, Peru, Honolulu and Taipei. as for next films, I would like to continue film-making in Latin America, also hoping for a couple projects in China – I've been mulling those scripts for years already!
JFG: Thank you for your time!
***
For more information about José showing at VQFF, check out this link: https://queerfilmfestival.ca/film/jose/. For summary of VQFF film-maker interviews, see this post.
***
Additional notes on José 
José by Li Cheng awards
1) Queer Lion – Venice Film Festival*
2) Best Narrative Feature – Boston LGBT Film Festival
3) Best Narrative Feature, Best Screenplay – Kashish Mumbai Queer International Film Festival, India
4) Best Feature Film – Honolulu Rainbow Film Festival
5) Special Jury Prize – Nantes 3 Continents Film Festival, France
6) Special Jury Prize – Bratislava International Film Festival, Slovakia
*José  beat Oscar-winner The Favourite (2018), Suspiria (2018) and others to win the Queer Lion. Recent Queer Lion winners include: The Danish Girl (2015) by Tom Hooper;  A Single Man (2009) by Tom Ford with Colin Firth and Julianne Moore; and Wilde Salomé (2013) by Al Pacino.
José  was featured in top international festival film premieres in 35+ countries, 60+ leading festivals cities in North America, Latin America, Europe, Asia, Pacific and Middle East – including Santa Barbara International Film Festival, Amnesty International's Movies that Matter Film Festival, Hong Kong International Film Festival, Nantes 3 Continents Film Festival (France), Miami Film Festival, El Festival Internacional del Nuevo Cine Latinoamericano (Havana, Cuba), Vancouver Queer Film Festival, Festival de Cine de Lima (Peru), Taiwan International Queer Film Festival, and many more.