Ricecake (2019) is a short documentary film playing as a part of The Coast is Queer shorts program at the Vancouver Queer Film Festival this year. Its main subject is RICECAKE: Vancouver's Queer and Asian Dance Party, the brainchild of Shay Dior, a QPOC Drag Artist and mother of the HOUSE OF RICE. Through interviews with Shay Dior and friends, the film explores what it means to navigate queer spaces in Vancouver as an Asian person.
This short documentary is director Yuko Fedrau's first film. She is a fourth-year undergraduate student at UBC, majoring in Art History and minoring in Asian Canadian and Asian Migration Studies. In her research, she is interested in examining culture through a post-colonial and queer lens.
Ricepaper's JF Garrard caught up with Yuko at VQFF to ask her a few questions about the world of documentary film making.
JF Garrard (JFG): Hello, thank you for taking the time to connect with us at Ricepaper! Ricecake is a fascinating look at the behind the scenes life of how RICECAKE came to be. Why did you choose to do a documentary film on this?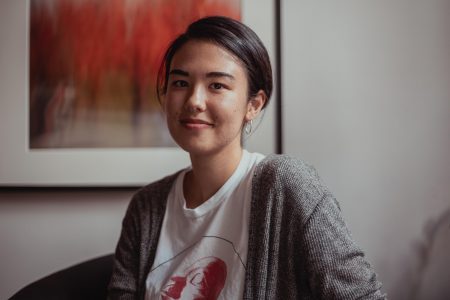 Yuko Fedrau (YF): Thank you for reaching out to me! Ricecake is a short documentary that was done for a class at UBC called "ACAM 350: Asian Canadian Community-Based Media," in the Asian Canadian/Asian Migration Studies program. The class has been around for the past couple of years, and the general idea is that you and your classmates group up and make a short documentary about some aspect of "Asian Canadian Community", and you show your film at a big screening at the end of the class.
A lot of the conversations and research that happens within the ACAM program focuses on heritage, culture, and familial roots and how they're affected by various diasporas. However, I've found that queerness is something that doesn't get talked about often, so I wanted to shed light to the intersection of the asian/queer experience.
JFG: For people unfamiliar with the drag scene, can you describe what is it and what makes RICECAKE different from other dance parties?
YF: RICECAKE is a queer asian dance party organized by the DJ Bella of BodyParty and the drag queen, Shay Dior. Every two months, an industrial warehouse nicknamed "the Clubhouse" is magically transformed into an extravagant hangout space decorated with a variety of chandeliers, paper lanterns, and curtains. Asian DJs, drag queens, and go-go dancers are up on stage all night, and every party is a great time.
Ricecake is very special to me because it participates in many different practices of cultural heritage at the same time. On one hand, you're participating in culturally specific activities like the celebration of the Lunar New Year, but on the other, you're able to engage with the world of queer nightlife. It's so important to me because you shouldn't have to give up one aspect of your identity to fit another, and I think that creating spaces like these is a powerful way of resisting assimilation into North American white-settler culture.
JFG: Shay Dior and friends are a pretty candid crew. Filming them while they were putting on make-up seemed to be a vulnerable moment as they are similar to butterflies coming out of cocoons at that point in time. As subjects, how did you navigate working with them? Were boundaries set as to what subjects could be discussed or conversations about possible consequences (given some parents don't know about their involvement in the drag artform)?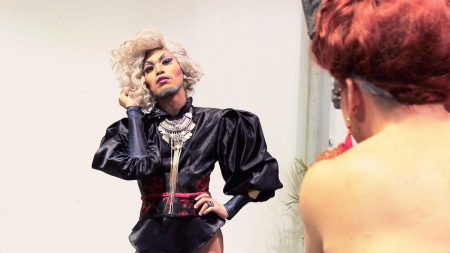 YF: One of the important takeaways from ACAM 350 were the intensive discussions around ethics in documentary filmmaking. We spent a lot of time giving the other groups feedback around what possible ethical problems that we could run into, and the biggest concern for us was the possibility of unintentionally "outing" someone. As we mention in the film, Asian households are often not the friendliest when it comes to understanding LGBTQ+ issues, and many queer Asian people struggle with feelings of internalized shame and guilt when it comes to their own identity. This is why we made sure to take steps both before and after shooting the footage, just to ensure consent. Before filming, we had open discussions off-camera about the scope of the film, explaining the purpose of the class and where the film would be shown. After filming and editing, we sent a rough draft of the film to the subjects for their approval before creating the final edit. That way, if the subjects were uncomfortable with any of the footage used, we could remove or replace it easily.
JFG: What was the process of making this film? What was the most challenging step? 
YF: For us, we had three big filming days: the party, the candid photo-shoot, and finally, the interview with Shay Dior. Usually, when creating a documentary film, it makes a lot more sense to do the interview first, edit it down to an easily digestible narrative, and then proceed to get the necessary B-roll. However, our group was faced with the problem of timing. The class began in January, and the Lunar New Year party was happening at the beginning of February, and we absolutely needed to get party footage in order to create the film. So we went to the party with our cameras with no clue what we actually needed, just capturing everything and anything we saw with no funneling topic to really guide us, and it really felt like we were waving our arms around in the dark. In the end, we ended up capturing a lot of special moments, but we were only really able to appreciate them until a couple weeks before our April deadline. Looking back on it, I would say that the biggest challenge was editing everything down into an 8-minute video that actually made sense, since we were working backwards for the whole time.
JFG: What is the best lesson you learned from this film that you can pass onto other novice documentary filmmakers?
YF: During the creation of Ricecake, we definitely learned the hard way about the importance of knowing the equipment, and knowing it well. None of us were particularly experienced with cameras or audio equipment at all, and sort of jumped into filming blindly since we rented out some cameras from school. I think that if we had rented out the equipment ahead of time and really got familiar with the technical side of things, we could have improved the quality of the film overall and made it a lot more polished. However, I think it was a huge learning experience just to create this project together, and I'm very proud of what we came up with at the end.
JFG: What will your next project be?
YF: The intersection of queerness/cultural heritage is a theme that is really exciting to me, so I'm definitely following this trail in my creative work. Currently, I'm working with Anne Canute, one of my closest friends and a fellow co-creator of Ricecake. We are in the process of putting together an art show called "Canned Foreign," which is about the experience of being half Japanese and living in North America. If everything goes according to plan, the show will go up at the Hatch Art Gallery in November, and will feature a bit of installation art, a bit of experimental video, and, most excitingly, a drag performance by the non-binary "drag thing", Rose Butch. A lot of the artwork is in the process of being completed, but I'm so excited for it all to come together!
JFG: Many thanks again for taking the time to speak with us!
***
More information about Ricecake and ticket details can be found here: https://queerfilmfestival.ca/film/ricecake/. For summary of VQFF film-maker interviews, see this post.