Yellow Peril: Queer Destiny (2019) is a new short documentary from Vancouver filmmakers Love Intersections that probes the nuances of the Queer Chinese Canadian identity and will premiere at the 2019 Vancouver Queer Film Festival. This film follows drag artist Kendell Yan (aka Maiden China) and delves into their world which is full of beautifully choreographed performances, family and friends. Many issues are covered, ranging from the history of indentured Chinese laborers who built the Canadian Pacific Railroad, to lack of representation, to accusations of commodifying Asian culture.
Ricepaper Magazine's JF Garrard caught up with Love Intersections to discuss how their film-making process and how Yellow Peril: Queer Destiny came to be.
JF Garrard (JFG): Hi Love Intersections! Pleased to meet you! Can you introduce yourselves and let us know how your group came about?
LI: Hi!!! Jen and David co-founded Love Intersections in 2014 out of a frustration about the lack of representation of Queer, Trans, and Intersex, Black and Indigenous People of Colour (QTIBIPOC) in media, and within our community. We really wanted to share our own stories the way we wanted our stories to be told, and to celebrate our identities.
JFG: On the Vancouver Queer Film Festival page for Yellow Peril: Queer Destiny, it states that Love Intersections is a work in progress. Does this mean for every project different filmmakers are involved or it is a continuously growing group? How does the film making process work?
LI: I think what sets us apart as documentary filmmakers, is that we really focus on the process instead of the outcome. We never go into a film with a concrete script, because we want to find ways to collaborate with our community, to tell the stories that aren't being told. One of our frustrations that we've experienced, is that the media tends to articulate the stories of QTIBIPOC in a way that features the trauma that we've experienced, and we wanted to change that narrative, and shift the storytelling agency and power to the people whose story we are illuminating. I think it's not only an ethical issue, but one that enriches the film-making process, because our collaborators feel an ownership to the work.
JFG: Why was the subject of queer diasporic Asian Culture chosen and how did Love Intersections connect with Kendell?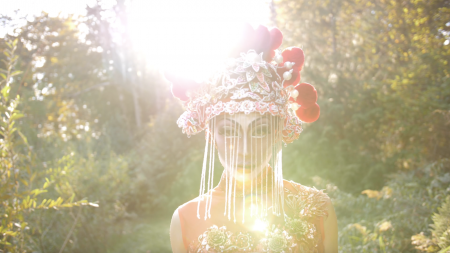 LI: Over the past few years, we really started to notice a surge in queer East Asian organizing in Vancouver, and across Canada. The formation of the House of Rice, Vancouver's first all-Asian drag troupe, and the start of Ricecake, a queer Asian focused dance party, was I think a watershed moment in the queer community, that we wanted to capture. We had been following Kendell's work in the community as Maiden China for a while, and we were so excited to work with her. Maiden China's performances are not only riveting and inspiring, but she's also unashamed to bring culture, politics and community onto the stage, in a deeply emotional way.
JFG: How long did the film take to make? There were many artful shots (beautiful ones by water and on a railroad line), which was the most complicated one to shoot?
LI: The film took 10 months to make. It was so much fun to dream with Kendell, and make all these imaginations a reality! The rice dance was probably the most complicated, because it involved over 40 kg's of rice that we had to use for the scene, plus we had to rent a camera that could capture the individual grains of rice, flying in the air in slow motion. Putting together this film was also really fun; one of the scenes was inspired by Beyonce's Formation music video, where we thought it would be hilarious to recreate the scene with Kendell hanging off the side of a rickshaw, holding red smoke bombs, and being driven by a white guy…and the shots turned out amazing!
JFG: There is some amazing poetry in the film (Diaspora Babies by Kai Cheng Thom, who was a LiterASIAN Toronto guest last year and poem unfinished about my father by Kendell Yan). What was the thought behind putting that in, given a lot of documentaries usually focus mostly on just showing the subject in various moments?
LI: One of our inspirations in the film was the five Chinese elements, and so the underlying arc is actually a metaphoric exploration of what queer Chinese diasporic culture can look, feel, taste and sound like. We wanted to explore the "elements" of queer Chinese diasporic identity, as iterative processes, that feed into each other, and are deeply immersed – in an embodied sense. So we really wanted to experiment with the images and audio, and move away from the strict narrative. The poetry from both Kendell and Kai really resonated with what we were trying to elucidate. And also, Kai Cheng Thom is David's cousin! We love her, and her work!
JFG: The inclusion of the female lion dancers added a lot of depth to the film about gender, tradition and stereotypes. The scene of Kendell putting on a Chinese opera headdress at the same time as a female performer was particularly striking as well. What type of messages do you hope the audience receives from this film and are there any actions you wish for them to take?
LI: The lion dancing story with Dora, Vicky, and Kimberley was actually totally unplanned when we conceived the initial film script. We had known Dora for a while, and knew of their work in the community, and invited them to perform for the film, and at the shoot, Dora shared their story of how learning lion dancing was actually denied to them because they were told that "lion dancing was traditionally only taught to men/boys". Dora and Vicky formed their own lion dancing group and now teach people of all genders, ages, and backgrounds. We were really inspired by this story, and wanted to share it!
JFG: Thank you for creating such a beautiful piece of art! Good luck on your film-making journey!
***
More information about Yellow Peril: Queer Destiny at VQFF, available here: https://queerfilmfestival.ca/film/queer-and/. For summary of VQFF film-maker interviews, see this post.