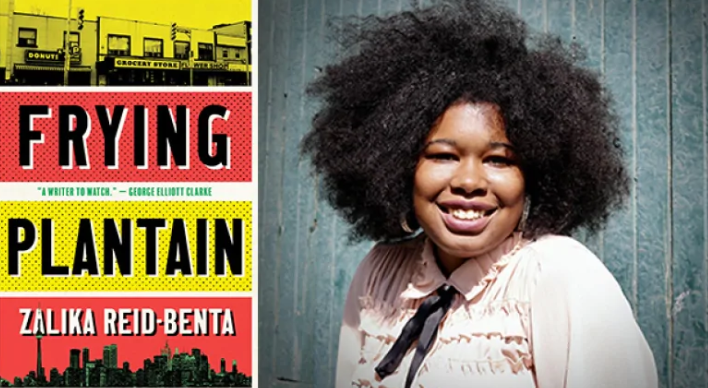 Conversation with Zalika Reid-Benta and Vincent Ternida
On a rare sunny day in the Fall, I was able to connect with Zalika Reid-Benta, author of Frying Plantain — a short story collection about Kara, a Jamaican-Canadian girl growing up in a largely Jamaican neighborhood in Toronto. She is also the Program Manager for Diaspora Dialogues, a nonprofit literary organization based in GTA who runs mentorship programs for GTA, Winnipeg, and National Longform and Shortform pieces. Many authors including herself benefitted from this program and got them started on their literary careers. This year, Frying Plantain has been long listed for the Giller Prize.
We sat down nearby at Bridges overlooking the Granville Bridge on this warm, Thursday afternoon straight after her panel at The Writer's Festival entitled The Fiction of Belonging where she shared the stage with Derek Mascarenhas and Hassan Ghedi Santur where they spoke about stories about belonging, home, and the in-between.
The Fiction of Belonging
Vincent Ternida (VT): How does unbelonging, the diasporic story, and the in-between influenced your writing?
Zalika Reid-Benta (ZRB): As  a second generation or third culture kid, the story of the in-between interests me. Growing up, I lived in a neighborhood that's predominantly Portugeuse and Italian, I wasn't able to relate. I didn't feel Canadian, but I am Canadian! My home culture and heritage had a strong influence in my identity even if I didn't necessarily feel connected to my neighborhood or knew what it meant exactly to be Canadian. I knew what it meant when I left Canada.
By navigating what it means to be Canadian and to be Jamaican, juggling both those worlds but through a personal lens informed my short story collection. Now I'm currently writing a YA novel and I feel that I'm touching on the same themes of unbelonging. It's a typical fantasy setting, the protagonist starts off on Earth and traverses to another world. She does not feel she belongs on Earth and she also feels she does not belong in that world.
VT: What's the working title of your YA novel?
ZRB: The working title is called "Kiini". Right now it's a placeholder as there is a big debate between the people of the diaspora and the people of continental Africa about appropriation. I'm super bad with titles and in Frying Plantain, almost all the stories in the collection went through ten different titles. (laughs)
Pig Head was first called "Playground Games" and then for the longest time it was "What Happened In Hannover". Different mentors asked me to change it to "Pig Head" because it's a story of a girl who finds a pig head in the freezer and is traumatized about it. It felt like Snakes On A Plane because it was literally about snakes on a plane! Snow Day was another, it used to be "Quiet" for the longest time and when my editor from my publisher read it and we were talking about titles, she said she didn't know what "Quiet" was until I mentioned it was the "Snow Day Story".
Back to Pig Head, an interviewer in Brampton told me that she felt that that exact story happened for real. That moment was very visceral and it stuck with me. I reacted quietly when I opened the freezer and found the head there. My mother took me away but one day I said that I'll write about that experience.
VT: How do you answer people's questions perceiving your stories to be autobiographical?
ZRB: During the panel earlier, I was asked if there was something I don't want to be asked and it was "Please don't ask if this is based on my real life". When I was at the School of Continuing Studies, my workshop kept telling me to change the name of 'Kara' to my name as they felt it was autobiographical and I said that the stories are not about me. There were only two People of Color in my class: being myself and this Japanese woman who wrote a story about an assassin who transforms into a cat. That woman then comforted me later and said "Do [the people from the workshop] also think I'm an assassin who transforms into a cat because I happen to be a Japanese woman?" It is ridiculous. I wrote a post about it to Open Book and other authors tweeted "Stop asking these questions to People of Color".
These days, I have a calm jadedness about it. The questions still come up and I'm emotionally fine. I'm writing the experiences that I can relate to, but they didn't necessarily happen to me. In Snow Day, I didn't personally experience going to the washroom and a guy coming after me. It happened to a friend of mine, but I didn't know that until she read my story. Another review I have mixed feelings about is "it reads like a memoir". If I wanted to write a memoir, then I would write a memoir.
The Short Story and Diaspora Dialogues' Short Form Mentorship
VT: Are short stories making a comeback?
ZRB: Diaspora Dialogues does professional development workshops and I heard in this conversations with one of the agents who said that short stories don't sell. The participants said that "Zalika has a short story collection and it's doing okay". I agree, I look around and see that Derek [Mascarenhas] has a collection and Catherine [Hernandez] has one and it's being turned into a TV series. There definitely seems like an interest with short story collections and I find it interesting that people of the diaspora are writing English short story collections. Even with nonwriters I encounter, there's a genuine love for short stories and when I tell them that short stories don't sell, they're surprised.
In Frying Plantain when I wrote the first chapter, my mentor said that it reads like a short story. Completing the second chapter, they said that "you keep writing short stories". So I went with that as I didn't want the responsibility of a novel at the time. There's a resurgence of short stories, I find that comforting, and I feel it's something that should be explored more.
VT: You started with Diaspora Dialogues as a Short Form Mentee, could you tell me about that?
ZRB: I submitted a short story to Diaspora Dialogues while I was doing a certificate program for creative writing for University of Toronto. I was accepted and was paired off with Olive Senior for a month. That was really important for me, because that's the first time I was paired up with a Jamaican writer. We corresponded through email and met twice. They published my short story on the physical anthology called TOK. Because of that I went to the launch and for the first time I went to a launch and did a reading, which was nerve wracking at the time. That program prepared me for my MFA and my literary career.
Validation Versus Growth
VT: When I submitted to Diaspora Dialogues' Long Form Mentorship earlier this year, I felt intimidated by the alumni who went on to publish and many are now award winning writers. I eventually did submit and my experience learning from my mentor (Thea Lim) has been fantastic. How do we advise emerging writers hesitant to enter because of this apprehension?
ZRB: Personally impostor syndrome never goes away and they're present in established writers and many feel it all the time. I find that comforting because I don't feel that way alone. When you meet these writers, they're mainly at a different point in their careers, but they're still down to earth people. Speaking of Oliver Senior, a mentee came to the mixer and when he saw her, he turned to leave. But I encouraged him to speak with her and they ended up talking all night. Submissions feel nerve wracking and intimidating but it's subjective. Go in looking for growth and not validation. If you go in with that mindset, it becomes less scary.
VT: What separates each program from one another?
ZRB: We've changed the program slightly because a lot of people from Toronto are applying to the National Program and we've put them into the GTA specific. I didn't want to have one writer from BC and Winnipeg and three writers are from Toronto. We already have a GTA specific program that spans from Toronto to the surrounding cities like Brampton and could go all the way to Barrie. Other areas in Ontario like Peterborough can apply to National. Because for National we wanted a program where a writer can be from Vancouver and the mentor could be in Montreal.
The National is fairly new and we started it last year. It's doing great and we love seeing what people from other provinces are doing now and what they're writing. For Winnipeg, we exclusively picked it because Diaspora Dialogues' founder Helen Walsh loves Winnipeg. It's not going to stop there as we want to do something with Nova Scotia and Vancouver as well. Right now, we're a small team and it might take a while. The goal is make Diaspora Dialogues accessible in various provinces.
Diaspora Dialogues is currently taking submissions for their National Longform and Shortform program for 2020. Details can be found here.
As for Frying Plantain, it is currently available at booksellers and is one of Indigo's Best Books of 2019.
---
Vincent Ternida's works have appeared on Ricepaper Magazine, Dark Helix Press, and was long listed for the CBC Short Fiction Prize. The Seven Muses of Harry Salcedo is Ternida's first novella. He has a collection of short stories in development. He lives in Vancouver, British Columbia.