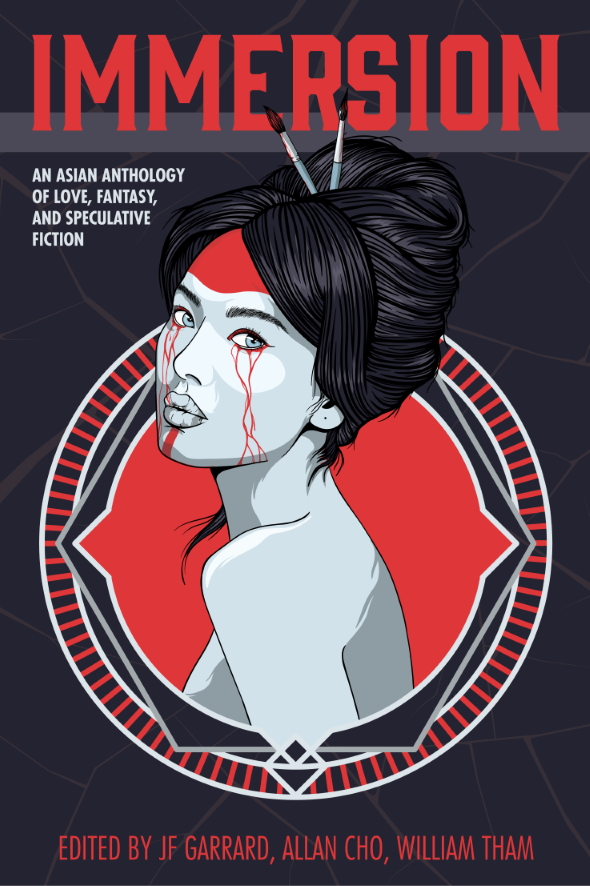 Join us for the launch of the anthology "Immersions" and immerse yourself in unexpected worlds.
Your janitors are secretly part of an underground society. Craigslist shamans are available for shape shifters. Hopping corpses terrorize a small town while an aging samurai embarks on his final quest. These are just a glimpse of the fantastic scenes within the pages of this book.
Journey to places where your understanding of reality is inverted in this new speculative fiction anthology featuring fifteen stories by Asian writers from around the world.
Authors at the launch:
Vincent Ternida – This emerging author's pieces have appeared in Ricepaper Magazine, Dark Helix Press, and was longlisted for CBC Short Story Prize in 2019. Ternida's first novella, The Seven Muses of Harry Salcedo, was published by Asian Canadian Writer's Workshop and Dark Helix Press. He currently has an anthology of short stories in development. He lives in Vancouver, British Columbia.
Carlo Javier – Carlo is a writer, web developer, and communications specialist based in Vancouver, Canada. He likes to write about issues surrounding the Filipino diaspora, social media, and relationships. Janitors marks his first published fiction piece.
I.J.P. Ruiz – Luis is a Filipino writer raised in Hong Kong and Singapore. Having graduated from the University of British Columbia, he currently works and lives in Vancouver, Canada. Jacob seeks to explore the concept of Liminality through his work; drawing inspiration from his intercultural background, science fiction, high fantasy, history, and world mythology. In his spare time, Jacob loves exploring the local dining scene, trying new recipes in the kitchen, and diving into a good single player RPG. He also dabbles in logo design.
Editor at the launch:
Allan Cho – An academic librarian at the University of British Columbia, Allan is actively engaged in a number of initiatives in the community and has served on the board of the Asian Canadian Writers' Workshop Society (ACWW), Chinese Canadian Historical Society of British Columbia (CCHSBC) and Vancouver Asian Heritage Month Society (VAHMS). He writes occasionally and has published in the Georgia Straight, Diverse Magazine, and Ricepaper. His fiction has appeared in the anthologies, The Strangers and Eating Stories: A Chinese Canadian and Aboriginal Potluck. He has edited the anthology AlliterAsian: Twenty Years of Ricepaper Magazine with Julia Lin and Jim Wong-Chu.
---
Saturday, December 7, 2019, 1.00pm – 2.30pm
Level Three, Sun Wah Centre (268 Keefer Street, Vancouver, BC)