DYSTONIA is a short film and captivating story based on true events about violinist James Wong (played by Kenny Wong) who is diagnosed with Focal Hand Dystonia: a neurological movement disorder causing the muscles of a player's hand to involuntarily contract while studying at McGill University.
DYSTONIA was inspired by Kenny's real life experience while studying violin performance. He was committed to practicing six to eight hours a day in preparation for a performance exam when he noticed something wrong — the ring finger on his left hand was retracting under his instrument. After numerous visits to the hospital, he was diagnosed with Focal Hand Dystonia. The emotional chaos that resulted from this is depicted as he tries to get a handle on his injury.
DYSTONIA which will be making its premiere at the 2019 Toronto Shorts International Film Festival and Ricepaper Magazine's Deputy Editor JF Garrard caught up with Kenny Wong to learn more about this short film and what "dystonia" is!
JF Garrard (JFG): Can you tell us a little bit about yourself, your history in music and acting? 
Kenny Wong (KW): Sure! My name is Kenny Wong and I'm an actor/violinist living in Montreal, having grown up in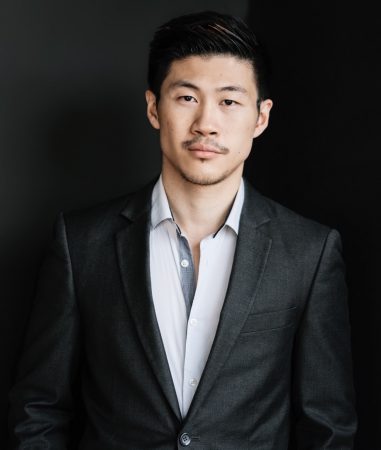 Richmond, BC. I went to McGill University for my Bachelors of Music Performance degree, but also studied acting at the same time at Straeon Acting Studios. As a violinist, I've been fortunate to work with incredible companies like the Vancouver Symphony Orchestra, Les Grands Ballets Canadiens de Montreal, the Kitchener-Waterloo Symphony Orchestra, and Cirque du Soleil. As an actor, I've been a part of such shows as Jack Ryan (Amazon), Frankie Drake Mysteries (CBC), Titans (DC), and Good Sam (Netflix). I am currently working on CTV's new medical drama, Transplant, set to come out next Spring.
JFG: Was music a big part of your life growing up?
KW: Yes it was! I started the violin when I was six-years-old after attending a family friend's violin recital. Afterwards, I asked my parents if I could take lessons, and they said "… Sure. We'll give you a year". Twenty-something years later, here we are.
JFG:  What does "Dystonia" mean?
KW: Dystonia, in this case, is short for Focal Hand Dystonia, a neurological movement disorder that causes the muscles of one's hand to contract involuntarily.
JFG: How do you cope with Focal Hand Dystonia?
KW: Good question! It took seven years, but I've accepted that it is forever a part of me — that I have to work just a bit harder than everyone else to play anything on the violin. That acceptance has allowed me to make the necessary adjustments to my posture so that I can play at the highest level. It has given me the patience to reconnect my brain to my affected fingers, like trying to regain motor function on a limb after an accident. That's how I cope now. Before that, I spent so much time trying to fix the finger itself. I was stubborn as all heck, thinking I could exercise it for hours on end until it wouldn't feel stuck anymore. I just wanted everything to be normal. I even spent six months doing acupuncture in hopes that the Dystonia would simply disappear. It did help, but not enough to ease the nightmares or the continual frustration. So although it took years, I'm thankful that I've finally come to terms with it.
JFG: Why did you chose to portray those moments in Dystonia of emotion and conflict?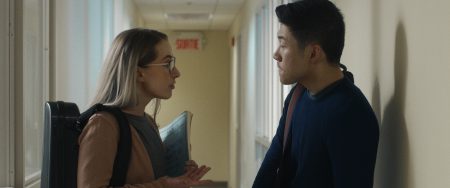 KW: Those moments are the truths of what I endured, whether those conflicts/emotions were internal or outward to others. Without them, it would just be an educational video on Focal Hand Dystonia. What the film really is about is how Dystonia has affected James (the lead character) and everyone close to him.
JFG: How did the film come together? Was there a wait for a grant and were there any technical difficulties?
KW: My producing partner, Sydney Van Delft, and I were eager to make our first film together and we realized a conceptual version of Dystonia would be a great first project. With a script ready, we applied to our first grant (TakingitGlobal). The wait wasn't too excruciating, because it was only a month later that we heard the project was approved. This gave us the confidence to approach a director (Julian Stamboulieh) and another producer (Benjamin Warner) who officially put the project 'In Development' and assisted us in our search for more funding. After about two months of research, paperwork, and meetings, we headed into a final interview for a Montreal-based grant called Jeunes Volontaires, and at the end of it, we received approval for the funding amount we submitted for. We couldn't believe it. We were able to attract an amazing crew, as well as talented actors and musicians, and pay them, which is such an accomplishment for independent filmmakers. Once everything was in place, from the cast and crew to the locations and shot-list, we knew we had something special on our hands.
We did have one technical difficulty on our last day of shoot. One of our lights broke down and cost us a few hours. We had to run the light back and pick up another one, but the store was forty-five minutes out from where we were shooting. Thankfully we were able to make adjustments to the shot-list so that we still got what we needed for the editing room.
JFG: What message did you hope to convey to film goers?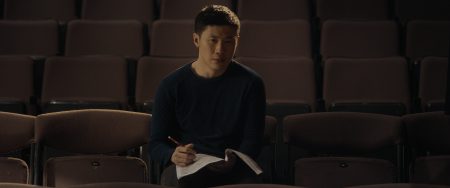 KW: There are two: – Never ever give up, even when hope seems lost. – It's one thing to process your pain alone, but it's another thing to fight through it alone.
JFG: What's next on the horizon?
KW: Since June, I've been working on a medical drama series for CTV called Transplant, and we're currently shooting the last four episodes of the first season. It is a beautiful story about an ER doctor who fled his native Syria to come to Canada, and must overcome numerous obstacles to resume his career in emergency medicine. I play an eager trauma nurse named Arnold, so look out for that next Spring!
JFG: Thank you for your time! 
Readers, check out this Toronto Shorts link for more details about DYSTONIA!