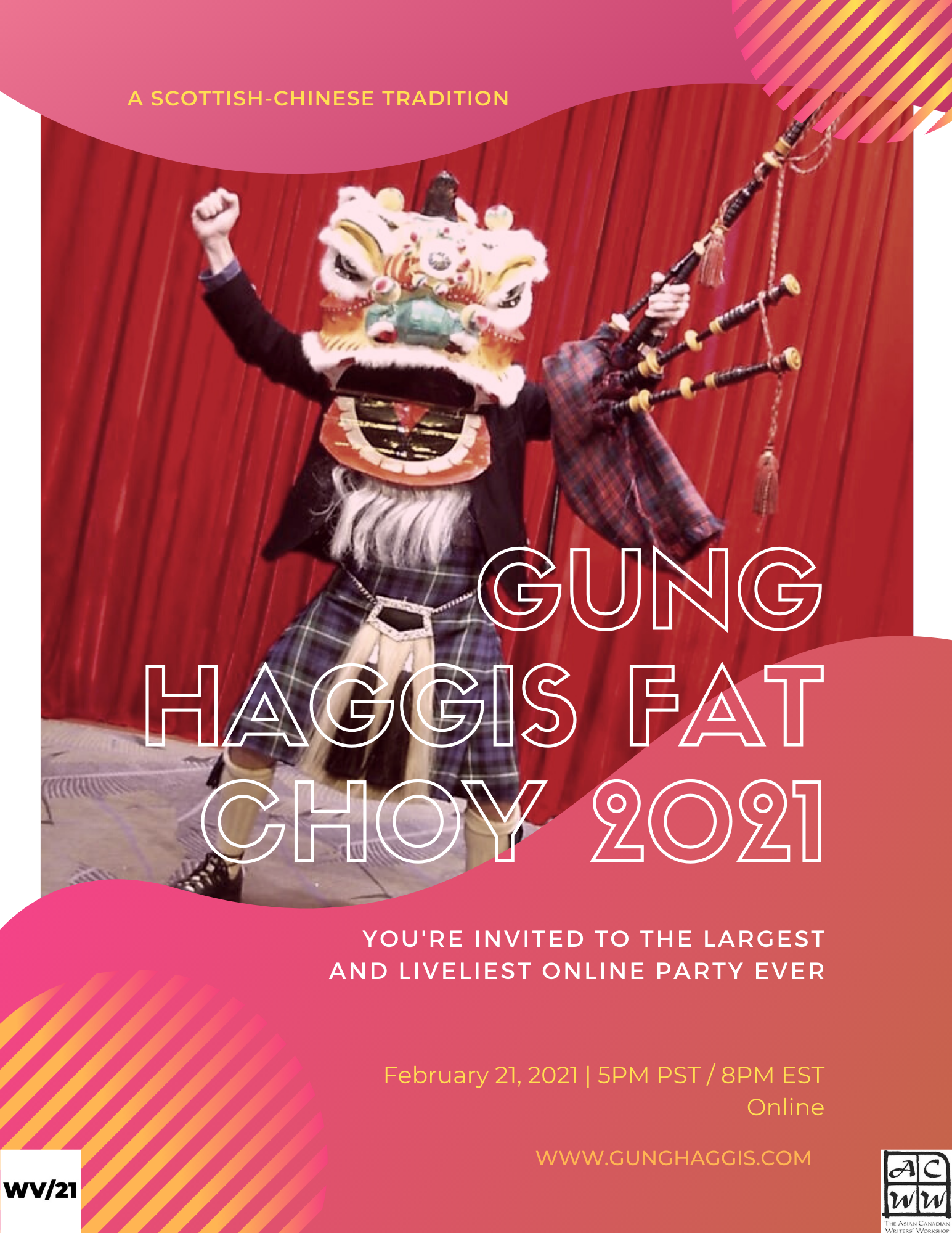 ---
Todd Wong has been blogging about cultural fusion and Asian-Canadian history since 2004. He is active in the literary, arts, and dragon boat communities of Vancouver and is a fifth-generation, Chinese-Canadian, head tax descendant.   Known globally as the creator of Gung Haggis Fat Choy Robbie Burns Chinese New Year, Todd is an avid promoter of Asian Canadian arts and literature and was one of the founders and leaders of the successful campaign to save the Joy Kogawa House and has contributed to the dragon boat community as a race organizer and coach and has spoken at Terry Fox Runs since 1993 as a cancer survivor.   This year, Todd will be organizing Gung Haggis Fat Choy's first-ever virtual dinner, called Gung Haggis Fat Zoom on February 21, 5.00pm (PST).   Ricepaper's Allan Cho sat down (six feet apart) with Todd for an interview.
AC: Can you tell us more about your background?  
TW: I was born in Vancouver in the 1960s, and spent my early years in East Vancouver's Strathcona neighbourhood.  But I grew up in North Vancouver where I really didn't know enough about my Chinese heritage, and I admit that this curiosity about my culture and identity would later play a large role in my life.
It wasn't until high school in North Vancouver that I really came to see myself more as a Chinese Canadian.  I was "Chinese" because I was different from the other kids, but Canadian because my family had been in Canada since 1869.   My great-great-grandfather, Reverend Chan Yu Tan, came to Canada and founded the Chinese Methodist Church of Canada.
AC: Tell me more about North Vancouver.  How did it inform who you are today?
TW: North Vancouver didn't have many Asians.  It still doesn't.   When I was a teenager, I decided to become a cultural navigator by introducing my North Vancouver classmates more to Chinese culture.   I remember in Grade 12, I organized a Chinese New Year dinner for my Caucasian friends.  They loved it.
AC: How did Gung Haggis begin?   
TW: It started in 1993 when I was working as a tour guide at Simon Fraser University where I was studying as an undergraduate.   I experienced a series of firsts that solidified my interest in cultural diversity that changed my life. It was during that year I experienced my first Robbie Burns supper.  I was asked to help out with the University's annual Rabbie Burns celebrations.   It was the first time I wore a kilt.  I've never looked back since.  And that's how the moniker  "Toddish McWong" was born.
AC: What does it mean?
TW: The name Gung Haggis Fat Choy is a combination wordplay on Scottish and Chinese words: haggis is a traditional Scottish food and Gung Hay Fat Choy is a traditional Cantonese greeting (or Gong Xi Fa Cai in Mandarin putonghua) used during Chinese New Year has become.  So, "Gung Haggis Fat Choy" is a tribute to two distinct cultures – Scottish and Chinese.   Did you know that both cultures played major roles in B.C.'s history?   Both Scottish and Chinese were early migrants in the province.
So I asked, why not combine the celebration as a combination of Chinese New Year and Robbie Burns Night?   We'll have a feast dedicated to the famed 18th-century Scottish poet.  And we'll celebrate the Scottish culture with music, dance, poetry, and most importantly, the mixing and mingling of Chinese Lunar New Year.
This event is a cultural fusion of two different cultures to address the issues of multiculturalism, racism, and ethnic and cultural differences.   Gung Haggis is not just a dinner,  it's a place for people born of multi-ethnicity and is inclusive so that people born outside of Scottish and Chinese cultures can still celebrate Canada's pioneer history and culture.
AC:  Can you tell us about the first Gung Haggis Fat Choy Dinner?
TW: The very first Gung Haggis Fat Choy dinner took place in my living room back in 1998 and was attended by just 16 people.  I went to the library and researched Robert Burns dinners, and invited friends of Scottish and Chinese descent.  And it grew from then on, because, in 1999, the first public Gung Haggis Fat Choy dinner was created as a fundraiser for my dragon boat team. Forty people attended.   And then we had 500, just a few years later.
AC: What was your personal journey in creating Gung Haggis Fat Choy?
TW:  I survived cancer and that changed my life.  On June 21, 1989, I was admitted to the hospital emergency, and the doctors told me that even with chemotherapy I would have about a 60-percent chance to live, and without treatment, I would probably have less than two weeks to live.   So with chemotherapy that lasted five months, I had a temporary condition known as "flat affect," a severe reduction in emotional expressiveness, as well as other long-term side-effects.
I relied on the power of the social support groups and these experiences provide me with the strength to help others as well.  Dragon boat paddling for cancer survivors became one of my many valuable connections between health and sports psychology.  I learned about visualization, self-talk, and positive affirmations.
I was really guided by the post-cancer philosophy that you only live once. (Better known as YOLO). To combat growing bouts of post-trauma depression, and seeking to live the best life I can, I took up running, which led to my first Terry Fox Run, an activity that evolved into dragon boat paddling.   I had started dragon boat racing in 1993, and coaching in 1995, for teams participating in the Alcan Dragon Boat Festival.   In 1997, I founded and coached the Celebration Team, which in 2002 was renamed Gung Haggis Fat Choy in order to give the team a multicultural identity.
I also believe in promoting racial and cultural harmony, and that's why I created Gung Haggis Fat Choy. I also believe in the power of humour.  That's especially critical to get outside of our racial stereotypes.  At the end of every Gung Haggis Fat Choy evening, everyone in the restaurant holds hands and sings "Auld Lang Syne" together, both in Chinese and Scottish accents.   People usually tell me at the end of the night that this is very Canadian.
AC: Tell us about the Gung Haggis Fat Choy dinner.  What's usually on the menu?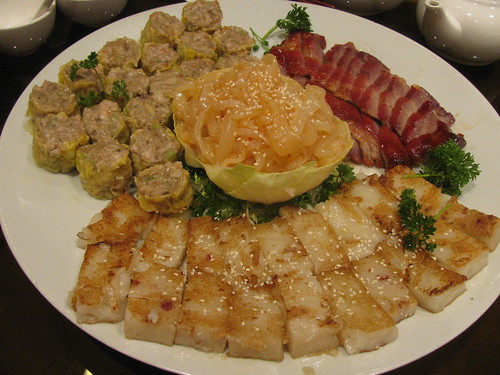 TW: When we're having Chinese people celebrate Scottish Robbie Burns Day and Scots-Canadians celebrating Chinese New Year, we make sure we have a fusion of foods.  We pay attention to what we eat the previous year and how it fits with the performance themes.  Since this year is the Year of the Ox . . . how about some beef?
We always begin with the appetizer platter: Spicy jellyfish,  Lo-Bak-Goh turnip cake, barbecue (BBQ) pork with haggis & pork shu-mai dumplings.   Delicious!  Now, my great-grandmother always used to make the turnip cakes for me – to this day, they are one of my favorite dim sum dishes!
Half of the dishes on the menu are vegetarian including turnip cake appetizer, vegetarian hot and sour soup, lettuce wrap, buddha's feast, and e-fu long-life noodles.  Meat dishes will be fish, chicken and a beef dish, and the traditional haggis.  Our specialty appetizer items are deep-fried haggis & shrimp wonton, and haggis & pork su-mei dumplings.
We also have the famous Buddhists Feast which is a traditional New Year's dish, embedded with vegetables and bamboo shoots and mushrooms, and Chinese funghi.  We figured if we are making Chinese people eat haggis, the Scottish people can eat Chinese funghi.  It is considered a delicacy in Chinese cuisine.
Our famous Haggis & shrimp Wonton dumplings!  Extremely tasty!  It is one of our mentor Jim Wong-Chu's favorite items on the menu that he looks forward to tasting each year.   One year, we had accordionist Lewis Kane, fresh off the boat from Scotland, attend our taste-test dinner. We asked Lewis to try one just to see if a real Scottish person would eat it.   He absolutely loved it and said that he would bring it back to Scotland with him.   Score one for Canada!
AC: There seems to be a mythical element to it in Gung Haggis Fat Choy celebrations.  How does one eat haggis?  
Here is the best way to eat haggis.  Take a spoonful of haggis and add it to the Chinese vegetarian lettuce wrap.  Very tasty – just like a hamburger without the bun.  Remember to put lots of Chinese Hoi-sin BBQ sauce inside.
AC:  What's going to be different with this year's Gung Haggis Fat Choy?   
It's going to be entirely virtual, but I will be at my favourite restaurant the Floata Seafood Restaurant in Vancouver Chinatown.  My friend Elwin Xie and Eric Li will be there to support the video recording and Zoom software.  Because Gung Haggis Fat Choy will be streamed online via Zoom, we will encourage people across the world to source their favourite Chinese Restaurant and favourite Scottish meat butcher and join us for an evening of fun.    People can even try to make their own deep-fried haggis won ton dumplings!
We will have a special presentation of musicians in Vancouver, with poets and authors from across North America to join us on the "virtual stage."   That's why I am calling this year's celebration Gung Haggis Fat ZOOM 2021!   Even in a pandemic, we will try to make this the latest evolution in this Gung Haggis Fat Choy Robbie Burns Chinese New Year Dinner event uniquely memorable and fun.
AC: The Asian Canadian Writers' Workshop (ACWW) has been around since the 1970's.  Tell us your role in that organization.  
I've been told that I am currently the longest-serving board member of the ACWW.  As its President, I helped create the ACWW's inaugural Community Builders Dinner in 2002.   I'm currently working on the LiterASIAN 2021 festival.  We're calling it GlobalAsian: From Grassroots to Globalization.
I read a lot of Asian Canadian writing.   I chaired the Historic Joy Kogawa House Society and helped save author Joy Kogawa's childhood home into a Canadian landmark with a writer-in-residence program.   Usually, I will spend some time with the Ricepaper team as an ACWW director, but then afterward, I'd run over to the Historic Joy Kogawa House where I am a board member (and former President), and attend events.
This year we're working on the Jim Wong-Chu Emerging Writers Award,  an initiative in honour of Jim Wong-Chu, a pioneer of Asian Canadian writing and mentor to many writers. The award promotes authors of Pacific Rim Asian heritage to be published with an established publishing house in which previous award winners have included Rita Wong, Madeleine Thien, Catherine Hernandez, and Philip Huynh.
In 2019, Jamie Chai Yun Liew was the winner of the Jim Wong-Chu Emerging Writers Award for fiction. Her manuscript Dandelion about a Chinese family in a small mining town in British Columbia struggling to fit in the Canadian Chinese community has just been picked up by Arsenal Pulp Press.  I think it's going to be an exciting year.    But I just need to get through this dinner yet!
---
This year's Gung Haggis Fat Zoom is happening on February 21, 5.00pm PST – Register here.