Originally from Calgary, Alberta, Jessalyn Wanlim, of Filipino and Chinese-Indonesian descent, pursued dance at the National Ballet School of Canada and furthered her artistic endeavors at The Juilliard School in New York. She is widely known for her roles in Gossip Girl, The Closer, Psych, Modern Family, Alex Cross, Scoundrels, as well as her breakout role as Evie Cho in the popular BBC America series, Orphan Black.  Ricepaper had a chance to talk to Jessalyn about her role as Jenny in Season 5 of CBC's Workin' Moms which involves a not-so-straightforward romantic entanglement.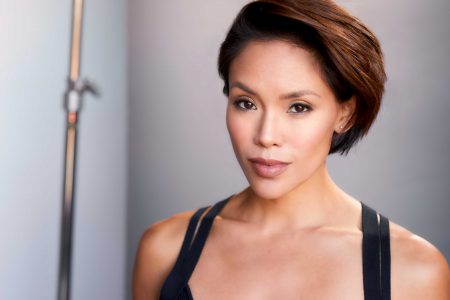 JF Garrard (JF): Hi, thank you for taking the time to speak to us! Let's talk a little bit about how you got started about becoming an actor because you were in dance. How did things work from dancing to acting?
Jessalyn Wanlim (JW): All my life I've been dancing and I ended up getting accepted into the National Ballet School in Toronto when I was twelve years old. I moved away from home when I was twelve and started taking dance pretty seriously, wanted to continue my education instead of auditioning for dance companies, and got accepted into Julliard when I was seventeen. I took that as an opportunity because it was New York and why not? My parents were fully supportive of the idea and when I got there, I just fell in love with New York in general.
We (the dance department) shared the same floor as the drama department. You can't go into another division of Julliard, obviously but it exposed me to other areas of entertainment. I was injured a lot in my last years at Julliard and made me realize that this wasn't an area of the profession I wanted to pursue because my body kept hurting. So I decided to try acting. I didn't finish my studies at Juilliard. My parents wanted me to too, but we decided that if I stayed in New York I had to pursue some sort of degree, an education.
JF: Of course, you need a piece of paper!
JW: In an Asian family what more could you want? In order for me to continue acting, I had to continue going to school. While I was auditioning during the day, I was getting my BBA in marketing and advertising at a city college In New York. Six o'clock in the morning I would study, then audition during the day, seven o'clock night classes. It was a full plate. I got my first acting gig on All My Children which lasted for about four or five years until I moved away from New York to LA and that's kind of where everything started.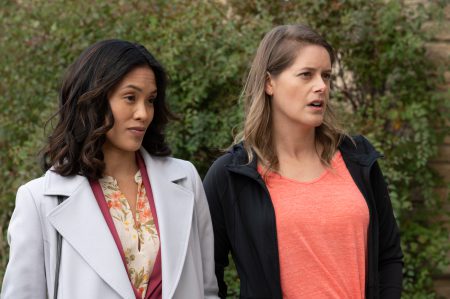 JF: From the very beginning was Workin' Moms a very diverse cast? I noticed it when it first came out and there were all these different types of mothers and different situations and I thought that was really neat.
JW: I love that diversity in Canada, on Canadian shows is really reflective of what is actually realized. I appreciate the fact that it's not similar to Sex In The City or Friends where everybody was basically Caucasian and the supporting characters are diverse. Thinking about episodes of that show (Friends) maybe you saw that one Asian.
JF: Yes, I think it's (Friends) a little bit cringy now when you see them sort of imitating people and making jokes.
JW: Also it's misogynistic and it's just really crazy now since everyone is a little bit more sensitive to culture and race and everything of importance
JF: Yes, that's true.
JW: Workin' Moms is great just because and diversity aside, I think it really hones in on the reality of how tough it is to be a mom and also pursue a career at the same time. It's exhausting. I mean, I'm doing it right now. I have an almost fourteen-month-old and I've never been busier in my life.
JF: Yes, it's kind of funny because I write vampire books and in a way, I think of my kid as sucking up my energy and I just get so tired.
JW: One of my friends who just came over he she has four kids. How do you put makeup on? How do you brush your hair? I don't know.
JF: Yes! And back in the day, people would have seven or eight kids because there was no birth control, and there was no way of stopping. You just keep having kids. I can't this imagine now!
Can you tell us a little bit about your character of Jenny Matthews on the show?
JW: Jenny Matthews marches to the beat of her own drum, a lot. She initially in season one, realizes that motherhood doesn't suit her and it doesn't necessarily fulfill her in terms of happiness and identity. A bit like losing yourself because you're there for somebody else. She makes choices and ultimately affects the relationship with her then-husband, Ian. Moving forward we focus on Jenny's mistakes, actions, and decisions that affect her in the office place and in her current relationship with Malcolm Cody Patrick (MCP) played by Alex Mallari Jr., who is Filipino. Season five is really exciting because it really explores that relationship more because they will work together in the same office. There are a push and pull of professionalism and intimacy and how to maneuver around all of that. There are also social impacts, that's where this season goes with the journey, and I can't wait for you guys to watch it.
JF: We are looking forward to watching it.
JW: She actually makes her appearance tomorrow, on Tuesday's episode three to five.
JF: When you were filming the season, did COVID this or was it filmed a while ago?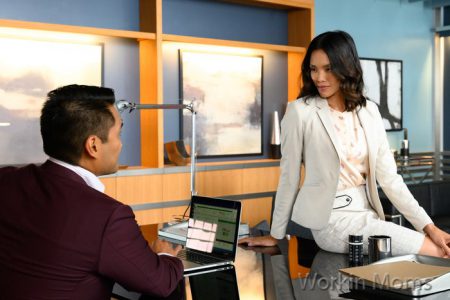 JW: We filmed it in September. It was definitely stressful and worrisome. But Catherine and the whole production definitely made it feel better and at ease with the protocols that they set. Everybody on set had to get tested twice a week. You just had to make sure that you are accountable for everybody else on set. Because if one person got sick, everyone would get sick. So that was always like at the back of my head just, you know, wondering if everybody else is doing their part. Me and the director and Alex, I had to discuss this because we had a few intimate scenes. I had to make sure that we all felt comfortable and we were on the same page.
JF: Most of your work is on television. Can you explain how it works? Do you audition, work for a few months, then take off for a few months, and come back?
JW: The actor's life is a starving artist's life! Every job is a miracle. It's a combination of luck and timing. Obviously, talent helps a lot too! But I'd say luck for the most part is the key. You audition probably hundreds of times a year. First of all, you're lucky enough to even get the opportunity to audition these days. During the pandemic, the industry has definitely shifted a lot
The film is really hard to tap into you, especially if you're in the TV world. I love the TV world, I love getting to work on a character and be welcomed into somebody's home, on their streaming device, or on a weekly basis. That's just something that I love just because these characters are part of these people's world, life, and they get to see them grow and make mistakes and relate to them. Auditioning for TV is a dream for me. When you book the job, it's a dream just because you get paid to do what you love.
JF: Admittedly my mom has been telling me to stop writing and become a YouTuber. I told her that's a lot of work too, no matter what you choose.
JW: Yes, exactly.
JF: You were in so many different shows. Do you have a character that you particularly liked on any show?
JW: On Workin' Moms or in general?
JF: In general.
JW: Oh, my goodness. Well, okay, there was this fun, limited summer series that I did for ABC called Scoundrels with Virginia Madsen. I got to play the daughter of an Asian mob guy. The show didn't last that long but we shot in Albuquerque, New Mexico and it was just one of the most fun characters I got to play just because she's so sassy. Some of the words that came out of her mouth, even just like Jenny I think, I get to play a lot of these fun, opinionated characters that often get themselves in trouble. I really can't like classify that being my absolute favorite role but the fact that I get to play all of these strong women, that's what I'd really die for.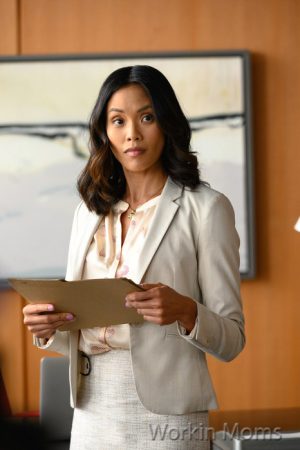 JF: You probably get this question a lot, but if someone is new and they want to get into TV, what advice would you give to them?
JW: Go to class. Study, study, study. Learn the ins and outs of the industry. It doesn't necessarily have to be in front of the camera to work in your favour because that's some of the hardest parts. Any opportunity you get, learn.
You can't just jump in thinking that it's going to be easy because it's not. There's a lot of heartbreak. So if you're sensitive like me you'll curl up into a ball more often than not, and worry that you're not good enough or just doubting yourself. A lot of it is just knowing that you have the foundation – know how to act, know what the industry expects of you. You can't just start green. I started green, but that was a different time. Now with all of these limited series going on with Nicole Kidman on a TV show these days instead of a movie, that's what you're competing against now. On top of that, the union just accepted social media influencers to join the union in the US. That's definitely affecting how the industry is looking at viewership and popularity. In order to have longevity in this career, you have to be able to back it up with talent. So that's my biggest advice.
JF: Sounds like you need a lot of grit and perseverance as well.
JW: I'm still working on that. I don't have any grit. Oh, feel like I don't know what I'm doing in this industry! It is so heartbreaking at times but when you actually have the opportunity to work on something, it makes all that heartbreak worth it.
JF: Are you seeing more opportunities for diverse people when you audition?
JW: Yes, 100%. No offense, but if you're Caucasian and a male it's so hard and that's from the experience my husband had in the industry. Even if you started early enough, the chances of actually excelling are just so difficult. With this whole BIPOC movement right now, especially behind the camera, that's even more important these days because those are the people that are writing the characters that I play. The more I see writers, directors, and producers doing their thing, this industry is geared up for a massive change.
Especially the Golden Globes last night, out of eighty-seven members, there's no one African American member representing what's out there. It's prevalent that we keep pushing and fighting for representation out there because that's not what the world is right now. Like it's not all white. Especially in Canada, we're a melting pot. We have to have a system in place where there's actually inclusion with diversity and not just women but all diversity. Everybody.
JF: Yes, true enough. One last question. Do you have any new projects on the horizon, anything else you're working on?
JW: This is the story of my life! Projects in terms of acting, I'm just auditioning and auditioning, seeing what opportunities hopefully will come about. It's been busy for me the last couple of weeks so we'll see. We don't know. I keep myself busy by taking care of my kid and I also work in real estate, two states now. These are my projects right now. I'm working in California and yeah, that's my life.
JF: Thank you very much for taking the time to speak to us and we were not interrupted by any children so that's a bonus! Good luck with all your projects!
***
Tune into Workin' Moms every Tuesday at 9 p.m. (9:30 NT) on CBC or stream anytime on any device for free on CBC Gem.
***
Youtube video of the interview available on Ricepaper's YouTube channel: