Dear Canadian Media Industry,
This year 2021 has been a watershed year for global racism against Asians and the lack of representation of Asians in Hollywood… and Canada. Recently widely published, USC Professor Nancy Yuen's report on the top 1300 Hollywood films shows a measly 3.4% of AAPI actors as stars or co-stars. Considering that Canada has 17.7 percent of Asian population, Asian actors, writers, directors and producers are virtually invisible in the industry with the highly occasional Kim's Convenience or Blood and Water or a quadrennial feature film from Mina Shum or Deepa Mehta. Ironically, Kim's Convenience and Blood and Water are produced by non-Asian creators.
My own feature Shopping for Fangs (co-directed with Justin Lin), Asian American star John Cho's theatrical debut, premiered in 1997 as part of Perspective Canada at the Toronto International Film Festival. Since then, other than a Canada Council for the Arts grant in 1999, for over two decades, I have received zero support and development from the Canadian media industry despite ongoing attempts to make Asian Canadian projects, be they feature films or television series. In the US, despite having 5.4 percentage of API population, I have been able to build a career of having produced and directed over ten features and three television series, all featuring API actors in the leading roles.
Asian Canadian star Simu Liu was spot on for speaking out against the slap-in-the-face racism of the Canadian media industry on his Facebook post (https://www.facebook.com/seems.liu/posts/10217437488843333). Not only the controlling producers of Kim's Convenience were not Asian and lacked cultural sensitivity, the power that be chose to spin off the only recurring non-Asian character from the show. Kim's Convenience perfectly illustrates the implicit and complicit racism in the Canadian media industry that has been oppressing the development of Asian talents both in front of and behind the screen.
Case in point was my recent failed development of a television series last year with a major Canadian network that ended up being pulled after being greenlit due to falling out with my co-creator. At contract stage, the executive kept reminding us about the network's mandate of gender parity on the key creatives as we were both Asian male creators. While surely the network mandates gender parity, they do not take into account that minority male or LGBTQ+ creators (like me) have rarely been given a chance in the industry. While the system values gender parity, it completely overlooks its implicit racism and lack of diversity against API and LGBTQ+ talents in front of and behind the cameras.
It's not a mystery that for decades people like Simiu Liu, Sandra Oh and I in order to survive as API creatives we have to work in America because the Canadian media industry offers no development and support for Asian Canadian citizens who are the largest visible minority group in Canada. It's simply a fact that Asian Canadians are underserved and made virtually invisible by and within the Canadian media industry.
As an Asian Canadian creator, I'm demanding equity and parity in the Canadian media industry now. Not only I'm not giving up, I've started the first North American Asian SVOD platform of its kind, AAM.tv, available for a worldwide audience. Actress Nadia Hatta (fresh off Netflix's series Away) and I are creating the first Asian Canadian female driven and LGBTQ+ series titled The People I've Slept With, based on my hit indie feature film IP that was previously sold to Netflix with over 290K+ positive ratings during its initial release. We will see if Canada is indeed an inclusive country or not.
Here's a response from a founder of the Asian Canadian Film Alliance after reading the letter in confidence and wishes to remain anonymous: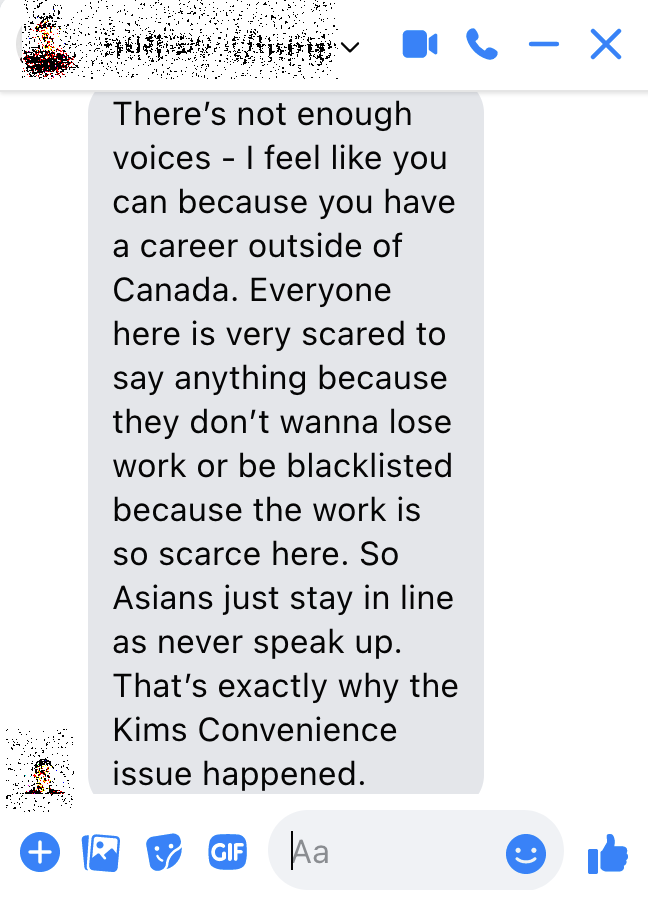 Sincerely,
Quentin Lee
Member of Canadian Media Producers Association
Co-Lead, AAPI Working Group, Producer's Guild of America
gender non-binary: she / he / they / as you like it