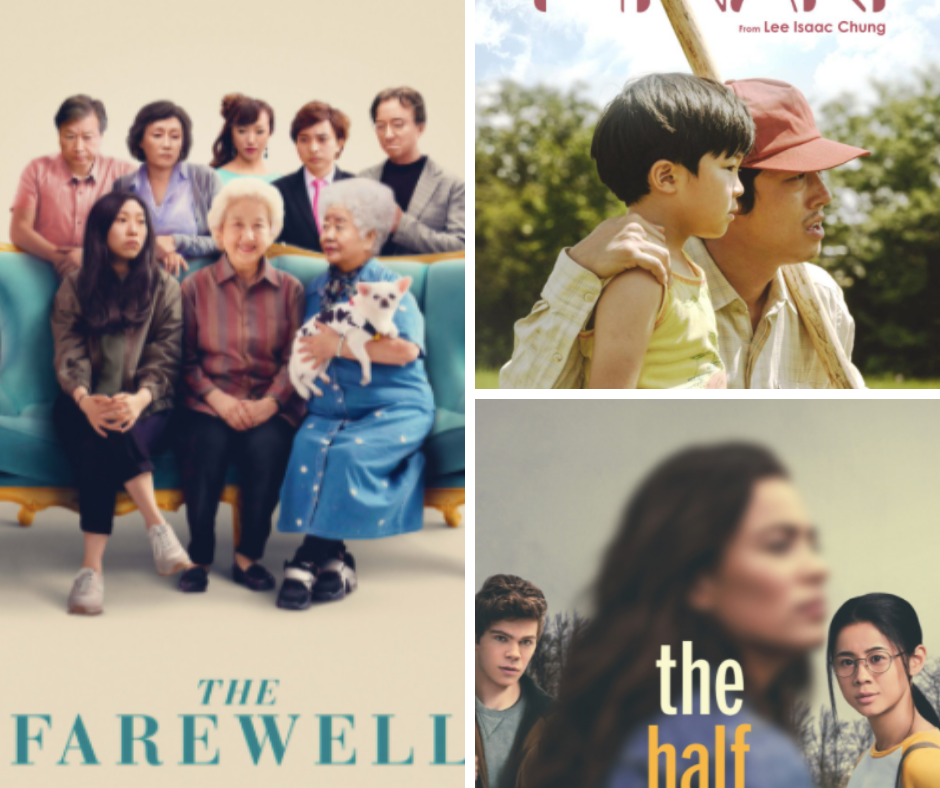 A Korean grandmother leads her grandson to their harvest by a creek. She teaches him about resilience, passion, and strength.
A Chinese father encourages his daughter to apply for college in another state. He speaks mainly in Mandarin and loves her immensely, though he will never say so out loud. "Have you ever loved someone so much," he asks, "you don't want anything about her… to change?"
A young woman shields the truth from her family, fearing their disappointment in her. Trapped between Chinese and American identities, she performs the role of 'foreigner' to both cultures.
These characters, as intriguing as they are, are not mine to share. They belong to three brilliant storytellers: Lee Isaac Chung, Alice Wu, and Lulu Wang — members of the East-Asian diasporic community aiming to capture stories about family, intergenerational relationships, and culture. Chung's film Minari (2021) follows a Korean American family as they start anew on a farm in Arkansas; Wu's film The Half of It (2020) is a witty adaptation of Cyrano de Bergerac through its queer protagonist, Ellie Chu; Wang's film The Farewell (2019) tracks a family's decision to lie to its matriarch, whose terminal illness brings them together in one final gathering. Each narrative, though intimately specific, conveys a sense of universality by portraying transnational experiences in a way that respects the diversity of Asian families. These stories forge new understandings of immigrants as being more than the false stereotypes perpetuated by our everyday media, speaking up for communities that have historically been absent in the broader Hollywood film canon.
As I sat down to watch The Farewell for the first time, I was taken aback by how easily I could envision myself in place of the main character, Billi, an aspiring writer with a deep tenderness for her family despite their cultural disagreements. The film is a semi-autobiographical rendition of Lulu Wang's experience being trapped between Eastern and Western approaches to a moral dilemma: whether or not to follow suit in her family's lie about her grandmother's declining health. Wang handles the story with such a strong devotion that Billi's grandmother feels like my own, her insecurities acting as a stark reflection of my own worries. In one quiet, understated scene, Billi remembers how isolated she felt following their move to the States. "Everything was different," she says. "Everyone was gone." It captures so well the loneliness of the first-generation immigrant, where new opportunities are far away and terrifying, and you leave behind all that you have for the chance at something different.
I had not realized how rare it was to see a character suspended between cultures, entangled in both sides but still seen as a foreigner to each. While she seems independent and outspoken about her struggles, her family boasts a collective mindset common among Asian families, in which emotional burdens are carried by the community rather than by the individual. Seeing a version of myself represented made me feel less alone in my own disjointed, cultural experience. Having moved from Hong Kong to Kingston, Ontario, for my university education, I found myself watching the film in a passing moment of homesickness — a sort of nostalgia that could only have been cured by a hug from a parent. The film treats its audience with kindness and empathy that I had never felt like an outsider to the white stories so often pictured on the screen. It seemed to me a novel idea that we do not need to overexplain our positions within society to justify our existence. The Farewell instilled in me a desire to reach out to those in similar situations, to secure solace in one another without neglecting our differences.
The same could be said of The Half of It and of Minari. Situated in the late-20th century wave of immigrants to North America, these films capture an experience that my grandparents lived through but had never seen represented. The cultural details in both films parallel certain elements of my family's journey into Canada: In The Half of It, Ellie's last name, Chu, is used as a punchline by her classmates; my mother's maiden name, Kwok, was mocked and poked at in a similar way. Edwin Chu, Ellie's father, watches old movies like Wim Wenders' Wings of Desire (1987) to better improve his grasp of the English language; my Gung Gung used to do the same, albeit with James Bond movies. These films present people as they are now, rather than as they should be. There is no pressure to conform to anyone audience because the stories portray the relationships that unite us as human beings — a feature in both The Half of It and Minari where scenes of pain, tension, love, and joy are so honestly rendered you'll feel your heartbreak in two at the sight of them.
In an interview with J.J. Abrams for A24, Lee Isaac Chung suggests that it can be a political act to remove the categories and ideologies that dictate how we perceive immigrant stories, to see past the veil of myths and stereotypes surrounding the community. There is something empowering about taking back the gaze through the medium of cinema, where the spectator's point of view can be redirected towards more authentic portrayals of the Asian diasporic experience. Media in all its forms —  whether it be literature, advertising, news, or visual entertainment — can affect how we perceive ourselves as individuals and as part of a group. Historically operating in a white-dominant industry, some filmmakers and artists have played the role of the irresponsible storyteller — effectively shaping public opinion on marginalized identities outside of the white majority. With Canada and America sharing similar philosophies on mass media production, it is inevitable that the media stereotypes associated with Asian identities have seeped into our cultural lexicon. Content creators have inundated viewers with images of prosperous over-achievers, or law-abiding, perpetual foreigners; as hypersexual, submissive women, or asexual, effeminate men. These discourses shared readily across North American nations, sustain the model minority myth and notions of 'Yellow Peril' to the detriment of local Asian Canadians. These narrow definitions of the Asian identity are internalized and normalized as representations that are faithful to our realities, all while Asian creators continue to encounter systemic barriers when representing our own perspectives.
When the representation is created within the community, where our stories are placed in the gentle hands of new creators, we can finally witness the dynamic characters that have been missing in our media culture for far too long. Given how Asian voices have been stifled in the past, it is encouraging that creators like Lee Isaac Chung, Alice Wu and Lulu Wang have stepped forward into mainstream culture to destabilize these social perceptions of our community. They are given the platform to address the unjust power dynamics in structures that perpetuate the gaze of the white spectator. Now more than ever, our representation in media other than the film has the power to shape social opinions on our humanity. For example, my viewing of Minari was set against the heartbreaking backdrop of increasing reports of hate crimes throughout 2020, coming to a peak in the spring of 2021. The race-fuelled attacks were perpetrated on the most vulnerable members of our community. To some Canadians, these were surprising acts of violence; Canada's cherished self-image is one of polite tolerance, a country that rejoices in its multicultural 'mosaic'. But for local Asian Canadians, especially those with East Asian features, the hate crimes were merely a heightened version of the quiet discrimination that has long been entrenched in our social systems. Making up 17.7% of Canada's population, there are close to three times as many ethnic Asians in Canada as in the United States (5.7%). The racist assumptions within America can be just as, if not more oppressive and damaging to Asian Canadians. It does not seem like a coincidence that the anti-Asian sentiment perpetuated by news outlets, visual media, and advertising throughout history aligns with the accusing fingers that point in the direction of the Asian community when discussing Covid-19.
After years of built-up frustration with systemic barriers that prevented these stories from being shared, the critical success of these films can be credited in part to the increasing conversation surrounding Asian narratives. It is not lost on me that the films I touch on here are set in an American context; I admit that our cultural attitudes can be rather different and can therefore affect the way we perceive marginalized minorities. But the rise of Asian narratives within mainstream cinema is still a relatively new phenomenon: the term 'Asian' itself encompasses well over thirty nationalities and ethnic groups. These films cannot possibly include the story of millions, and sometimes, I wonder what it might feel like to be truly captured in popular media, to identify wholly with a character as a young biracial woman in the same way that a white filmgoer, for example, might identify with Will Hunting or with Jo March. I have this deep longing to see more than just one version of myself captured on screen, to feel visible and listened to. I'm not too worried, though — I just need to be patient. The films that I yearn for are in the minds of aspiring producers and ambitious screenwriters, waiting for an opportunity to present a story that has yet to be heard.
An uplifting outcome of the pandemic lies in the determination of our generation to renew and strengthen the bonds within our communities. Activists, artists, and allies continue to challenge our constructed ideals around race and heritage, to push against the barriers that are set on rendering us invisible. The reason why the film is a particularly powerful articulation of this desire for change is that we are physically able to see more nuanced characters appear in popular culture, leading to more complex understandings of the Asian identity as it intersects with elements like religion, gender, education, and class. As we are placed in conversation with one another, we begin to observe our overlapping experiences — stories of microaggressions, and of odd questions asking 'where we are really from. There is a common demand for our own constructed spaces, where we can safely express ourselves just as the characters in our favourite films are able to do so. These spaces, whether they exist online or in person, allow us to share our hopes and desires so that we might mitigate our symptoms of race-based trauma and pass on our own stories of survival, and more importantly, our stories of joy and laughter.
The success of these films proves that there is untapped potential in exploring stories of identity, ethnicity, and race, to embrace multiplicity in an original way that hasn't been done before. My personal hope is that these films will sow the seeds that will eventually yield a new history of diverse stories from millions of independent perspectives. Our family ideals and mutual respect within our communities will continue to shift as the role of the storyteller are passed down from one generation to the next, from one culture to the next. These films can then become the prototypes with which we build our future projects. Our only expectation of them should be that they are delivered with the same compassion that our community grants us in times of sorrow and happiness — through unconditional acts of service and unspoken signs of kindness. As we continue to seek out better stories beyond the half-baked versions of Asian figures depicted in film and television today, it's worth asking ourselves if we are doing enough to embolden our communities, to speak up for the marginalized identities who cannot, and should not, be left behind in conversations about social justice. How do we ensure that these narratives continue to thrive, so that others in our community, too, will have their years of yearning satisfied at last?
---
Jade Courchesne (郭舜婷) is a French-Chinese Canadian working towards a BAH in Film & Media Studies. She's interested in studying Asian/ Asian diasporic media representations, with a focus on how ethnic and queer identities interact with stereotypical images as seen on screen. On cloudy days, you'd find her watching art restoration videos online and drinking heaps of peppermint tea.