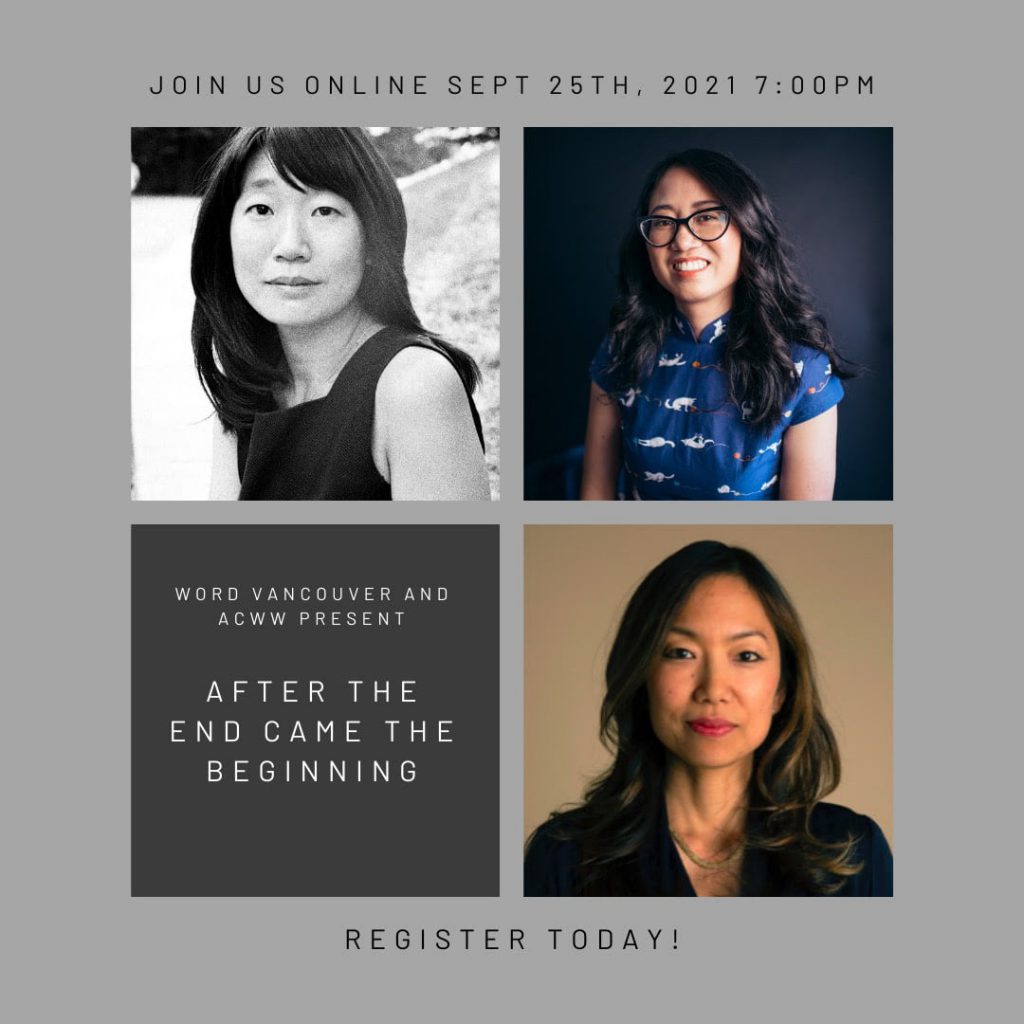 ---
Join the Asian Canadian Writers' Workshop at Western Canada's largest free literary festival – Word Vancouver. This year's festival features several exciting virtual events and exhibitors, taking place throughout the month of September.
The Canadian literary scene, once said to be void of diverse voices, has steadily seen a flourishing community of BIPOC writers in recent years. Asian Canadians, once marginalized and voiceless, have birthed a generation of writers who have influenced the literary establishment with celebrated works and garnered literary acclaim. The Asian Canadian Writers' Workshop is proud to co-present "After the End, Came the Beginning" with Word Vancouver on September 25, 2021.
Hosted by ACWW's very own Todd Wong, join this panel of authors who witnessed this amazing transformation and who are at different stages of their careers as writers, but whose stories internalize the interracial, intergenerational and international stories of the Asian Canadian experience. Speakers for "After the End, Came the Beginning" include Madeleine Thien (Do Not Say We Have Nothing, Penguin Random House), Jamie Liew (Dandelion, Arsenal Pulp Press), Ann Shin (The Last Exiles, HarperCollins).
This event will also announce the winner of the Jim Wong-Chu Emerging Writers Award for 2021 and will celebrate the occasion with "Jim's Special Menu" of classic Chinese Canadian cuisine. Created in 1999 in honour of Asian Canadian writing pioneer and mentor Jim Wong-Chu after his passing, the Jim Wong-Chu Emerging Writers Award continues Jim's lifelong passion to discover and encourage writers to develop quality manuscripts, and promote their work to established publishing houses and is considered the most prestigious award among Asian Canadian literature. The Jury is composed of members from the literary and academic community and this year included Marlene Enns, Dr. Trevor Carolan and Edwin Lee.  The winning submission will be awarded a cash prize and manuscript to publishers.
ACWW's Todd Wong will also be hosting "History: Presented by Word Vancouver and the Asian Canadian Writers' Workshop" on Saturday, September 11th. The event's reader is David McIlwraith (editor, The Diary of Dukesang Wong: A Voice from Gold Mountain, Talonbooks). The Diary of Dukesang Wong is more than a keepsake but rather is the documented history through many transitions. This diary is the only known written source of information about the life of a Chinese railway worker in the so-called "Gold Mountain," as Western North America was optimistically called. This book allows us a glimpse into the past while highlighting how much or how little things have changed and how far we have to go. 
Other Word Vancouver highlights include "Publishing Our Way: Indigenous Leadership in Literature," "Anthologies to Save Our Planet," and many more. The first event, "Redefining the World: Debut Poetry Collections" will take place on Friday, September 10th. 
This year's official bookseller will be familiar to LiterASIAN attendees: Iron Dog Books is an independent Indigenous-owned bookstore in the Hastings-Sunrise neighbourhood. Visit their store in-person or check out their website for Word Vancouver books. 
Register for "After the End, Came the Beginning" here. 
Find out more about Word Vancouver at wordvancouver.ca.