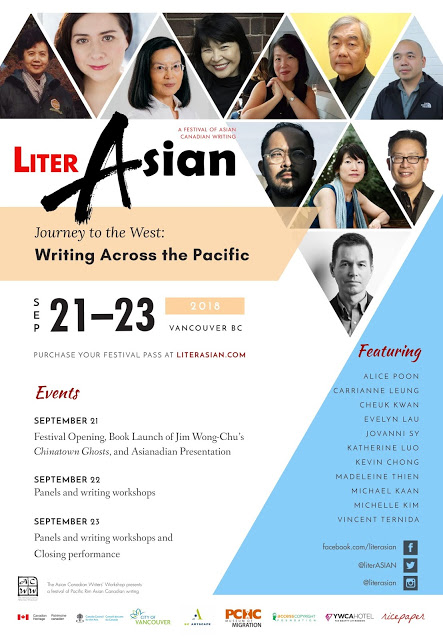 LiterASIAN 2018 took place from September 21-23, 2018 in the heart of Vancouver's Chinatown. The year's theme, Journey to the West: Writing Across the Pacific, welcomed an incredible line-up of eleven authors showcasing the breadth and depth of Asian Canadian writing in multiple styles and genres.
Authors included Alice Poon, Carrianne Leung, Cheuk Kwan, Evelyn Lau, Jovanni Sy, Katherine Luo, Kevin Chong, Madeleine Thien, Michael Kaan, Michelle Kim, and Vincent Ternida.
LiterASIAN 2018 featured a weekend of workshops, conversations and panels at BC Artscape / Sun Wah Chinatown and the Dr. Sun Yat-Sen Classical Chinese Garden. Attendees enjoyed the festival's events in important Asian-Canadian cultural spaces, including the aforementioned garden and Centre A: Vancouver International Centre for Contemporary Asian Art.
Day one:
The event kicked off with "Writing Across the Asian Diaspora" with Jovanni Sy, Michael Kaan, Vincent Ternida, Madeleine Thien, and Kevin Chong. The opening also featured a special presentation "Remembering JWC: The Art and Memory of Writing" and was followed by a Q&A session. This panel of speakers include those who have come across Jim, including: Madeleine Thien, Evelyn Lau, Michelle Kim, and Cheuk Kwan.
In collaboration with Centre A, LiterASIAN held an art exhibit documenting and celebrating the 40th anniversary of Asianadian Magazine. The Asianadian: An Asian Canadian Magazine was published quarterly in Toronto between 1978 and 1985, during a period of significant anti-racism activism in Canada. The magazine created a space for Asian-Canadians to speak out about politics, history, community, and cultural identity. It is remembered as the first "grassroots magazine dedicated to Asian Canada" and continues to inspire the efforts of Asian-Canadian activists today.
---
Day two:
The festival continued with a jam-packed day – including "The Tale of the Re-Write: The Craft of Words and Memory" with Michael Kaan, "Writing About Dystopia" with Kevin Chong, "A Conversation on Writing, Memory, and Family" with Katherine Luo and Madeleine Thien, and "Translating Life to Fiction: Learning to See the World as Your Novel" with Vincent Ternida.
---
Day three:
The final day was filled with special events,  including "Is There Such Thing as a Canon? The Evolution of Asian Canadian Writing" with Julia Lin, Vincent Ternida, Carrianne Leung, Alice Poon, Cheuk Kwan, Evelyn Lau, and Michelle Kim. "Turning to History for Inspiration" with Alice Poon took place at the Sun Wah Centre, as did a closing performance by Jovanni Sy.
The year's festival also included a special tribute to the late Jim Wong-Chu – the launch of Chinatown Ghosts: the Poems and Photographs of Jim Wong-Chu. First appearing in 1986, Chinatown Ghosts was the first Chinese Canadian poetry book ever published. The new edition pays tribute to Jim's legacy, featuring his poignant photographs of Vancouver's Chinatown. The book also includes testimonials from other Asian-Canadian pioneers, writers, and editors, including Fred Wah, Rita Wong, Allan Cho, Glenn Deer, Catherine Hernandez, Sky Lee, Terry Watada, and Paul Yee.