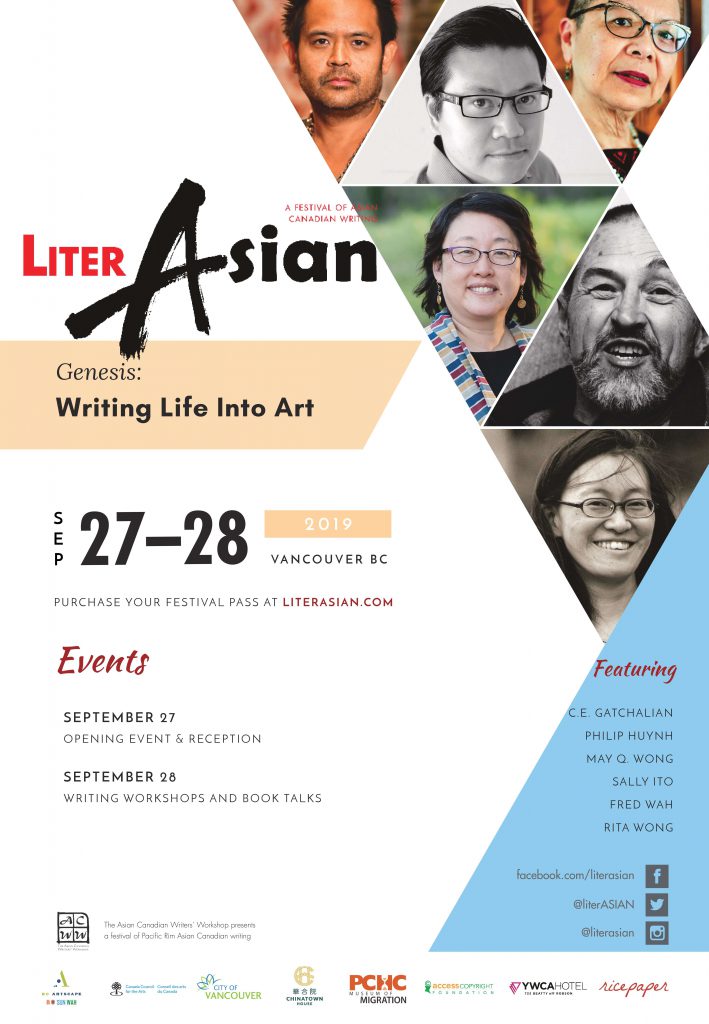 LiterASIAN 2019 took place from September 27-28, 2019 in the heart of Vancouver's Chinatown. The year's theme, Genesis: Writing Life Into Art, invited guests to think about the various origins of creative and cultural inspiration.
The festival welcomed an incredible line-up of six authors showcasing the breadth and depth of Asian Canadian writing in multiple styles and genres. Authors included C.E. Gatchalian, Philip Huynh, May Q. Wong, Sally Ito, and Rita Wong. While Fred Wah was not able to make the festival in person, he sent along a videotaped greeting and reading (foreshadowing the future of LiterASIAN 2020-2021).
LiterASIAN 2019 featured a weekend of workshops, conversations and panels at BC Artscape / Sun Wah Centre and Chinatown House.
Day one:
LiterASIAN 2019 kicked off with an opening reception at Chinatown House. Guests were greeted with a performance by Vancouver jazz guitarist Henry Young. "The Writing of Asian Canadian" panel featured readings and reflections from all the authors. The opening reception also featured the presentation of the Jim Wong-Chu Emerging Writers' Award. The newly renamed Emerging Writers' Award originated in 1999 to help authors of Pacific Rim Asian heritage be published with an established publishing house.
Day two:
On September 28, the festivities continued over on Keefer Street at the Sun Wah Centre. "Feeling the First Vague Stirrings" with C.E. Gatchalian was the first workshop of the day.
Philip Huynh, a past JWC Emerging Writers' Award Winner, hosted "Writing From Scratch with Philip Huynh."
May Q. Wong's "Writing By Remembering Our Multicultural Pasts" explored how to write your memoir using creative non-fiction.
Poet and fiction writer Sally Ito hosted "Events and Epiphanies: Writing Your Personal Myth" later in the afternoon.
For LiterASIAN's finale, ACWW's dear friend Winnie L. Cheung hosted a conversation with Rita Wong, another JWC Emerging Writers' Award Winner. The two discussed "the journey of beholden". Beholden: a poem as long as the river is comprised of two lines of poetic text flowing along a 114-foot-long map of the Columbia River, co-written by LiterASIAN author Fred Wah.