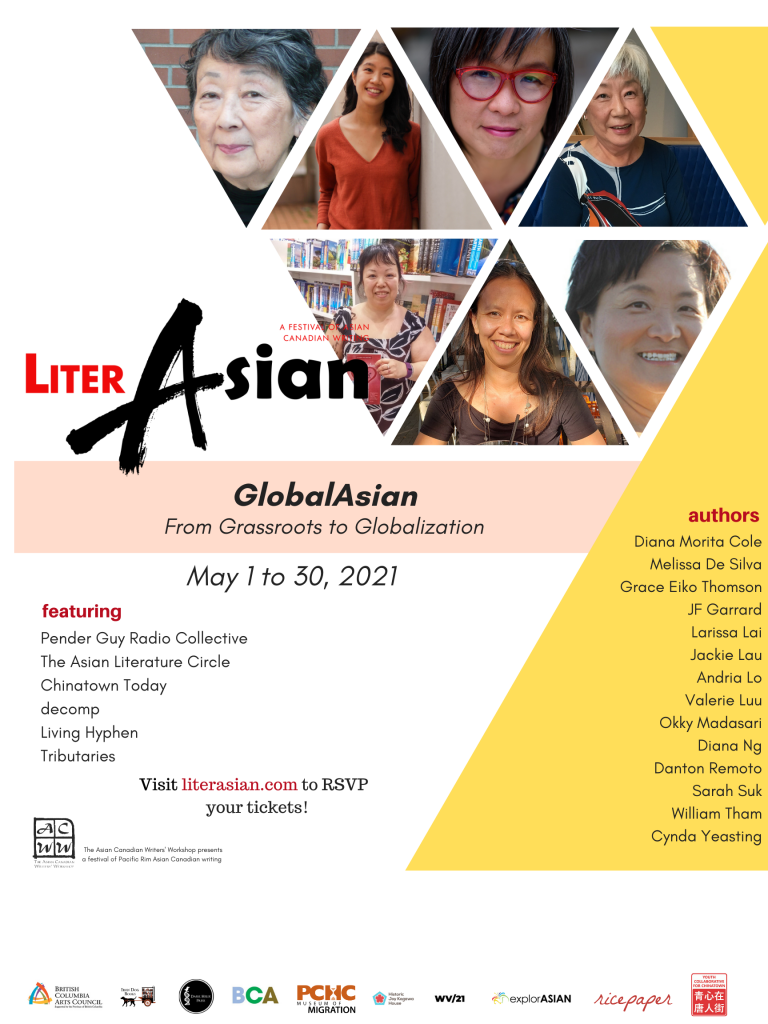 LiterASIAN 2021 took place from May 1-30, 2021 virtually. The 2021 festival GlobalAsian: from Grassroots to Globalization featured authors and cultural activists from not only Canada, but across the Asian diaspora.
As "Asian" cannot easily be defined within geographical borders of one continent, but rather a conceptual collection of experiences and memories, LiterASIAN shines a spotlight to critically examine what it means to be a storyteller of Asian descent.
The festival welcomed an incredible line-up of writers from across North America and the world. Authors included Larissa Lai, Grace Eiko Thomson, Sarah Suk, Jackie Lau,  Diana Morita Cole, Diana Ng, JF Garrard, Cynda Yeasting, William Tham, Okky Madasari, Melissa De Silva, Danton Remoto, Andria Lo, and Valerie Luu
May 1:
The second-ever virtual LiterASIAN Festival began with "Intersectionality, Feminism, and Power – Writers Who Define Our Times". The event featured an engaging session with authors Grace Eiko Thomson, Larissa Lai, and Sarah Suk, moderated by Sharanjit Kaur Sandhra. This intergenerational and multi-genre panel of writers shared their insights and experiences of how their personal journeys as writers have influenced their craft and provided meaning on how and why they tell their stories.
May 8:
The festival continued with "Independent Authors or Self-Published Authors? Stories That We Live to Write About." Self-publishing was once met with skepticism, even downright hostility as it was widely held by most in the literary world that only publishers and literary agents possessed the wisdom to decide which writers were worthy of publication. With the advent of online and digital technologies, the publishing process has changed dramatically. Writers Jackie Lau, Diana Morita Cole, Diana Ng, JF Garrard, & Cynda Yeasting shared their insights and experiences as self-published authors. The event was moderated by Ricepaper's very own Silvia Leung.
May 12:
We were lucky enough to feature the creators of the wildly popular "Chinatown Pretty", a photo and storytelling project celebrating elders living in Chinatowns. Our very own Allan Cho moderated "It's a Beautiful Neighbourhood: "Chinatown Pretty" Across North America", interviewing photographer Andria Lo and writer Valerie Luu.
May 15:
An event unique to the year's festival, "Writing Nusantara – Transcending Language and Borders" featured authors from Malaysia, Indonesia, and the Philippines. Showcasing writers from across this region, this session highlights the diversity of Asian literary traditions. Vincent Ternida moderated the session with authors Okky Madasari, Danton Remoto, and William Tham.
May 22:
Our very own Alyssa Sy de Jesus moderated "Creating from Scratch: Asian Canadian Literary Publications", focusing on grassroots literary magazines and journals. Featuring four independent journals run by students, artists, and community activists from across Canada, this session highlighted not only their work in the publishing field, but also insights from how these cultural producers created their publications from the ground up. We were joined by Olivia Lim from ACAM Tributaries, Chris Patterson (Kawika Guillermo) & David Ng from decomp, Brooke Xiang from Chinatown Today, and Justine Abigail Yu & Jocelyn Yu from Living Hyphen.
May 29:
The Pender Guy Radio Collective, 1976 – 1981: The Reunion Show welcomed members of the collective to share their favourite segments and memories of the show. The Pender Guy radio collective grew out of a wave of Chinese Canadian youth activism in the early 1970s, running their operations from Vancouver's Chinatown. Airing on Vancouver Co-operative Radio (Co-op Radio), the show explored issues related to Chinese-Canadian identity, history, politics, and art through news reporting, interviews, humour, drama, and music.
May 30:
LiterASIAN 2021's final event was "Asia Across the World: a Book Club Discussion", hosted by the Literary Circle of Asian Books. This locally based book club has been meeting for over twenty-five years, discussing and recommending Asian-Canadian literature.