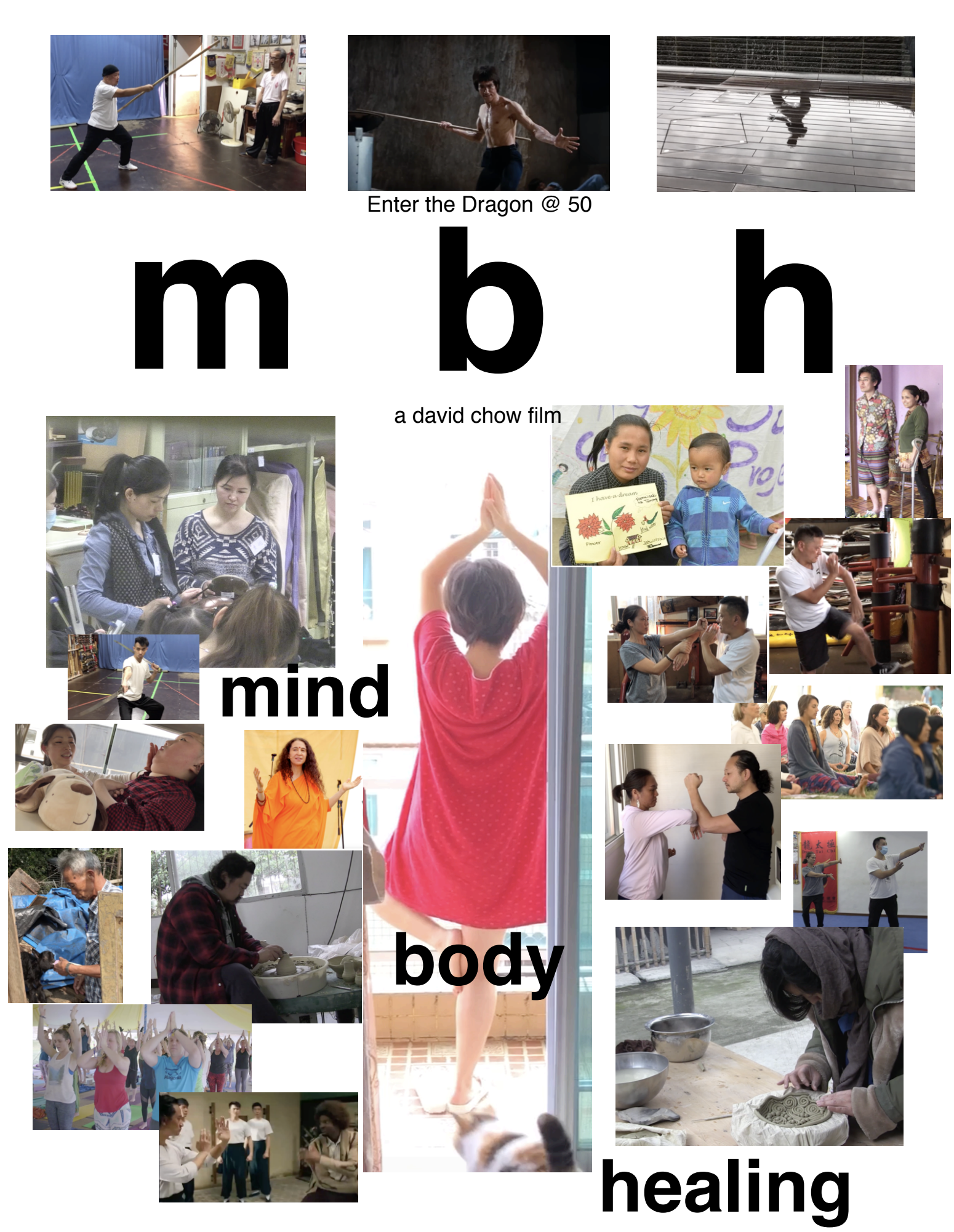 "Mind, Body, and Healing" (MBH) at first seems disparate in its collection of scenes and sequences, but underlying it all is the theme of self-healing from the main perspective of three Asian ladies. From Kung Fu and Yoga to music and ceramic therapies, the documentary journeys across Asia into North America. 
The film also highlights Asian diaspora and its impact on world culture: Kung Fu, Yoga, meditation – three major Asian aspects that have transformed cultures in Canada, the USA, and the UK. One focus of each aspect is the connection between the self and divine, whether the latter be spirit, deity, or nature, and how that connection impacts self-healing.
At the same time, MBH is also a celebration of "Enter the Dragon @ 50", which is slated for 19 August 2023; Asian Heritage Month (North America), May 2023; Mother's Day, 14 May 2023; International Yoga Day, 21 June 2023; South Asian Heritage Month (UK), 18 July – 17 August 2023; and East and Southeast Asian Heritage Month (UK) September 2023. 
The documentary was inspired by filmmaker David Chow's own journey of self-healing, taking seven years to make, including filming through the Covid-19 pandemic, and a further 1.5 years of editing. Most of the footage in the documentary was filmed on an iPhone 8. 
In his own words: "I wasn't even thinking of making a documentary when I started documenting my first character Nussica Cho, way back in 2016. I had no concept, no funding, whatsoever!"
The filmmaker got the chance to visit some remote corners of Western China, and get away from the hustle and bustle of Hong Kong. He remembers, "It's always been the story that finds me; not the other way around." 
So he curated a video diary over seven years.
As a child, David suffered spinal cord injuries from accidents but due to economic circumstances never received professional medical care in his native Hong Kong. The injuries turned into physical and emotional trauma creating a dysfunctional existence, which ended in a life-altering wake-up call. 
A stroke-like attack turned into a four-day hospital stay, during which doctors found nothing abnormal but there were clearly problems. After being discharged, David started looking for alternative healing methods from traditional Western medicine. His 7-year journey turned into a combination of Western and Asian treatments, such as herbalism, acupuncture, yoga, and meditation, and gradually kick-started the self-healing process. 
British-born Asian writer, co-producer, and an MBH narrator, Aster Chiu grew up with bullying, suppression, and bigotry, which resulted in starting to learn Kung Fu at a young age and continuing in spurts during her adult years. Through Kung Fu she met Ha Kai Lung Sifu, Michael Chan Sifu, and Darren Leung Sifu. Aster additionally turned to Yoga and crochet. 
Each character in MBH has also gone through similar journeys of trauma and subsequent healing: Nussica Cho is the first major narrator. Her social work mission is to bring healing to the survivors of natural disasters as well as the under-privileged. Her trek takes her into remote corners of China, to meeting a ceramics master in Chengdu, Sichuan, and into Laprak village, a remote part of Nepal. Nearly fifty percent of the village was destroyed by the earthquake of 2015. Nepalese single mum, Rekha Tamang, a survivor of the Nepal earthquake, is rebuilding her life in Kathmandu. 
Huen Ma, single mum whose disabled son had brain surgery, looks to music therapy and caring for others on her self-healing journey.
Michael Chan, British Asian details his childhood bullying experience which led to being inspired by Bruce Lee to learn Wing Chun and Krav Maga; it also led to him returning to where his parents grew up, the Hakka "guest families" island of Little Salt Fields off the coast of Hong Kong. 
Darren Leung, an Asian American, talks about learning Wing Chun under his father, Duncan Leung – a childhood friend of Bruce Lee. He also talks about how being a laid-off engineer in America after the financial meltdown of 2008, turned into a career in Wing Chun. He was both actor and martial arts choreographer in films, training Tony Leung Chiu Wai for months in director Wong Kar-wai's "The Grandmaster" (2013), working with Yuen Woo Ping, and getting involved in Ip Man 3 and 4.  
The result is an organic telling of three primary characters and a supporting cast of narrators who are all connected by the self-healing of mind, body, and spirit. 
The trailer and full documentary can be viewed at HyuekaPlus, YouTube. 
---
About the Director
Asian-Canadian indie filmmaker David Chow started his filmmaking journey in the Spring of 1983 when he took a half credit film class to watch free movies in the last term of his second year at the University of Toronto. At the time, he was a Science & Arts major. After he dropped out, he pursued his voyage of self-healing & mastery through the art of storytelling and has supported himself as a handyman since.
About the Co-producer
British-Asian co-producer Aster Chiu's passion for writing and stories started at a young age, where she would often fall into the world of books for hours on end. Eventually, she co-wrote and co-published non-fiction texts and a fantasy anthology. In her spare time, she is a fulltime marketer and a crochet hobbyist, as well as owner of Hyueka, a company that offers English tutoring, media production, and crocheted goodies. 
MBH Trailer: https://www.youtube.com/watch?v=WV-HlCVKie0&t=2s 
MBH Documentary: https://www.youtube.com/watch?v=4km1fl-iHAE&t=901s 
Hyueka Website: https://hyueka.wixsite.com/hyueka