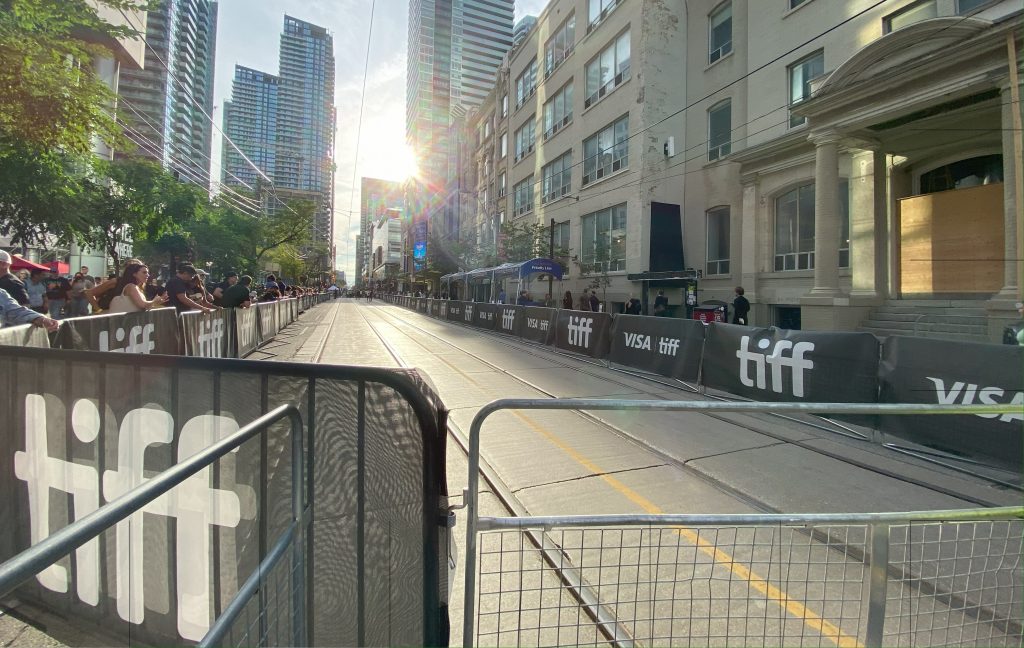 If the Toronto International Film Festival was smarting from two devastating events that happened over the summer, its projection of equanimity has been nothing short of admirable. The first event was a pair of labour disputes occurring in quick succession within the Hollywood television and film industries. In May, members of the Writers Guild of America went on strike, while those of the Screen Actors Guild and American Federation of Television and Radio Artists followed suit in July. With both industrial actions still ongoing, they effectively bar the cast and crew of most American film and television productions from promoting their projects anywhere—but particularly at film festivals like Toronto, which for the last two decades or so has positioned itself as a key tastemaker for Hollywood's annual awards season that begins in the Fall. The second event in August was confirmation from Canadian telecommunications company Bell Canada that it would be ending its 28-year role as Lead Sponsor of TIFF in 2023.
Toronto's upcoming 48th edition (7-17 September 2022) is therefore at a historic crossroads. With the inexorable rise of disruptive technologies at the heart of the Hollywood strikes, TIFF should be considering if its cultural anchoring and dependence on Euro-American content to drive its prestige is in fact a tenable strategy for its next half century. After all, their broad commitment to Western content rests uneasily with its self-styled image as a progressive, super-woke organization whose recent cultural outreach to a bevy of oppressed interest groups has also been a critical part of its branding. But for now, this year's hemorrhaging of American content has given the festival a rare opportunity to seek a life saving transfusion from the cinemas from the rest of the world. The Boy and the Heron, Miyazaki Hayao's putative final film from Studio Ghibli will hold the rare distinction of being the first Asian production since 2005 to be TIFF's Opening Film—but also, the first Japanese, East Asian and animated production.
Whether by design or as a consequence, this year's forced pivot away from American content has resulted in only a modest increase of films from key countries in Asia, but with at least an even distribution of titles between them. From East Asia, China, Japan and South Korea are represented with six films each, offering a mix of new titles and acclaimed ones from other festivals; these will be accompanied by the rare inclusion of a film from Mongolia: City of Wind, Lkhagvadulam Purev-Ochir's coming-of-age feature debut. Other highlights here include the late Tibetan-Chinese director Pema Tseden's last film Snow Leopard, and a newly restored 4K screening of Chen Kaige's classic Farewell My Concubine on the 30th anniversary of its release in 1993 (and also on the 20th anniversary of its star Leslie Cheung's death in 2003). From Southeast Asia, Indonesia, the Philippines and Vietnam number four films in all, notably with Inside the Yellow Cocoon Shell, Phạm Thiên Ân's award-winning debut feature from Cannes among them.
The festival's industry programming will cover major Chinese and South Korean talents. TIFF will honour Chinese actor, Cantopop singer-songwriter and film producer Andy Lau with its Special Tribute Award for his 40-year career in Hong Kong showbiz, with exhaustive contributions to television and film. Lau, who is promoting Ning Hao's satire The Movie Emperor, will also participate in TIFF's In Conversation With… series to talk about the film and his career. And like last year, TIFF will host another pair of Korean actors for the same series: veteran Lee Byung-hun and rising Park Seo-joon, in town to promote Um Tae-hwa's earthquake film Concrete Utopia, will discuss the project and their acting careers. In addition, a separate industry conference titled 'Celebrating the Cinema of the Korean Diaspora' presented by the Korean Film Council will assemble Anthony Shim, Albert Shin and Christina Oh—leading American and Canadian figures behind the recent successes of Korean diaspora cinema, to discuss its appeal.
This year's Asian and Asian-interest feature films are:
Argentina
The Human Surge 3 (Eduardo Williams, Argentina/Brazil/Hong Kong/Netherlands/Peru/Portugal/Sri Lanka/Taiwan 2023) – Wavelengths
Canada
Ru (Charles-Olivier Michaud, Canada 2023) – Special Presentations
China
100 Yards (Xu Haofeng & Xu Junfeng, China 2023) – Centrepiece
The Breaking Ice (Anthony Chen, China 2023) – Centrepiece
Farewell My Concubine (Chen Kaige, China/Hong Kong 1993) – TIFF Classics
The Movie Emperor (Ning Hao, China 2023) – Gala Presentations
Snow Leopard (Pema Tseden, China 2023) – Centrepiece
Youth (Spring) (Wang Bing, China/France/Luxembourg/Netherlands 2023) – Wavelengths
Indonesia
Andragogy (Wregas Bhanuteja, Indonesia/Singapore 2023) – Discovery
Japan
The Boy and the Heron (Miyazaki Hayao, Japan 2023) – Opening Film/Gala Presentations
Evil Does Not Exist (Hamaguchi Ryusuke, Japan 2023) – Special Presentations
Great Absence (Chikaura Kei, Japan 2023) – Platform
Monster (Kore-eda Hirokazu, Japan 2023) – Special Presentations
Perfect Days (Wim Wenders, Japan 2023) – Centrepiece
Shadow of Fire (Tsukamoto Shinya, Japan 2023) – Centrepiece
Mongolia
City of Wind (Lkhagvadulam Purev-Ochir, Mongolia/France/Germany/Netherlands/Portugal/Qatar 2023) – Centrepiece
Netherlands
Sweet Dreams (Ena Sendijarević, Netherlands/France/Indonesia/Sweden 2023) – Centrepiece
The Philippines
Nowhere Near (Miko Revereza, Philippines 2023) – Wavelengths
Your Mother's Son (Jun Robles Lana, Philippines 2023) – Centrepiece
South Korea
A Normal Family (Hur Jin-ho, South Korea 2023) – Gala Presentations
Bargain (Byun Seung-min & Jeon Woo-sung, South Korea 2023) – Primetime
Concrete Utopia (Um Tae-hwa, South Korea 2023) – Gala Presentations
Mimang (Kim Taeyang, South Korea 2023) – Discovery
Sleep (Jason Yu, South Korea 2023) – Midnight Madness
Smugglers (Ryoo Seung-wan, South Korea 2023) – Gala Presentations
UK
The Contestant (Clair Titley, UK 2023) – TIFF Docs
USA
Expats (Lulu Wang, USA 2023) – Primetime
Quiz Lady (Jessica Yu, USA 2023) – Special Presentations
Vietnam
Inside the Yellow Cocoon Shell (Phạm Thiên Ân, Vietnam/France/Singapore/Spain 2023) – Wavelengths
Brandon Wee