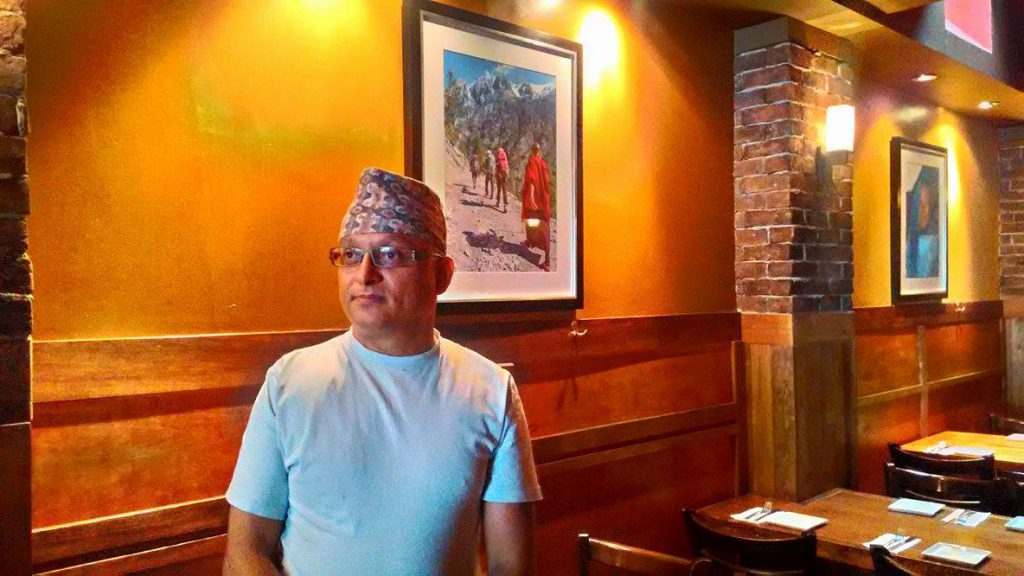 Abi Sharma at the Yak and Yeti
Yak and Yeti sits close to the corner of West 4th Avenue and Bayswater Street, its cosy interior offering a getaway from Vancouver. Photographs on the low-lit walls take diners away from the West Coast to the valleys and highlands of Nepal. Even its name calls to mind the usual exotic images of the landlocked country. 'Yak and Yeti' gets its name from the luxury hotel in the Nepalese capital of Kathmandu, which has also lent its name to other restaurants in the United States. But to Abi Sharma, who established the first Nepalese restaurant in Vancouver and now helps out here, the exotic oriental connotations of the name can be both a wonderful marketing tool and also uncomfortable concept.
Ricepaper sat down with Abi at the bistro recently to talk about–among other things–food, a whole bunch of parties following monsoon season, and about the Nepalese worldwide. Abi has led a chequered life, leaving a small town in Nepal years ago to study in Europe before winding up in Vancouver. His experiences all contributed to the many anecdotes and viewpoints that he shared with us, ranging from trading ghee for salt in the bazaars of market towns, the importance of understanding where food comes from, and the misleading stereotypes of Nepal as a distant, mountainous country which detract from its complex history and extraordinary cultural diversity. And along the way he lectured us on the Nepalese diaspora in an ever-changing world.
Have a listen below!
---
Yak and Yeti  serves excellent authentic Nepalese cuisine for dinner all week except Monday.  Interview by Gavin Hee and William Tham. Read more from our Food & the City series here!
Useful links: Bhorpur, Nepal, Atithi Devo Bhava, Ghee