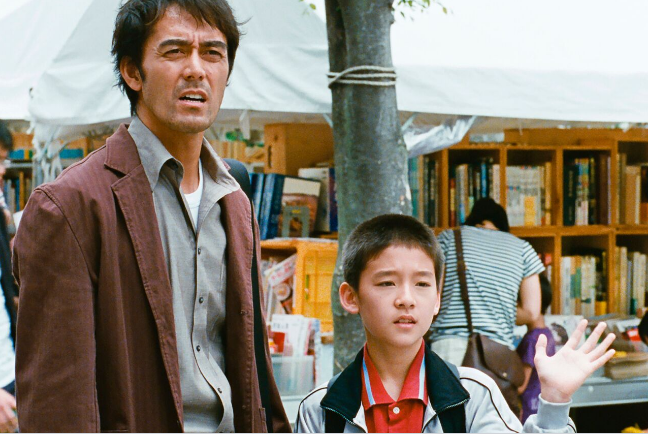 Ryota (Hiroshi Abe) and his son Shingo (Taiyo Yoshizawa)
Hirokazu Kore-Eda's new film, After the Storm, is a stripped-down meditation on lives gone wrong and family relationships in a quiet Japanese city. Despite its apparent simplicity, it is incredibly nuanced and layered, striking at the various insecurities permeating its main character's life.
Ryota (Hiroshi Abe) is a literary writer who has fallen into relative obscurity who seemingly does anything but write while being dominated by financial concerns. He rummages through his late father's belongings in search of items that can be pawned off, deliberately scuffs a new pair of shoes meant for his son to get discounts, and works out shady deals with the subjects of the investigations at shifty private detective agency that he now works at. While he is ostensibly researching a new novel, it is clear that he has fallen off the map, surrounded by extra copies of his book in a tiny apartment. People don't understand it or pick at small details, and his ex-wife Kyoko warns him not to write about their past again. Throughout this he is desperate to keep seeing his son, Shingo, and with that his hopes of rekindling memories of his failed marriage to Kyoko.
The titular storm of the movie is a typhoon arriving in the city that forces Ryota, Kyoko, and Shingo to take cover at his mother's low-cost apartment. Ryota's mother (Kirin Kiki) is the bedrock of the film. She is resilient, humorous, and incredibly kind to both Shingo and Kyoko despite the fact they are no longer really part of her family. But below the surface she worries about her own mortality. Her recently-deceased husband, whom she was with for fifty years despite being ineffective and abrasive, shows up in her dreams. She insists on Kyoko and Shingo staying over to avoid the typhoon to create a semblance of family, despite the fact that Kyoko would rather have nothing to do with Ryota. In an affecting scene close to the end, Ryota's mother has a late-night conversation with him in which she asks him which way he would prefer her to pass away. It is followed by another scene in which Ryota and Kyoko come to a conclusion on the nature of their relationship while Shingo chases after lottery tickets scattered by the typhoon, leaving him with a closure of sorts.
What makes After the Storm work so well is its simplicity. The dialogue is unpretentious and down to earth and its characters are relatable, including the obsessive Ryota. And buried in its ordinariness are some wonderful observations of human nature and relationships that lend deeper weight to a film that is set in a commonplace setting. It is this subtlety that powers the film's emotional reach and offers some lessons for the pervasive loneliness of city life.
---
Hirokazu Kore-Eda's After the Storm opens in the following locations across Canada: March 17 in Toronto, TIFF Bell Lightbox, March 24 in Vancouver, Vancity Theatre, March 31 in Halifax, Carbon Arc, April 7 in Calgary, Globe Cinema & Victoria, The Vic, April 21 in Ottawa, Bytowne Theatre, April 28 in Montreal, Cinema Beaubien & Cinema du Parc, and May 12 in Winnipeg, Winnipeg Film Group.