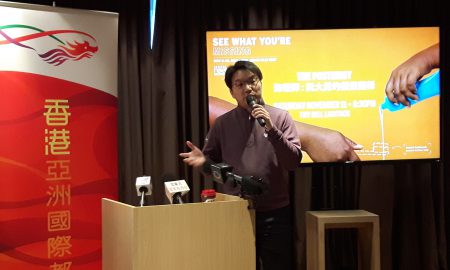 In the age of media overload, few think about the amount of time it takes to create a painting from either digital or hand drawn techniques. The Posterist (海報師:阮大勇的插畫藝術) is a documentary film by first time director Hui See-wai (son of Michael Hui Koon-Man, nephew of Samuel Hui Kwun-kit) who aims to capture the glory and nostalgia of posters hand drawn and illustrated by artist Yuen Tai-Yung. From a period of time between the mid-1970s to early 1990s, Yuen hand painted over 200 posters for films featuring the biggest Asian stars on screen in Hong Kong – including Bruce Lee, Jackie Chan, Stephen Chow, Anita Mui, Leslie Cheung and of course, the Hui Brothers.
Although born into a Hong Kong royal family of entertainers, Hui See-wai grew up in Toronto, away from the family's public limelight and majored in Computer Engineering at the University of Toronto. A quiet and humble man, he appeared at a press conference held by the Toronto Reel Asian International Film Festival at Momofuku Restaurant on a cold November day.
During the press conference, Hui spoke about how he did not have any intention of making a documentary, but that the subject chose him. He grew up with Hong Kong movies and admired the poster illustrations advertising them, but never gave them much thought as to who drew them. A few years ago, he asked his father, uncles and industry players (such as Eric Tsang Chi-wai) as to who drew all these posters and where was this person? No one had an answer. Hui went on a search to find the posterist and eventually found Yuen on Facebook. Yuen had retired 20 years earlier, was alive and well; with over 40K fans on Facebook. One of Hui's friends knew Yuen personally and set up a meeting between Hui and Yuen.
Hui remarked that at the first meeting, he was very nervous and worried that Yuen would be a crazy and temperamental painter at 70 years of age. He said, "Yuen was nicknamed the 'godfather of movie posters.' The word 'godfather' is scary and can kill or shoot." However, these fears were unrealized, as during the first minute of meeting, Yuen opened up his backpack and took out a picture taken 40 years ago of him with Hui's father and uncles. Hui felt that Yuen was a man full of heart and was kind and honest. Over time, the two men became friends and Hui asked many questions over each poster Yuen had collaborated with his father, Michael Hui Koon-Man.
The documentary started when Hui requested permission to record the stories Yuen was telling for the Hui family. It turned out the Yuen had always wanted to let his daughter and the rest of his own family know about the history of his work, so a collaboration was born. The recordings began with conversations which blossomed into filming of Yuen attending celebratory events and then demonstrating how he illustrated posters by hand. The filming took over one and a half years to complete. Yuen prefers to draw only people he likes and also draws his favorite non-Asian actors as well – Marlon Brando, James Dean and Audrey Hepburn to name a few.
The Posterist has achieve moderate success and has been shown in sold-out screenings at arthouse cinemas in Hong Kong and featured in movie festivals in Hong Kong, Singapore and now Toronto. Next, the film will tour sixteen cities in China with the hopes of introducing Hui's Hong Kong heritage and his father's rich cinematic history to a new audience in China. Hui was amazed that the film led him back to Toronto where he earned his university degree. Sadly, Yuen could not make the trip to Toronto with him as he is allergic to 16 hours of flight and cold weather!
Yuen saw the film first and to the relief of the nervous director, did not ask for any edits or changes, although he was a demanding artist. There was a disagreement initially over the title of the film as Yuen felt that he was an illustrator working in an advertising firm and the term "posterist" was a made up one. Hui convinced him that the audience was attached to his poster illustrations as every poster was a unique, one of a kind piece, made with love.
Hui realized that poster illustration is a forgotten art form and wanted to bring craftsmanship into the spotlight with his documentary. The film has resonated with many young people and for himself it was a way to honor the artist. As a child growing up in Toronto he was amazed with CGI techniques (such as in Jurassic Park), which made him take computer courses and he forgot about the hand drawn art of his father's posters. He said that he rejected painters in the 90s and is ashamed now at this attitude. He feels great to present a film about a craft (of hand drawing) which has been around for thousands of years and believes Yuen's art to be museum worthy. The Hong Kong Film Academy presented Yuen with a lifetime achievement award, an honour which Hui believes has never been given to any poster artist in the world.
With many changes in the past, present and future of Hong Kong, Hui has managed to capture a story of the past in which hand drawn art played a role in capturing the spirit and heart of films. The days of hand illustrating posters are long past and perhaps this documentary will inspire some artists to do the same for some film projects to carry on this tradition.