It's hard to catch up with Simu Liu (Kim's Convenience, Blood & Water, check out our interview with him here) and Tina Jung (Kim's Convenience, Saw: Legacy), both fellow Asian Canadians who wear multiple hats of being actors, writers and producers.
Their most recent project together is Meeting Mommy, which they wrote and produced together. Released on the popular Youtube channel Wong Fu Productions in February 2018, it has since amassed over 300,000 views!
Ricepaper caught up with Simu and Tina, who are no doubt basking in better Los Angeles weather than myself in freezing Toronto, to go behind the scenes of Meeting Mommy. Before you read this interview, please watch this amazing short film on YouTube as this article will contains spoilers!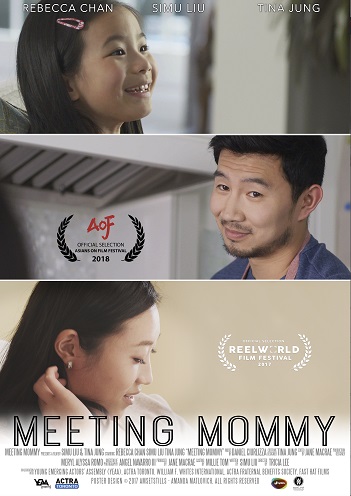 JF Garrard (JFG): What was the inspiration for Meeting Mommy?
TJ: The idea for Meeting Mommy came to us one night as we were brainstorming a project to do together. We explored different kinds of relationships, but we zeroed in on the unconditional love of a parent for their child. We threw a bunch of ideas around and landed on a story about a mother trying to raise her daughter despite knowing she couldn't physically be there. It eventually snowballed and we found ourselves crying as we kept adding more depth into this idea which later became Meeting Mommy.
SL: The process through which we came up with the story for Meeting Mommy was really interesting because we didn't have too much personal experience with the subject matter. We knew that we wanted to create something that really moved our audience, though, and when one of us first suggested the idea that would become Meeting Mommy, we instantly knew that we had to do it because we couldn't stop crying or just talking about it.
After I pumped the first draft out we knew we had to show it to some of our friends with a more personal connection to cancer to see if we were respecting the reality of the disease and its effects. We were so surprised and happy to have an overwhelmingly positive response – in fact, our director Tricia Lee absolutely insisted that she come onboard after I showed her the script. We all knew from the beginning that it was going to be a special little short film.
JFG: In the film, Rebecca Chan (the little girl character) sets out the ingredients for a grilled cheese sandwich. I thought that was very interesting because it is a very Westernized meal. Was this a deliberate choice of food?
SL: Haha, I think it's deliberate in that it's something that a child would realistically be able to make on her own! I don't think a six-year-old would have the knowledge let alone the arm strength to do any heavy stir-frying!
Seriously, though, there's a universality to the grilled cheese sandwich. I loved them when I was a kid; they're so simple to make and just the perfect texture of gooey and crunchy. Just because we happen to be a Canadian family of Asian heritage doesn't automatically mean that we have to be eating Asian food. Ultimately this isn't a story that can only be told through an Asian lens; the themes of love and hope are as universal as the grilled cheese itself.
JFG: In Asian cultures, cancer is not normally talked about. Having had multiple relatives who had cancer and were very embarrassed about it (they passed away without me even knowing they were sick), is there a message you wish to convey about the stigma of cancer or death in society?
SL: It's so sad to me that people in Asian cultures feel the need to carry that burden themselves. I can totally relate to this with my family as well. If I could convey any message it's that when you keep these things from your family members you deprive them of their chance to process what is going on and to form closure. Although you may think you are sparing your family from suffering, your dishonesty may do far greater damage down the line. That's not what families are for – we support and take care of each other.
JFG: Another thing that struck me was the mom talking about love and that it didn't matter if her daughter marries a boy or a girl, as well a wish to have an equal world between men and women. Is this the ideal world that both of you would like for the next generation? What other qualities would you want in a utopia? Do you see things changing from the present?
TJ: We are living in a time where there is a light being shed on gender equality. From pay equality to the #MeToo movement, women from all over the world are speaking up and are standing up for each other. So to tell our next generation early on that being different is ok, being a woman is empowering, and to encourage living with an open mind can only set them up for greater success and a healthier mentality. If we all broke down barriers, we wouldn't have racism, prejudice, discrimination, classism, etc. Equality would be utopia.
SL: Totally agree. And, if I could shed a male perspective here as well – the more I got into the character of John, the more I realized that there were things that despite his best efforts he would never be able to communicate to Zoe. He could teach her math and pick her up from dance class, but how could he teach her how to be a woman, especially in this current climate? How can he know what it's like to have all of these contradictory expectations put on you from a young age, and how he possibly know how to teach her to navigate through all of it? That even the thought of raising a daughter gave me so much anxiety is proof that we as a society have a lot of work to do.
JFG: Adding the scene with the mother giving the father a message was great because he must have been very lonely after she left. Do you have any messages for parents out there who are watching and feeling overwhelmed or dealing with serious illnesses?
TJ: Every moment you have with a loved one is precious. But to celebrate your time together and the life that you share together is even more special than anything else in the world. Cherish these moments, they become memories that only you can remember. It's so easy to fall into sadness and hardships, but the more you stay positive and try to be optimistic in these situations will get you through the thick and thin. Encouragement from your partner is so important. You're in it together.
JFG: How long did it take the both of you to come up with writing, pitching and finally filming Meeting Mommy?
SL: To provide background; In 2015 and 2016 I spearheaded a program for ACTRA (our performing union) called YEAA Shorts. YEAA (the Young Emerging Actors' Assembly) was the youth constituency of ACTRA, and was filled with young actors who were hungry for the opportunity to create their own work. YEAA Shorts was an amazing residency program that gave partial funding to select actor-produced projects and also guaranteed them a screening spot at the ReelWorld Film Festival in Toronto.
My familiarity with the program led me to suggest that we submit a project in 2017. We took it as an excuse to get off our butts and do some brainstorming! Luckily we were accepted with the first draft of Meeting Mommy.
TJ: The process of Meeting Mommy went by faster than we both had in mind. I think it took about a week for the whole story to come together, from brainstorming, to writing the script to the final draft. After we were accepted into YEAA Shorts we were the first ones to film it in the program – I think we just knew what we wanted this story to be and we were eager to get it made. It turned out to be much better than we had hoped and we are so proud of what it became!
JFG: Reading through the comments on the video, it seems that the audience feedback has been overwhelmingly positive. Were you surprised by the response the film has received?
SL: Honestly, it's been an incredible experience reading through the comments – I mean, you really don't think that you'd ever get deep, personal, heart wrenching stories in Youtube comments sections but we have seen literally hundreds of messages from people who have some sort of personal connection with the story. Tina, Tricia (the director) and I were in shock when the video first dropped – we kept sending each other screen caps of people's responses. It was incredibly moving and it reminded us why our work is so important.
We're also incredibly fortunate to have found a partner like Wong Fu Productions who was willing to partner with us to release the short. Meeting Mommy was never intended to tour festivals and win critical acclaim – it was meant to be seen by the world. We're so happy that Wong Fu agrees and we hope that it's the beginning of many future collaborations with them.
JFG: I'm not much of a YouTube consumer and I had never heard of Wong Fu Productions until this film. However, I met a MBA student at a networking event (I was the old alumni) who told me that she grew up on Wong Fu Productions and she was raving about Meeting Mommy. What was it like working with Wong Fu?
SL: Before diversity was a hot-button topic in the media, before there were any three-dimensional Asian characters on screen, there was this Youtube channel featuring a bunch of Asian American filmmakers making sketches. That channel was Wong Fu and I instantly gravitated toward their content because I was so starved of characters that I related to. It's really amazing and inspiring to see how they have grown over the past decade and managed to stay completely true to their values. They have been a huge supporter of all Asian artists and creators, finding ways to work with actors and musicians and always using their platform to amplify Asian voices.
My manager Chris Lee at East West Artists tangentially worked with the guys at Wong Fu, occasionally negotiating potential work for them. When I learned that I shared a management team with them, I begged and pleaded to be set up on a meeting. Luckily Phil was gracious enough to meet me at his office, and we had a really fantastic conversation about their mission statement and future plans.
We kept in touch intermittently in the next few months, and I casually passed the first draft of Meeting Mommy to him hoping to get his thoughts. He messaged back right away and told me he saw something special in it. So, I kept him in the loop as we filmed and completed our first cut. I wasn't expecting for him to offer to host the video on the Wong Fu site, but he loved our final product and told us that he would be happy to put it up. To be honest I'm still pinching myself over how this all came together; I try not to let it show but I'm still pretty star struck whenever I meet with Phil and Wes.
TJ: I also grew up on Wong Fu Productions. They were a huge part of my high school years. Their videos actually inspired me to create and write so it was definitely a rewarding feeling to walk into their office to showcase a project that we wrote and created. Meeting your high school heroes was a dream come true.
JFG: While Meeting Mommy is making the rounds, Simu, you have another trailer called Silver on YouTube. Can you tell us a little bit about "Silver" and the timeline for this project?
SL: So Silver is a proof-of-concept trailer for a digital series that I created and am trying to get funding for. It's an action sci-fi thriller set in a near future with vampires, about a vampire man and child who go on the run – sort of like a Logan meets Underworld. It's by far the most ambitious project I've ever undertaken – I wrote, directed, acted in and co-produced the trailer. In post, I also learned how to edit on Adobe Premiere and was the de facto post production supervisor as well, juggling the colour, sound mix and music.
I created Silver as an entry for the Independent Production Fund, which is an annual grant which creators apply for by producing a two-minute concept trailer and putting it up on Youtube. If all goes well and we are successful, we hope to shoot the project in the fall.
JFG: Tina, are there any new or upcoming projects you are working on that you can share with us?
TJ: I'm actually a part of another IPF project entitled What Got Did, which is a workplace comedy set in the startup world of Silicon Valley North (aka Toronto). We have a really great and diverse team from creator Grace Lynn Kung to Gloria Kim; I'm a huge fan of both of them and jumped at the chance to work on this project with them!
JF: Thank you very much for spending time with us at Ricepaper. We are rooting for you and will support you both in your future projects!
Please remember to check out these links of Simu and Tina's latest projects!
Meeting Mommy – https://www.youtube.com/watch?v=uI5_G-Hiu8U
Silver – https://www.youtube.com/watch?v=iu9co5lDt7I
What Got Did – https://www.youtube.com/watch?v=LjUmpzLQ0f8