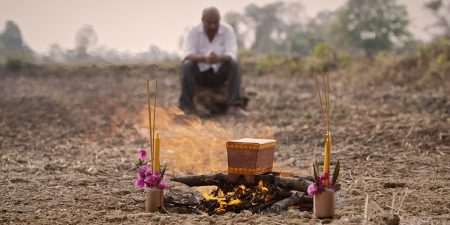 Graves Without a Name (Panh Rithy, Cambodia/France 2018)
Panh Rithy's latest documentary in his stable of Cambodia-centric films ranks as one of his saddest titles within his lifetime's duty to document critical aspects of the Khmer Rouge's genocidal reign during the late 1970s. Crafted as a philosophical essay film that doubles as an elegant dirge for the memory of stolen lives, the story is narrated by an unnamed man on a mission to locate the graves of his immediate and extended family members who disappeared during the campaign of terror. Interviews with survivors are interspersed with sequences of psychics engaging in various rituals to pinpoint where the remains of the family could lie. Panh's discreet appearances as a mourner in a beautiful prologue and in other bridging scenes where ceremonial prayers are performed at the presumed resting places makes it clear the narrator in fact represents himself—but also others like him whose loved ones never came home.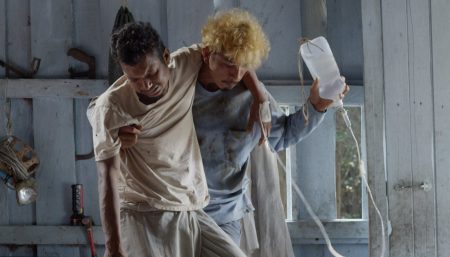 Manta Ray (Phuttiphong Aroonpheng, Thailand/China/France 2018)
On an unnamed Thai coastal village, a fisherman rescues a Rohingya man from certain death and helps him recover. The unassertive foreigner does not say a word and takes cues from his surroundings, until the fisherman suddenly disappears and the man starts adopting his saviour's daily rituals. Phuttiphong Aroonphengs's debut feature unfolds plainly, but a spell of stylistic frills escorts this unexplained turn of events to unleash a bewitching last act. The result is an aural and atmospheric trip that evokes the sound and jungle aesthetics of Apichatpong Weerasethakul's Syndromes and a Century (2006) and Uncle Boonmee Who Can Recall His Past Lives (2010). Until their recent mass expulsion from Myanmar, the Rohingya have been regularly fleeing for neighbouring Asian states over the decades. The Manta ray, a threatened species native to equatorial waters, is a metaphor for this persecuted community, who receive a dedication in the opening titles.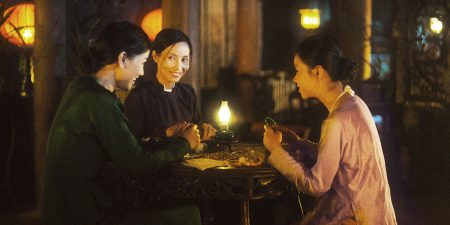 The Third Wife (Ash Mayfair, Vietnam 2018)
A doe-eyed teenage girl gifted as the third wife to a landowner receives a crash course in pecking order politics after being schooled that bearing a son will win her status and favour. But when she learns by chance that the first wife's lovestruck son is banging the second wife, any latent ambition to checkmate her rivals is foiled by her sudden desire for the second wife, whom she wants to bang too. Vietnamese director Ash Mayfair sets out to craft a story about female identity and sexuality in late 19th century rural Vietnam, but inadvertently cheapens her effort to the level of Orientalist fantasy by fixating on skin and flesh at the expense of the emotional conflicts tormenting her heroine. Inspired by events and characters in her family's history, Mayfair's debut feature has the distinction of boasting a female-dominated cast and crew—a rarity anywhere, let alone in Vietnam.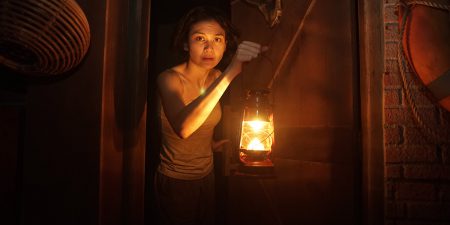 Folklore: A Mother's Love (Joko Anwar, Indonesia 2018)
After being evicted from their Jakarta home, a mother and her young son (Marissa Anita and Muzakki Ramdhan) camp out in an empty mansion where they work as cleaners, only to find its attic filled with distressed young children and unaware they have trespassed on the lair of the wewe gombel, a female ghost who kidnaps children whose parents have neglected or abandoned them. Genre specialist Joko Anwar returns to his familiar haunts with a poignant interpretation of this legend, having directed horror and supernatural features such as The Forbidden Door (2009), Satan's Slaves (2017) and HBO Asia's fantasy series Halfworlds (2015-2016), which also introduces demons from Indonesian folklore. Traditionally portrayed as a frightful hag with an extremely saggy bosom, the wewe gombel (shortened to wewe in the episode) has an enduring quality in local popular imagination as it cautions parents and children not to take their relationships for granted. [Premieres 7 Oct 2018 as Episode 1 on HBO Asia]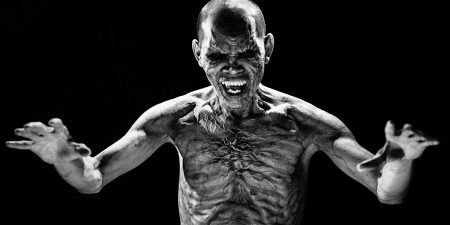 Folklore: Pob (Pen-ek Ratanaruang, Thailand 2018)
No catalogue of supernatural folklore from Asia would be complete without a Thai entry. Although Pen-ek Ratanaruang's contribution is conceived as a mischievous comedy, its ghost still packs a terrifying presence. A forensic photographer and blogger (Nuttapon Sawasdee) documenting the death of a disembowelled American man meets his killer at the crime scene: a pob, an intestine-devouring apparition who not only confesses to how he committed the act, but also asks for the details to be published online. Pen-ek's interesting strategy to scrub the distance between mortal and metaphysical realms gives his story a more self-conscious and intellectual edge. Played by Parama Wutthikornditsakul and Thomas Burton Van Blarcom, the ghost and foreigner gleefully ventriloquize popular Thai and American sentiments, but chiefly how Thais and foreigners view each other. Pob are entrenched in Thai popular culture and occasionally make the news, where they are blamed for unexplained deaths in rural locales. [Premieres 28 Oct 2018 as Episode 4 on HBO Asia]
Brandon Wee