Tina Jung is an award-winning Korean-Canadian actor, writer, and producer born in South Korea to parents who were actors themselves. A BFA graduate from the Acting Conservatory at York University, she has amassed an impressive resume, with roles in Second Jen, Suits, Kim's Convenience, The Expanse, Meeting Mommy (interview with Simu Liu and Tina here) and many more roles.
Ricepaper's Deputy Editor JF Garrard caught up with her on her latest project, the film, Queen of the Morning Calm, which follows Debra, an immigrant sex worker (portrayed by Tina) and her daughter Mona (Eponine Lee) on a journey of emancipation. The story portrays their struggles of living in poverty and a cycle of abuse. The film was part of the 2020 Canadian Film Fest, an indie-spirited festival dedicated to celebrating Canadian filmmakers.
JF Garrard (JFG): Hi Tina, thank you for taking the time to speak to us. Queen of the Morning Calm is quite a dark film compared to other projects you have done. Can you tell us a little bit about how this project came about and why you chose to participate in it?
Tina Jung (TJ): I knew that Gloria Kim (writer, director, producer) was working on this project for a while. Given the background, the story, the character, all of it was personal to Gloria and it's a script she has been working on for the past 12 years. The script was placed in the second round of the Sundance Screenwriting Lab and it won the Telefilm Canada New Voices Award as well as the Women in the Director's Chair Feature Film Award. I knew that it was going to be a layered and complex film with lots of challenges and hard subjects, and it was going to have a Korean female lead. I've always wanted to challenge myself as an actor and tackle a project that I knew I had to work hard for. I was craving a project that I had to do lots of research and preparation, I wanted to craft up a character and breathe life into her in my own way. When I read the script for the first time, I was overwhelmed with emotions. I was already seeing how I could play Debra and I began to do research about this character and her life even before I auditioned just based on the script because I was already so interested. The story was so raw and honest and had so many beautiful moments of self-discovery that her willingness to survive was overpowering. I got greedy for this role. I auditioned and a couple of callbacks later, I luckily got the opportunity to play her.
JFG: Debra's tragic background is quite different from yours. She was kicked out of her home at a young age and didn't complete her schooling. Did you have to do any extra research or prep work to immerse yourself in the character's world?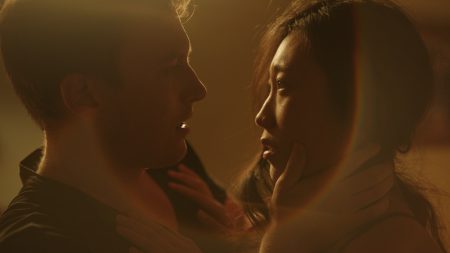 TJ: I did a lot of research for this character. I wanted to get into her mindset and try to see the world through her eyes to get a deeper understanding of her motives and her life. I began with reading up about the life of a sex worker, I watched interviews, visited a strip club to talk to the dancers, I took pole dancing lessons to embody the movements of a dancer, and I had a lot of chats with Gloria to see what she wanted the world to look like and how I can fit my version of Debra into the said world. I wrote journal entries from her point of view, I practiced walking in platform shoes in my apartment every day to get used to them, and I babysat my nephews to get a feel for parenting. I also do this for every role – I create a playlist for my character and only listen to that for the duration of the project. Music is a big part of my preparation.
JFG: One of the most heartbreaking scenes was Debra calling her mom and speaking in Korean, begging for help. Did you have to do any explaining to your own parents about this movie, given sex workers are a taboo topic in Asian culture?
TJ: That was a hard scene to watch for me too. There's something about being in a desperate place calling up your parent who you're not close with to ask for help. What other choice do you have? It speaks volumes in the type of relationship you have with your family. It spoke the truth in terms of her willingness to survive. My parents haven't seen the film as it's not out yet but it would be interesting to hear their thoughts on it.
JFG: What was it like working with your younger co-star, Eponine Lee, who plays Debra's daughter?
TJ: Eponine is such a wonderful and talented actor and she's was such a treat to work with. This was her first on-camera role but it seemed like she's been doing this for years. She was incredibly professional, did her homework, she understood the script in levels that might have been difficult to understand for her age, and she asked important questions. But aside from being serious when she needed to, she's such a delight to be around. Eponine has great taste in music, she's funny, and always radiates positivity.
JFG: What type of ideas do you hope the audience walks away with after watching this film?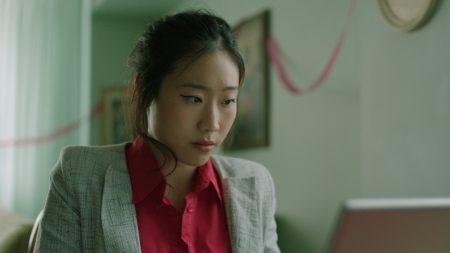 TJ: Be strong to find your own path and find a way to make yourself happy instead of giving that up for others around you. You live your own life and what is important is the ability to love yourself and put yourself first so that you can set out to do things you want to do and find a passion you're interested in to achieve goals you set for yourself. This film is about self-discovery and with Debra's journey I hope it encourages the audiences to find their self-worth to be the hero in their own story.
JFG: The world is experiencing a COVID-19 pandemic at the moment, how has this affected your work life?
TJ: Like everyone else, everything has been postponed so it's hard to tell when things will pick up again but our industry is still hustling during these uncertain times. I still have been able to have virtual meetings, auditions are still happening via self-tapes, and being home means more time to write and read. The best thing we can do for ourselves and others at this time is to do our part by staying home and maintain social distancing.
JFG: Do you have any upcoming projects you wish to share?
TJ: You can catch Queen of the Morning Calm on Thursday, May 28 at 9pm ET/PT through the Canadian Film Festival. This year due to COVID-19, CanFilmFest is having its film festival virtually through streaming hosted by the Super Channel where you can subscribe and get access to all the feature films and short films in this year's lineup. Next, you can see me in the third season of Second Jen on Omni where I play Vicky, a famous social media influencer and the successful cousin of Jen. I also have a video game in the works so stay tuned!
JFG: Thank you for your time!
***
Queen of the Morning Calm will be screening on Friday, May 29, 2020, at 9:30pm ET/PT through the Canadian Film Festival. Due to COVID-19, in 2020, the film festival will be virtually held through Super Channel, a Canadian subscription streaming service with movies, sports, documentaries, and various television series available for as low as $9.95/month.