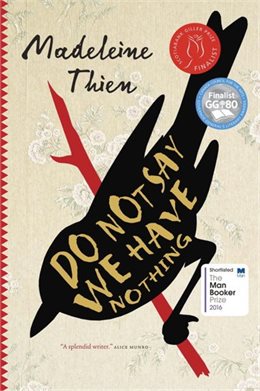 "Do Not Say We Have Nothing", by Madeleine Thien, is a powerful and passionate novel, skillfully interwoven with rhythmic words to present a dynamic reading experience, similar to a fight for harmony between piano (soft) and forte (loud) elements in music. Aside from the musicality of the novel, Thien seamlessly intertwines historical facts and fiction into a very authentic and impactful narrative, as if it is a portrayal of the lyrical elements to the novel.  Together, it feels like listening to a grand symphony of individually complex characters finding their authentic identities. The reader follows each of these profound and unique journeys, and somehow everything just fits perfectly like one beautiful score.
The multi-generational novel opens with the narrator, Marie, at present time living with her mother in Vancouver, Canada. We learn that Marie's father, Jiang Kai, left their family when she was ten and a year after, committed suicide in Hong Kong. When a young Chinese woman who is related to Marie's family, Ai-ming, seeks refuge at Marie's home, Marie learns from her about Jiang Kai's past, which is deeply connected to Ai-ming's father, Sparrow, and Sparrow's cousin, the violinist Zhuli. Through each chapter, Marie bridges her personal experiences with the information she finds and her father's past, which focus on the three young men's past in becoming musicians at Shanghai Conservatory of Music during Mao Zedong's Cultural Revolution. The narratives constantly move through different locations in China and different generations of the characters. Consequently, we learn about how the horrifying results of Mao's cultural revolution in China impact the three young men's lives, and as a result, Marie's perspective and understanding of her father.
This novel is an ambitious scope of events from the 1950s of China to present day. Important events that should be mentioned are the Cultural Revolution, specifically the destruction of the Shanghai Conservatory and its impact on the musicians, and the 1989 Tiananmen Square protests. Although this story is constructed on a very large scale, it is filled with many historic yet crucial events and ideas. It might take a couple readings to understand the outline of the novel, but I promise it is worth it. There is so much to admire and value, but ultimately, it is the feeling that the reader will get from finishing this novel that is truly incomparable: it feels important; it feels real.
I did some research and learned that the title of this novel refers to the Chinese translation of  Eugène Pottier's song, "L'Internationale", specifically this line: "Nous ne somas rien, soyons tout", which can be translated as "We are nothing, let's be everything." Later on, this song was taken up as past Chinese-Soviet Republic's national anthem and the lyrics were appropriately altered into "Do not say that we have nothing, we shall be the masters of the world!" It is without a doubt to say that Thien, along with her work, will have something, given the well deserved recognition and success she and this novel are already achieving. I am not surprised about the Man Booker and Scotiabank Giller Prize nominations, and I am shamelessly naming her the literary master of our world. In fact, I'm very confident in calling "Do Not Say We Have Nothing" the book of 2016. Do not say I said nothing.
"Do Not Say We Have Nothing" is avaliable for purchase here