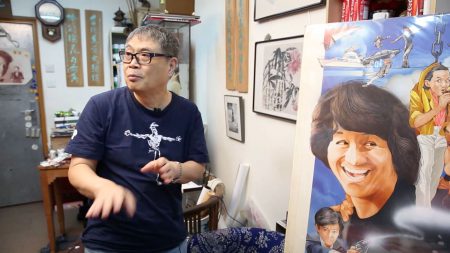 North American Premiere at Toronto Reel Asian International Film Festival
Hong Kong / 2017 / 71:00 / Cantonese with English subtitles
The joy in watching The Posterist comes from the fact that it doesn't feel like a documentary but instead, it is first time director Hui See-wai's home video. And indeed it is, according to Hui's statements during The Posterist's press conference with Toronto media (Ricepaper link here). "The Posterist" is Yuen Tai-Yung who between 1975-2993 captured the golden era of hk cinema through over 200 of his movie poster illustrations. Many box office hits featured his posters which captured the essence of an entire film in one frame.
Shot over one and a half years, Hui captures interviews with poster collectors, Hong Kong celebrities, artists, producers and even a member of the Bruce Lee Club. All of the people in the documentary concluded that Yuen is a genius and should receive more recognition. The film is divided into 4 sections: The Search, The Studio, The Reunion and Then and Now. These sections are self explanatory in the material presented and the journey is neatly captured for the audience. There is no drama or conflict and the film is a biography of an artist's life and his achievements. Towards the end a number of posters are shown on the screen to show the passing of an era in Hong Kong cinema history and for the audience to admire the sheer brilliance in the artworks.
The documentary starts off with Hui rummaging through a warehouse room full of movie posters before dramatically pulling one up to show off a signature written in neat Chinese calligraphy at the bottom of the poster – "Yuen Tai-Yung." The journey began because Hui was restoring a blu-ray version of a classic Hui brother movie (Chicken and Duck Talk) and fans were asking for Yuen's posters. Hui was flabbergasted as to who this person was and decided to find out more, sparking the creation of this documentary.
The interviews conducted were informal and more of a conversation style. It was fun to listen to a poster collector describe how he collected posters over a long period of time with no care about the monetary value as they were considered junk when he was doing so. The artists interviewed described why Yuen's work was brilliant and gave good insight into how private Yuen was. The film industry professionals professed that Yuen was loyal, diligent and dedicated to his work. Then one day, he disappeared and many confessed they felt lost and thought his work would never be seen again.
There were many rumours as to where Yuen went, but with the power of the internet, Hui traced Yuen down on Facebook. Yuen had moved to New Zealand which explained his sudden disappearance, but then moved back to Hong Kong after 2007. Social media was a good way for Yuen to interact with the world as he seldom left his some due to health issues. The most surprising thing learned about Yuen is his technique of illustrating. Many artists use a table or an artist easel, but Yuen uses a metal door to hold up his paper while he paints. Even though Yuen is 70, his artwork is even better than before as he draws for pleasure rather than money. He only draws people he likes, including John Lennon, Michael Jackson, Tony Leung Chiu-wai, etc.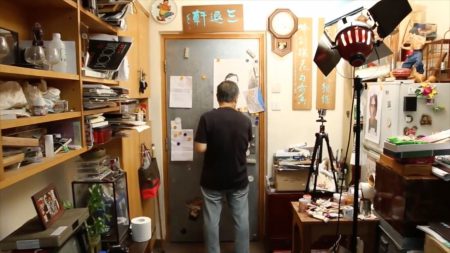 Born in the Zhejiang province, north of Ningbo City, Yuen is a successful Hong Kong immigrant story. His father told him that drawing was useless and he can not make a living from that. His father sent him to work in a textile factory and although Yuen spoke no English, a German and Swede helped him find work in the advertising industry as an artist. He believes it was a series of coincidences which led him to illustrate posters in Hong Kong and he has been lucky as it is hard to make a living with drawing. The self-taught artists states there are no secrets, just look and practice. After retiring in 1992, he stopped drawing cold turkey and only returned to it after the death of his wife in 2007 with his first two drawings being renderings of her face.
It was also noted there was an air of grief when describing the poster for "The Private Eyes" to Hui and his cousin Ryan Hui (Sam Hui's son), which featured all three brothers – Micheal, Sam and Ricky.  Out of the three, Ricky was the slapstick comedy guy and sadly died of a heart attack at home on November 8, 2011 at the age of 65. Yuen told the story about why Ricky's face was in the magnifying glass of the poster and screenshots of Ricky in the movie were shown.
The most brilliant quote in the documentary came from David Ki, a comics producer, who states that Master artist Wu Hu Fan has a seal stamped on his work – "Judge this after 500 years," which speaks volumes about the future value of a piece of art. Although Yuen's art is in the form of poster illustrations, they are still masterpieces in their own right.
The future may be Yuen's golden age in his career as he has achieved many new goals of having an exhibition of his works in Hong Kong, contributed to a Bruce Lee statue as a consultant and has started giving lectures on cinema history. By experimenting with a new medium of sculpting, Yuen is a great example for all to look up to as he is a person who never stops learning.