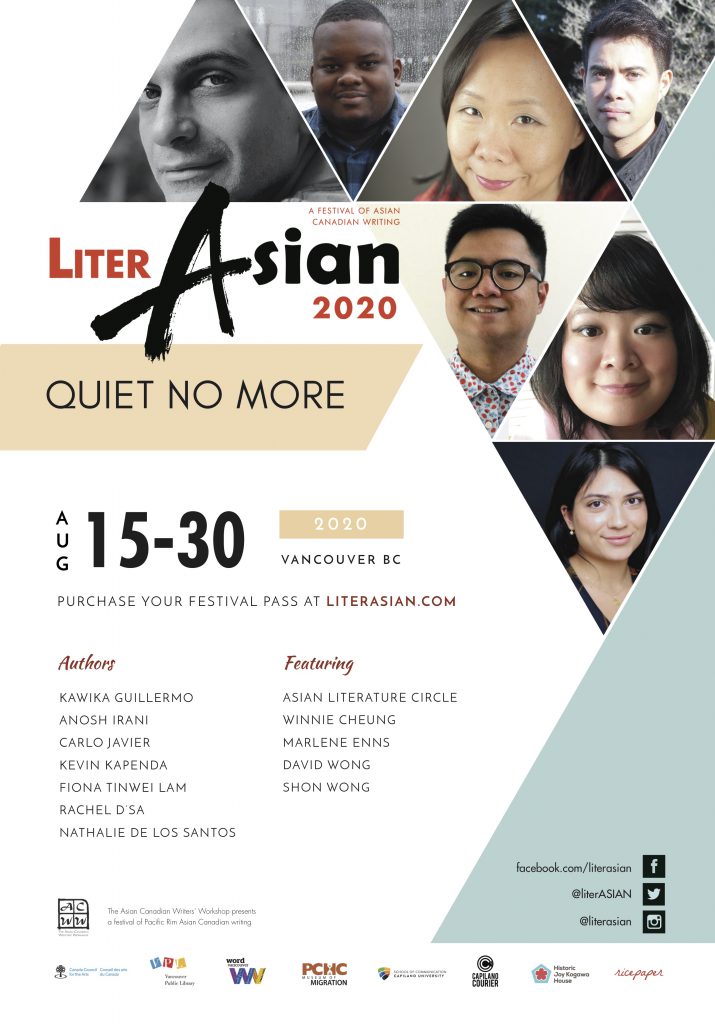 LiterASIAN 2020 took place from August 15-30, 2020 virtually. The theme of the year's festival reflects the need to be -­‐ Quiet No More -­‐ at a time when the easiest thing to do would be to remain silent as a bystander. Originally scheduled to take place in May 2020 in-person, the festival was rescheduled and re-designed in keeping with COVID-19 restrictions.
The festival welcomed an incredible line-up of seven authors showcasing established and emerging Canadian writers in multiple styles and genres. Authors included award-‐winning Anosh Irani, Fiona Tinwei Lam, Kawika Guillermo, Carlo Javier, Kevin Kapenda, Rachel D'Sa, and Nathalie De Los Santos.
August 15:
The first-ever virtual LiterASIAN Festival began with "Creators Against Hate". The event featured an engaging session with Shon Wong and ACWW's Vincent Ternida, including a wide-ranging discussion on art, music, and race.  Wong performed "I Found it All Inside", a song written and recorded as Son of James, to bring awareness to the issue of racism and hate.
August 16:
"Postcards From the In-Between" was a literary event merging cultures with established and emerging voices from Vancouver — the in-between. The panel was comprised of Asian and non-Asian BIPOC writers, including Anosh Irani, Fiona Tinwei Lam, Carlo Javier, Nathalie De Los Santos, Rachel D'Sa, and Kevin Kapenda. The writers showcased their voices while inviting the audience to do the same. In promoting established and emerging BIPOC writers, this event not only builds bridges with the community through an afternoon of reading and conversation, but also an opportunity for the writers to share their trials and experiences of being a BIPOC writer in an often exclusive publishing world.
August 22:
The festival continued with "Race, Writing, and Virtual Worlds: how can we counter anti-Asian racism in a virtual world?" Chris Patterson, aka Kawika Guillermo, author of All Flowers Bloom and Stamped: An Anti-Travel Novel, Danielle Wong, and ACWW's Alyssa Sy de Jesus discussed topics of race, technology and virtuality — and on what it means to write on these themes. Chris Patterson is an Assistant Professor in the Social Justice Institute at the University of British Columbia and Danielle Wong is an Assistant Professor of English at the University of British Columbia.
August 23:
"Remembering to Celebrate our Chinese Canadian Legacies" featured Winnie L. Cheung, Marlene Enns, and David HT Wong. In 2014, the government of British Columbia commissioned the Asian Canadian Writers' Workshop for one-year research and writing of this book as a legacy project of the Provincial Apology to the Chinese for the historical wrongs. The panelists discussed their experiences writing about the Chinese-Canadian legacies, while offering light of hope in retracing the path of the pioneers who overcame prejudice through patience and perseverance, during a rising wave of Anti-Asian hate.
August 29:
As most writers know, submitting to a literary publication can be difficult and overwhelming. August 29's event, "Anthology or Magazine? Writing and Submitting to a Literary Publication" offered Ricepaper editors JF Garrard and Allan Cho's experiences and guidance on the inner workings of the often exclusive and opaque world of publishing.
August 30:
LiterASIAN 2020's final event was "Books of Inclusion", hosted by the Literary Circle of Asian Books. This locally based book club has been meeting for over twenty-five years, discussing and recommending Asian-Canadian literature.